Poker Strategy Articles

Poker Journal
2004-2011

Poker Player Bios

Poker Tournaments 2005-2011 Reports

My Tournament Poker Results

Site Map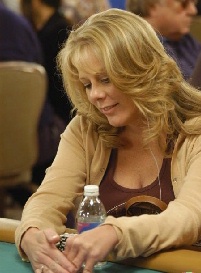 Players are flocking to poker rooms like never before. New poker players (and even some old ones) need to decide where the best place for them to play poker is. Online poker and brick and mortar (B&M) poker are totally different and each of them has their advantages and disadvantages.

The main advantage of playing online is the convenience. A person can play poker in the comfort of their own home. They can play while in their pajamas or while watching their favorite television program. Many players also find it advantageous to play multiple games online. Most online casinos allow a player to play at least two games at one time and there are some players that play a few games on multiple websites all at once. I personally know players that have played as many as nine games at once. This is not a something I practice or recommend, but for some players it might be profitable. If a person doesn't want to play multiple games, they at least have multiple games to choose from. In fact, there are thousands of games at any limit at any given time of the day. Because there are so many games going at all times and players can play multiple games at once, players tend to become better players by playing online. What used to take months to learn in brick and mortar casinos, now takes weeks online because each player sees more hands per hour.

New players should find that it is less intimidating starting out online because they can learn the ins and outs without slowing the game down. Slowing the games down online is never a problem because there is a set time for every player to act on their hand. If you don't act within that set amount of time, your hand will automatically be folded. The computer also saves time because it does a lot of the work for the players. There is usually a suggested buy-in that will pop up when a player sits down in their virtual seat, so they don't have to think about how much money they should bring to the table. The computer also tells the player what actions they have when it gets to be their turn. It might say, "Raise to $120, call $60, or fold." The games move along faster too because there are no dealers in the game and the computer tells a person if they won the hand. For example, the first player will show their cards and for the second player the screen might say, "You lost, muck."

If tournaments are more to your liking, online poker provides tournaments at all hours of the day. On any given day, there are events with buy-ins ranging from freerolls to $200. On some sites there are weekly events that have $1 million dollar guarantees and there are even series that are held annually such as the World Championship of Online Poker on PokerStars with guarantees for every event. This particular series has buy-ins ranging from $200 to $2,500 and has prize pools up to $3,500,000 (the winner of the main event won $577,342 in 2005. If you prefer sitting down for a shorter amount of time (against a smaller field), there are sit n go tournaments which are usually one or two table tournaments. Signing up for any tournament is as easy as clicking a button.

One benefit I have the most fun with is not having to follow some of the rules of conduct I would in a B&M. I believe when you are playing in a B&M, you should conduct yourself in a professional manner at all times and take your wins and losses like a gentleman or lady. When playing online, you can let loose. A player can yell at the screen when they receive a bad beat. They can verbally call another player a moron without offending them and they can verbally tell them what to do....."Fold, you jerk! FOLD!" After calling them a moron, the player can type their comments about the player in a specified area. This makes for easy access and hopefully more informed decisions when facing them in the future.

While there are many advantages to playing online, there are also some disadvantages. Although it is more convenient and comfortable playing online, there are also more distractions. I often find myself paying more attention to television, the kids, or the phone ringing than I do to the game I am playing. I sometimes get bored while playing and spend time surfing the net which only causes me to focus less.

Most of the advantages of online poker are the disadvantages of playing in a casino. In a casino, there are not as many hands dealt per hour because there is a live dealer in the game. Dealers can also make mistakes which is never an issue while playing online. Obviously, playing in your pajamas is not an option when going to a B&M casino. You actually have to get ready to play in a casino. A shower is always in order and you should make yourself at least somewhat presentable.

The biggest positive to playing live poker is that it is so much easier to concentrate on the game. Playing one game and only focusing on that one game is the key to a good player's success. If you are only focused on that one game, it is impossible to not pick up valuable information on some of your opponents. You do not need to be the number one player in the world to recognize when a player is nervous when making a bet or to recognize when a player does not like their hand. You can pick up this information by just watching and paying attention.

Although there are many advantages and disadvantages to playing both online and B&M, each player needs to weigh all options and find out what suits them best. I play both and have found a nice balance. You can make a profit in both if you pay attention and recognize the benefits of each of them.