Poker Strategy Articles

Poker Journal
2004-2011

Poker Player Bios

Poker Tournaments 2005-2011 Reports

My Tournament Poker Results

Heroes

Site Map
During the 2019 World Series of Poker, I wore t-shirts dedicated to 20 inspirational women.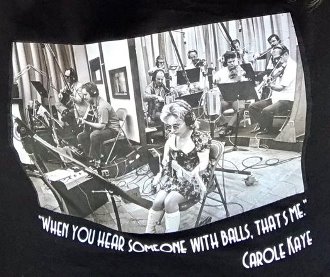 Carol Kaye
"Fender bass player Carol Kaye... could do anything and leave men in the dust." -- Quincy Jones

You might not have ever heard the name Carol Kaye, but you've definitely heard her music. Kaye was part of a group of top notch session musicians including Hal Blaine and Tommy Tedesco who performed on the recordings of songs you thought were played by The Mamas and The Papas, The Beach Boys and others. She played guitar and electric bass and helped create approximately 10,000 of your favorite songs of the sixties and seventies including River Deep Mountain High by Ike and Tina Turner, The Beat Goes On by Sonny and Cher, La Bamba by Ritchie Valens and the Mission Impossible theme song.

Visit this ink for a summary of her work. For a great documentary about the one of the most well known group of session players, including Carol Kaye, watch the film "The Wrecking Crew".

Fanny Blankers-Koen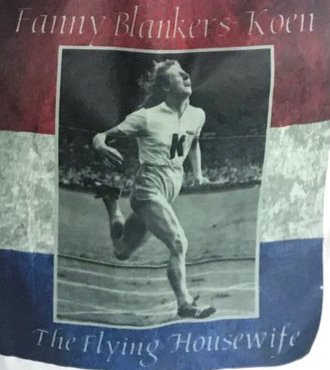 "She, more than anybody, made women athletes worthy of respect and attention, with a series of stunning performances in the London Olympics." -- Norman Giller

Fanny Blankers-Koen was a Dutch track and field athlete who trained to compete in the 1940 and 1944 Olympics but wasn't able to because they were cancelled due to World War II. Many experts thought Blankers-Keon should not compete at the 1948 London Olympic Games saying that her age (30) and motherhood would slow her down and that she should tend to her two children. She waited 12 years to compete at the Olympic Games and was determined to prove her critics wrong. She earned four gold medals that year -- in the 100 meters, 200 meters, 80 meter high hurdles, and 4 x 100 meter relay. As world record holder in the long jump and high jump Blankers-Koen may have been able to win further medals but, at this time, female athletes were limited to three individual events.

During her career, she set 12 world records in 7 different events. She was nicknamed "The Flying Housewife" due to her speed on the track. In 1999, she was named best female athlete of the 20th century by the International Association of Athletics Federations. Click for a 3-minute video of her 1948 Olympic races.

Betsy Ross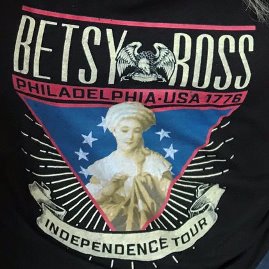 Betsy Ross was the first women I remember learning about in school where I thought "I like her." As a matter of fact, I dressed up as her during a school event in grade school.

We don't really know for certain whether she actually was the first person to make the American flag but it's definitely what we all grew up learning. According to her grandson, Washington asked her to make the flag with a design that had stars with six points. She said that a five pointed star would be easier to make and took a piece of paper, folded it, and with one cut, produced a symmetrical five-pointed star. The flag was the first symbol of liberty and freedom.

Even though, at my present age, I would choose so many other women that are more influential, I can not forget me as a grade school girl whose curiosity was sparked to learn more about other women in history. Here is a short video of the Betsy Ross house in Philadelphia and the woman who portrays her.

Nellie Bly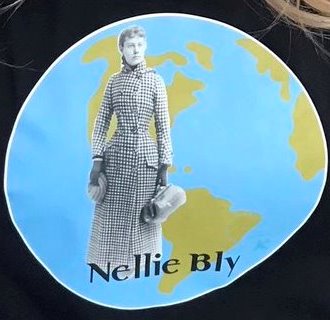 Nellie Bly is the pen name of Elizabeth Jane Cochran who pioneered investigative journalism when she pretended to be mentally ill so she would be committed to an asylum. After being committed (which was a task in itself), she spent ten days there so she could expose the poor treatment of patients and improve their living conditions. She was released at the New York World newspaper's request. Her report was later published in book form as Ten Days in a Mad-House. It caused a sensation and prompted the asylum to implement reforms and brought her recognition. Another of her investigative/undercover reports included posing as a sweatshop worker to expose poor working conditions faced by women.

Later, she garnered worldwide attention when she flew around the world in imitation of Phileas Fogg's character in Around the World in 80 Days. Bly did it in 72 days.

We might not have ever heard of Bly if she hadn't read a column that said that girls were for birthing children, cooking and cleaning. Her scathing written response got the attention of the editor who offered her a job. For more about Bly watch this video.

Sophie Scholl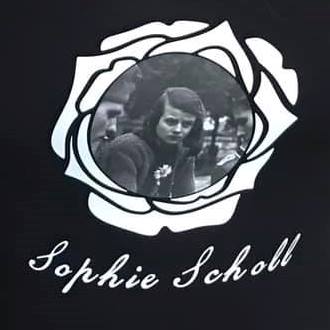 Sophie Scholl was part of the White Rose resistance movement that was formed in 1942 at the University in Munich, Germany in opposition of Hitler and the Nazis. The members of the White Rose secretly opposed the regime by writing, producing and distributing a series of leaflets filled with information about what was happening, why it was wrong, and how citizens should resist.

Scholl was a valuable member to the group because, as a woman, her chances of being randomly stopped by the SS were much smaller. She helped copy, distribute and mail pamphlets while also managing the group's finances. She knew what she was doing would have consequences but showed bravery and selflessness because she knew it was right. Sophie Scholl together with the White Rose took a stand in history and served as an example of how every voice, no matter how small can make a difference.

She was convicted of high treason after being caught distributing anti-war leaflets at the university and was executed by guillotine. Prison officials said that she was even courageous when walking to her execution. Her last words were, "Such a fine, sunny day, and I have to go... What does my death matter, if through us, thousands of people are awakened and stirred to action?" She was 21.

For a 3 minute video watch, or you can watch the full length documentary called Sophie Scholl: The Final Days.

Suze Randall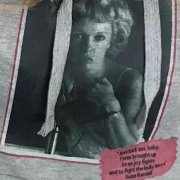 "She showed me: You can do anything. You can be in this industry and be a business woman and be feared and respected by men." -- Ginger Lynn

Suze Randall was a model in her early 20s but gave it up for a career in photography when she gained attention for her erotic photos she took of her model friends.

She was the first female staff photographer for Playboy and Hustler and was a groundbreaker in the ultimate male dominated business of the adult industry.

For a great read about Suze Randall and a glimpse into why she is a true kickass woman in my eyes, click the link.

Billie Jean King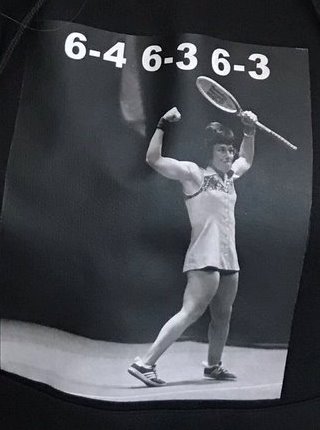 "She's the smartest and the wisest person I've ever met in my life. Every woman tennis player, every woman athlete should thank her personally for building up a sport and confidence and power in women." -- Chris Everett

Most people know that Billie Jean King is one of the best tennis players of all time. Her 39 Grand Slam championships is impressive in itself but it's not the story that makes her a hero in my eyes.

In 1973, at the height of her tennis career, she helped form the Women's Tennis Association and became its first president. She lobbied for equal prize money for men and women.

The campaign for pay equality gained worldwide attention when Billie Jean King accepted a challenge from Bobby Riggs to play in the Battle of the Sexes. Riggs had always said that women couldn't play as well as men and King proved him wrong by beating him 6-4, 6-3, 6-3.

Billy Jean King didn't only fight for the rights of equal pay, she has also consistently fought for the rights of women and the LGBTQ community. In 2009, she was awarded the Presidential Medal of Freedom for her advocacy work on behalf of women and the LGBTQ community. She was named one of the "100 Most Important Americans of the 20th Century" by LIFE magazine.

You can read more about her on her website. I watched a fantastic documentary on Billie Jean King years ago on ESPN SportsCentury where they focused on a different legendary athlete each episode. I can't find the link, but watch it if you ever come across it.

Barbara Enright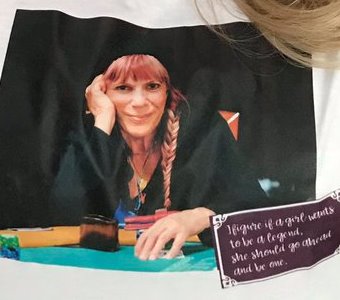 Poker has been such a huge part of my life so my hero list wouldn't be complete without at least one female poker player. While there are many I admire and am friends with, Barbara Enright has always been my favorite female poker player and probably always will be.

Barbara was one of the true original women players in this so called "man's game."

She paved the way for players like me and served as an example for what women can accomplish. She was the first woman to win an open event, first woman to win 3 World Series of Poker bracelets and she is the only woman to ever make it to the final table of the Main Event of the WSOP (she finished in 5th place in 1995).

Her career earnings are over $1,700,000. In 2007, she was inducted into the Poker Hall of Fame. To learn more about Barbara, read one of my original website profiles.

Hedy Lamarr
"Everyone gasped ... Lamarr's beauty literally took one's breath away." -- viewer at the movie Algiers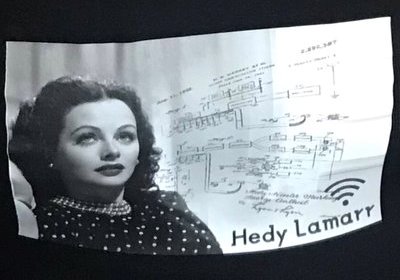 Hedy Lamarr was one of the most iconic actresses of her day. She shared the screen with legends like James Stewart, Clark Gable, and Spencer Tracy. She's said to be the inspiration for Catwoman and Snow White.

Beyond her beauty, she was also a brilliant inventor. Although Lamarr had no formal training and was primarily self-taught, she said "Inventions are easy for me to do." In her spare time, she worked on her inventions which included a tablet that would dissolve in water to create a carbonated drink like Coca Cola and an improved version of a traffic stoplight. Lamarr also helped Howard Hughes with the design of his airplanes which she thought looked slow and square. She fused the fastest bird with the fastest fish and came up with a new streamlined design for his planes. When she showed it to Hughes, he said she was a genius.

Her greatest invention was when she created a frequency hopping technology to stop radio-controlled torpedoes from being jammed. The technology was eventually known as spread technology and is used in our technology today like Bluetooth and WiFi. She had a patent on the technology but it was confiscated because she was an Austrian immigrant and considered to be an enemy alien. She was never compensated for her invention which is estimated at 30 billion today.

For a great documentary about her watch "Bombshell: The Hedy Lamarr Story" on Netflix.

Harriet Tubman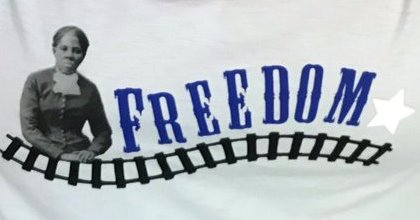 Harriet Tubman was the best known conductor of the Underground Railroad which was a network of roads and safe houses to help people escape slavery. Tubman was born a slave and raised in Maryland where it wasn't unusual to have families in the area that were both free and enslaved members. Harriet's husband, John Tubman was a free black man but wouldn't leave with her when she fled to the free state of Pennsylvania in 1849. Her husband re-married after her departure.

Despite Harriet's work being a constant threat to her own freedom and safety, she led as many as 19 rescue missions and helped free many people including members of her family.

Her role in the Underground Railroad movement was just one of the many inspiring accomplishments of her life. She was an activist in the abolitionist movement, worked as a nurse in the civil war and served as a spy for the Union.

In a 20th century survey, she was named third most famous civilian (behind Betsy Ross and Paul Revere) in America history before the Civil War. She continues to inspire Americans with her bravery. A redesign of the $20 bill featuring Tubman was scheduled to be unveiled in 2020, but is now scheduled to come out in 2028.

Here is a 7 minute video on Harriet Tubman.

J. K. Rowling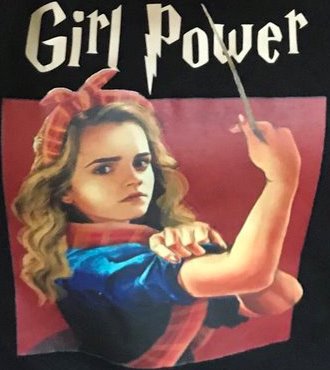 J.K. Rowling is the pen name of Joanne Rowling, author of the best-selling book series, Harry Potter. Her publisher asked her to use two initials instead of her full name because they thought that the target audience of young boys might not want to read a book written by a woman.

Rowling was relatively poor until her first novel and she described her economic status as being "poor as it is possible to be in modern Britain, without being homeless."

The book was rejected by twelve publishing houses before Barry Cunningham from Bloomsbury gave her the green light (thanks to Bloomsbury chairman's 8 year old daughter who demanded the second chapter after reading the first).

Harry Potter is now a global brand estimated to be worth $15 billion and Rowling is the first billionaire author.

Hermione Granger (featured on the shirt) is one of the bravest and smartest characters in the series.

Rowling said the character of Hermione is based on herself when she was eleven.

Marie Curie
"She is, of all celebrated beings, the only one whom fame has not corrupted." -- Albert Einstein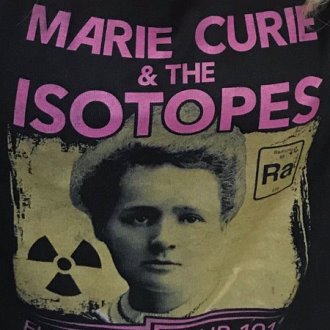 Marie Curie is the scientist Einstein admired most. Along with her husband Pierre, Curie revolutionized science. Their discoveries were the beginning of modern physics.

Marie Curie earned a Nobel Prize in TWO different sciences which is incredible in itself. However she has many other achievements including being the first woman to receive a doctorate in science, first woman to win a Nobel Prize, and the first person (and only woman) to win the Nobel Prize twice. The Curie family, including her husband and daughter, have earned five Nobel Prizes.

Curie studied at Sorbonne in Paris and earned two degrees in physics and science. This is where she met and married Pierre Curie who ran the laboratory at the Municipal School of Physics and Chemistry. He encouraged her to use the lab for her studies. She was the first to discover that radioactivity begins in the atom. She developed techniques for isolating radioactive isotopes. In 1898, she discovered the elements, radium and polonium.

During WW1, she devoted herself to X-ray technology with the help of her daughter, Irene. Radiation therapy as we know it today is due to her discoveries. She died of cancer due to exposure to radiation.

Eleanor Roosevelt
"Her own character and energy and devotion to principle would make her the most consequential first lady and one of the most consequential women in American history." -- Ken Burns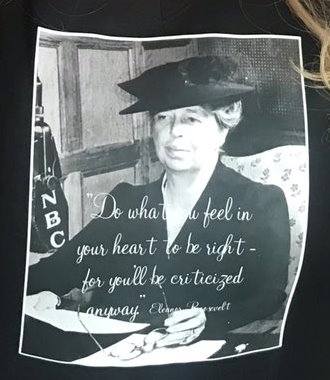 Anna Eleanor Roosevelt, wife of President Franklin D. Roosevelt (and niece of Theodore Roosevelt), was the longest serving First Lady of the United States. Although she was widely respected in her later years, she was controversial because of her outspokenness on civil rights for African-Americans. She expanded roles for women in the workplace and advocated for the rights of World War II refugees. She was her husband's liberal conscience and helped mold him into the man and President he was.

There are many examples to show Eleanor Roosevelt's character, but below are some of my favorites: Mrs. Roosevelt was the first First Lady to hold her own press conference, and only invited women reporters to attend. She wanted to allow them equal opportunity because women were traditionally barred from Presidential press conferences.

When President Roosevelt signed Executive Order 8802 which prohibits ethnics or racial discrimination in the nation's defense industry, she told her husband, "I hope from this first step we may go onto others."

When a woman wrote to the commission to tell them how her son was being discriminated against and in the letter she added: "Please let me hear from you at once. Because Mr. President, if you can not do anything, I need to write to Mrs. Roosevelt."

During World War II, she took a trip to the South Pacific on behalf of the Red Cross. The Commander had a war to fight and was against her coming, but quickly changed his mind. He said she inspected several army hospitals and when he says "inspected," he means she spoke to every single patient asking his name and how he felt. Was there anything he needed and can she take a message home? One soldier said "she was something none of us had seen in over a year... an American mother". The family of every wounded soldier and sailor she visited got a personal letter from her.

Following her husband's death, Roosevelt remained active in politics for the remaining years of her life. She was the spokeswoman for the United Nations.

By the time of her death, Roosevelt was regarded as "one of the most esteemed women in the world." The New York Times called her "the object of almost universal respect." She was ranked ninth in the top ten of Gallup's List of Most Widely Admired People of the 20th Century. President Harry S. Truman later called her the "First Lady of the World" in tribute to her human rights achievements.

Mother Jones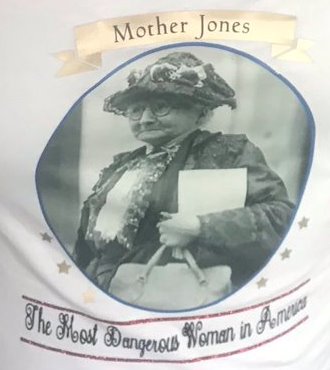 "She was wrinkled and old, dressed in black, looking like somebody's grandmother. She was in truth, the grandmother of hundreds of thousands of miners. She had force, she had wit; above all she had the fire of indignation. She was the walking wrath of god." -- Upton Sinclair

Mary Harris Jones also known as Mother Jones was a self-proclaimed "hell-raiser" in the cause of economic justice.

She was the founder of the Social Democratic Party and helped establish the Industrial Workers of the World. She was also a union activist and a campaigner for the United Mine Workers Union.

Jones focused on improving conditions for the working poor during industrialization. She fought for improved wages, reasonable work hours and insurance for unemployment and healthcare. She also fought for stricter enforcement of child labor laws which were particularly lax at the time. The way she cared for the workers is how she earned the nickname "Mother."

She was so forceful and influential that a US attorney labeled her "the most dangerous woman in America." In 1984, she was inducted into the National Women's Hall of Fame. In the 1970s, the magazine Mother Jones (named after her) was established and quickly became "the largest selling radical magazine of the decade."

Rachel Carson
"Silent Spring became the handbook for the future of all life on Earth." -- Linda Lear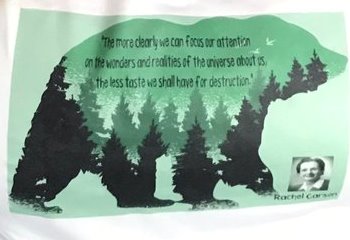 Marine biologist and writer, Rachel Carson, was one of the early pioneers of environmental science.

She wrote a trilogy of books about the marine environment (Under the Sea-Wind, The Sea Around Us, and The Edge of the Sea), but her final book Silent Spring made the biggest impact as the first to expose the dangerous effects of DDT.

Silent Spring warned of the dangers to all natural systems from the misuse of chemicals. It asked the tough questions like whether and why humans had the right to control nature; whether they had the right to decide who lives or dies; whether it's ok to destroy non-human life. It showed that the biological system was fluid and that one action affected another.

While there has always been women in science, many times their voices have been ignored. Rachel Carson is an exception. Her message was heard and changes like the mass spraying of chemicals were made. Unfortunately, many of her findings are still ignored today.

Watch this terrifying 30 second video showing DDT being sprayed on children.

Rosa Parks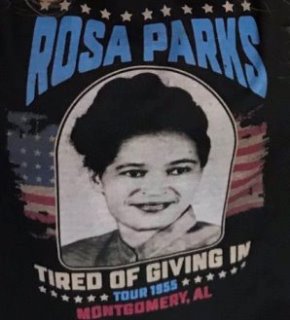 Rosa Parks has been called "the first lady of civil rights" and "the mother of the freedom movement" due to her pivotal role in the Montgomery bus boycott.

In 1955, Parks refused to give up her seat to a white man on a city bus in 1955 in Montgomery, Alabama. That defiant gesture helped initiate the civil rights movement in the United States.

She was arrested for her act of defiance. An all day bus boycott was scheduled for the day of her trial and continued for 381 days until the United States Supreme Court handed down a ruling that ended bus segregation.

Parks' prominence in the community and her willingness to sacrifice everything made her an international icon of resistance to racial segregation and a symbol of dignity and strength. She received numerous awards including the NAACP's 1979 Spingarn Medal, the Presidential Medal of Freedom and the Congressional Gold Medal.

Watch this 3 minute mini-bio.

Scald Eagle and Brawn Swanson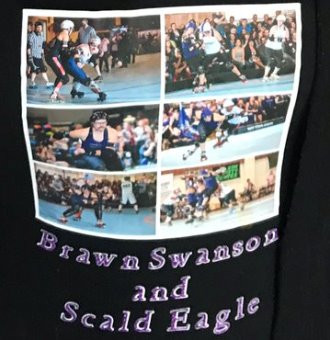 Poker and roller derby are two of my biggest passions in life. Just as my list wouldn't be complete without a hero poker player, it also wouldn't be complete without a hero roller derby player.

Hillary and Erika Buscovick are the real names of Scald Eagle and Brawn Swanson, two of my favorite roller derby players.

The Buscovick's grew up playing sports including ice hockey. In 2010, Scald joined Rose City Rollers as a fresh meat (new skater program) skater and 5 short months later, she was playing for their highest level team, the Wheels of Justice. Similarly, Brawn Swanson joined the fresh meat program in November of 2012 and was drafted just 6 months later to the High Rollers just before home team championships.

Both skaters are favorites in the derby community. Scald is one of the top jammers in the world and one of the top scorers of all time for WFTDA (Women's Flat Track Derby Association) Division 1 Playoffs and WFTDA Championships. In 2015, Rose City defeated the five-time defending champion Gotham Girls Roller Derby where she scored 133 points. Brawn Swanson is an all-star blocker and was named MVP at the 2016 International WFTDA Championships in Portland when the Rose City Rollers took home the Hydra trophy for the second year in a row. Both skaters transferred to Denver Roller Derby in 2017. If you happen to watch Denver play, it's should be easy to spot the two of them. Scald is known for her beautiful war paint and Brawn Swanson is known for wearing a fake mustache that resembles the character Ron Swanson from the tv show, Parks and Recreation.

In addition to being phenomenal skaters, they're cool people and pretty hilarious. They guest coached a practice for our league a couple years back and it's one of my favorite memories in derby. I just remember smiling from ear to ear thinking "man...I love these girls."

For a short video of Scald Eagle and Brawn Swanson (and MANY other exceptional players), watch this highlight video of Vagine Ragime vs Caulksuckers at Rollercon. And also a short fun video on Scald.

Rosetta Tharpe
Sister Rosetta Tharpe is known as the Godmother of Rock n Roll. She was a hugely important figure in music and was the influence of Chuck Berry who was one of the most influential guitar players in the world and Elvis Presley who is known as the King of Rock and Roll.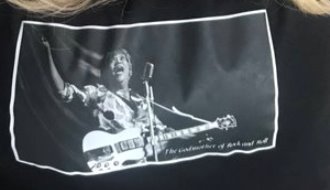 Tharpe began her career at the age of six performing gospel music at Robert's Temple Church of God in Christ in Chicago. When she was in her teens, her mom took her with her as she travelled from city to city visiting churches so Rosetta could perform. She soon became a nationwide celebrity within the church.

At 19 she married a preacher and after four short years, the marriage fell apart and she left and headed to New York. She soon got a gig at the Cotton Club and began to perform songs where she blended the sounds of her childhood with jazz, blues, and the genre she was inventing all her own. This was controversial because she was singing about pleasing her man rather than just singing gospel and many of her church-going followers stopped listening to her. Eventually many forgave her and with the new audience she gained, she became rock and roll royalty.

She was a star but she was also black. It was at the end of the war when people were supposed to be free but it wasn't like that for black people. She was one of the first singers to have a tour bus with her name on the side because it was a necessity. Many of the places that they visited didn't have hotels that would accommodate her or restaurants that would allow her to dine there.

Sister Rosetta Tharpe is a legend. I highly recommend watching videos of her because she was a phenomenal performer and incredible musician. Her unique style makes her one of my favorite musicians of all time.

Watch this short video of her performing. Also watch her legendary performance at an abandoned railway station broadcast nationwide in England. You can also find a couple documentaries on YouTube.

Pussy Riot
Pussy Riot is a Russian protest punk rock band who gained recognition by staging an unauthorized performance in the Orthodox Church protesting the church's leaders' support for Putin during his election campaign.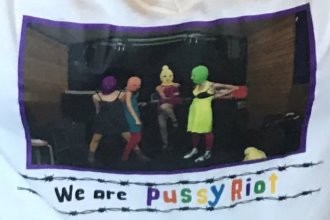 Three members, Nadezhda Tolokonnikova, Maria Alyokhina, and Yekaterina Samutsevich, were convicted of "hooliganism motivated by religious hatred" for that performance and were sentenced to two years in prison. A few months later Samutsevich's sentence was suspended and she was freed on probation, but the other two's convictions were upheld.

Pussy Riot was formed in 2011 and is composed of approximately a dozen performers and 15 people who handle the technical work of shooting and editing videos. The group's protests include a variety of topics and their staged performances are filmed as music videos and posted on the Internet. The collective's lyrical themes included feminism, LGBT rights, the political regime but mainly opposition to Russian President Vladimir Putin whom the group considers a dictator.

Standing up for what you believe in, knowing that you're risking your life is honorable and is the true definition of a hero. Here's a link of Nadia being interviewed.

Amelia Earhart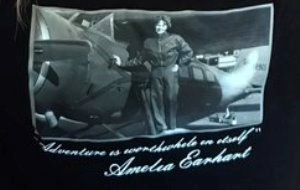 Amelia Earhart was the first female pilot to fly solo across the Atlantic Ocean. Some of the many other records she set included breaking the altitude record, being the first woman to fly across the Atlantic, setting the speed record, setting the woman's autogiro altitude record, being the first person to solo the 2,408-mile distance across the Pacific between Honolulu and Oakland, California; also first flight where a civilian aircraft carried a two-way radio and she was the first person to fly solo from Los Angeles to Mexico City. In addition to her flying accomplishments she also wrote best-selling books about her flying experiences and was instrumental in the formation of The Ninety-Nines, an organization for female pilots.

Earhart was probably best known for her attempt to make a circumnavigational flight of the globe with navigator Fred Noonan. It was a 29,000-mile journey and they had completed all but 7,000 of it when they landed in New Guinea. It was on the next leg of their journey where they disappeared over the central Pacific Ocean near Howland Island. People are still fascinated with her life, career and disappearance to this day.

The thing that makes me feel connected to her is that not only did she defy conventional feminine behavior, she was a supporter of it. She kept a scrapbook of newspaper clippings about successful women in predominantly male-oriented fields. In a letter written to her husband, she said, "Please know I am quite aware of the hazards. I want to do it because I want to do it. Women must try to do things as men have tried. When they fail, their failure must be but a challenge to others."

There have been theories about her disappearance, but nothing has been confirmed. This is the latest finding.