Poker Strategy Articles

Poker Journal
2004-2011

Poker Journeys

Poker Player Bios

Poker Tournaments 2005-2011 Reports

My Tournament Poker Results

Heroes

Site Map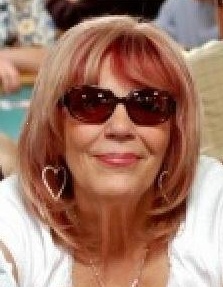 Barbara Enright has been playing poker since she was a child. During her career, she has achieved a lot of things that her male counterparts only dream of. Her accomplishments alone make her stand out but when you add in the fact that she is beating men at "their game", it only makes it that much more awesome.

Barbara played in a poker room for the first time in 1976. She began making more money than she did from her previous jobs as hairstylist, bartender, and cocktail waitress. She eventually quit her "normal" jobs and started playing poker full-time.

In 1986, she won her first bracelet at the World Series of Poker in the Women's 7-Card Stud event and pocketed $16,400. She was the first woman to win two gold bracelets when she won the Ladies Seven Card Stud event again in 1994. In 1995, she finished in the money in the Pot Limit Hold'em event at the WSOP and then less than two weeks later, she did what no other woman has been able to do. She made the final table in the Main Event and finished in 5th place. Unfortunately for her, Brent Carter decided to call her all-in bet with 63 suited and outdrew her. One year later, in 1996, she was the first woman to win three WSOP bracelets and the first to win one in an open event. That bracelet was earned in the Pot Limit Hold'em event.

In between her World Series of Poker accomplishments, she was making her mark on other tournaments. She has numerous first place finishes in major events including the Diamond Jim Brady tournament and the Legends of Poker.

At the Legends of Poker in 2000, she won the best all-around player when she made 6 final tables in a wide variety of games. She final tabled in Limit Hold'em, No Limit Hold'em, Omaha Hi-Low, Seven Card Stud, and Lowball. She also made the final table in the player appreciation tournament. Her award for finishing best all-around was a new car.

In 2007, Enright was the first woman to be inducted into the Poker Hall of Fame along with the poker brat, Phil Hellmuth. The WSOP Commissioner said, "The criteria and standards for induction into the Hall of Fame are high. A gambler must have played against top competition for high stakes, played well and gained the respect of his or her peers, and stood the test of time. Barbara and Phil clearly meet these high standards, and we are delighted to welcome them into the Hall of Fame as the Class of 2007."

Barbara still plays tournaments when her schedule allows. She was Editor-in-Chief of Woman Poker Player magazine and is involved with Cardplayer Magazine humor columnist, Max Shapiro. They reside in Los Angeles. He told me, "Barbara and I met [in 1995] when each of us was chosen to host an event at the first Legends of Poker, and began living together soon after."

One of the reasons why I especially admire Barbara is that she has been playing for many years and has stood the test of time. Her results are no fluke. She is a great tournament player and it is always a pleasure for me to run into her on and off the table.