Poker Strategy Articles

Poker Journal
2004-2011

Poker Journeys

Poker Player Bios

Poker Tournaments 2005-2011 Reports

My Tournament Poker Results

Heroes

Site Map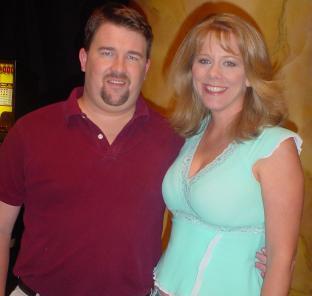 Chris Moneymaker is the real name of the man who won the 2003 World Series of Poker No Limit Hold'em Championship. His story is fit for a Hollywood movie, beginning with winning his entry into the Series via the PokerStars online card room. His total investment was forty dollars, and he won $2,500,000. After winning his way into the event, he realized it would be difficult to scrape together airfare and hotel costs. His father, Mike and a friend, David Gamble (also his real name) put up some money to cover the cost for the trip in exchange for a portion of his winnings. He also donated $25,000 of his prize to cancer research.

Christopher Brian Moneymaker took the World Series of Poker 2003 by storm. There are many people who insist that it was the luck of the cards that earned Chris his victory. Although, luck played a part in his victory (it plays a part in every victory), he showed he has the skill to play with the best.

He had been playing three years before he won the Series, but had never played a live tournament. The first day he had Johnny Chan sitting on his right and Phil Ivey on his left. He said that he got outplayed and that night decided to not be afraid anymore. If he got beat, he got beat, but he was going to play his game. Indeed he did. He mixed it up beautifully and made some great plays along the way.

The play that Chris made that I loved was against Russ "Dutch" Boyd. Moneymaker was holding pocket threes while Dutch held KQ. The flop came down 925 and Chris bet $100,000 into the pot. Dutch Boyd thought, and then moved all-in. After thinking for awhile, Chris called the bet. Before the two of them flip their cards over, Chris asked for low cards proving that he read Dutch correctly in having high cards, no pair. This key move crippled Dutch and helped give Chris the chips he needed to win the tournament.

The other thing I really respected about Chris was what a great sportsman he was at the table. I saw him shake hands with everybody that exited the game and he even welcomed Dutch back into the game when he won a pot with his pocket fives.

He is not only a sportsman at the table, but a gentleman away from it. I met Chris when we were filming the video Poker for Dummies. He was so down to earth and congenial. After the filming took place, we went to the Bicycle Casino and played in a tournament together. I told him it might not be wise to ride in the car with me since I just totaled my Infiniti. He asked me what model I had and I told him an I30t. He told me he used to have a I30 as well. I asked him if he had the "t" version, the one with the fin on the back and he told me "No, mine came with a tree in the middle of it". He explained that he crashed his as well. We talked about everything on the ride to and from the casino, including family. He mentioned that he does not want to be the best poker player ever, he just wants to provide for his family.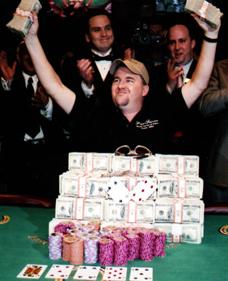 I thought the celebrity status might get annoying, but he takes it all in stride. He still uses his screen name of Money800 when he plays at PokerStars and tries to answer questions when people direct them at him. He said once in awhile, he has to turn his chat off, but that is rare. I mentioned it seemed people went after him in the tournament that night so they could say they beat the World Champion. He told me it works both ways. Sometimes it works in his favor and sometimes it doesn't.

Another example of how he is taking the celebrity status in stride is when we began to play, the tournament staff got on the microphone to announce his presence. He waved his hand in the air to acknowledge what was being said and I apologized for that happening. He told me he expected it and it did not bother him. He is a fine example of a World Champion and I wish him continued success in poker and outside of it.

Chris Moneymaker won the final hand of the main event with a full house, fives full of fours, defeating veteran ring game player Sam Farha's top pair. Sammy Farha got 1.3 million for his second place finish. Chris was an accountant at the time of his win. He now travels the world as a spokesman for various poker related products and plays tournaments when he can. The one thing Chris will never be able to do is use what he did to help him achieve his victory in 2003... being an unknown.

In addition to making money and a name for himself, he also made a lot of people in the poker industry very wealthy. I am definitely included in that. I will always be grateful to Chris for helping create the poker boom which helped put my original website Poker-Babes.com on the map. For several years, I ranked first for his name in the Google search engine and the visitors I received from that search would often sign up for a PokerStars account. All of the sign-ups that were credited to me (because of Moneymaker and more) made me a huge asset to PokerStars and it led to a 13 year business relationship with that company. I will be forever grateful to him for that.