Poker Strategy Articles

Poker Journal
2004-2011

Poker Journeys

Poker Player Bios

Poker Tournaments 2005-2011 Reports

My Tournament Poker Results

Heroes

Site Map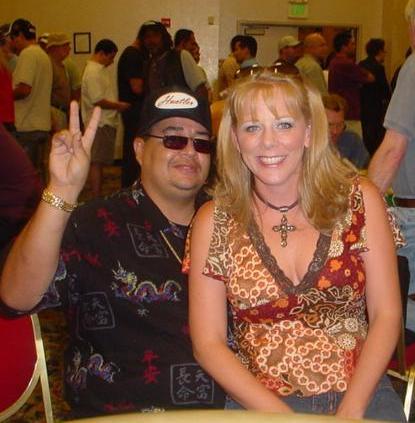 The first time I met Frankie, I was playing against him in a satellite. I had never seen or heard of him before and he definitely did not make a good impression. I thought he was loud, rude, and obnoxious. He fought with the players and had to make sure to get the last word in. The next day, during the tournament, I pointed him out to a friend and told him what had happened and my friend said normally he is a pretty nice guy.

I am not sure how it happened, but Frankie and I started talking. I came to find out he is a decent person, even if he does have a tendency to be loud and he never shuts the hell up when he is sitting at a table with me. Of course, I find this annoying when I am playing with him, but away from the table there is something about him that I like. (Kind of... :) We enjoy giving each other a hard time especially about who is the better Omaha player and it will be a cold day in hell before I ever admit that he is a better Omaha High Low player than I am (even though he has bracelets for both wrists and I don't). I have played at tables with him and I KNOW that I am better than he is. But if my arm was twisted a little bit, I would admit that he is better than most Omaha players that I have seen.

The night before his second bracelet win, I asked him what he was doing sitting on an empty table in the middle of the WSOP. I thought the tournament was still going on at the time. He told me that he was third in chips and play was going to continue the next day. He asked how I was doing and I said "I don't have any complaints except that I haven't final tabled an Omaha event at the WSOP." He told me that he was available for lessons (I totally opened myself up for that comment) and I just laughed. He said, "After I win tomorrow, make sure that you pencil in our date on your calendar." And I said, "Don't worry the date is already penciled in... for the year 2098."

Frankie told me, "the only game I enjoy playing is Omaha" which might contribute to the success that he has playing the game. He always wears the World Series of Poker Omaha Championship bracelet that he won that year with pride and makes sure he points it out to anybody who will listen (and even those who don't).

Besides the 2003 World Series of Poker $1500 Omaha title, Frankie won the 2007 $2000 WSOP Omaha High Low event, and has won titles at the LA Poker Classic and the World Poker Open and elsewhere... so it is getting harder and harder for me to tell him how much he sucks. As a matter of fact, at the L.A. Poker Classic in 2009, I made a deal with him. During the dinner break, I said, "If you win this event, I will write that you are the greatest player ever." Sure enough, he went on to win the event. So how do I honor my word without making his head explode from his inflated ego? I add some words to the end of the sentence... Frankie is the greatest player ever to have won a $1,000 H.O.R.S.E. event at Commerce Casino until I did it three months later during the California State Championship (that should get his goat)!