Poker Strategy Articles

Poker Journal
2004-2011

Poker Journeys

Poker Player Bios

Poker Tournaments 2005-2011 Reports

My Tournament Poker Results

Heroes

Site Map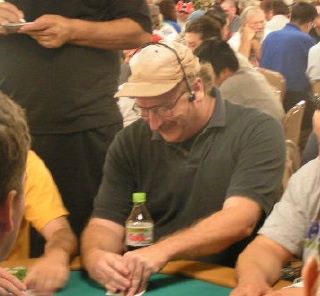 I first met Steve Badger in 1993. I was working at Commerce Casino as a cocktail waitress and one of the other regular players in the Omaha games with Steve was someone that I was pretty good friends with. I would often stand and talk to the player and eventually started talking to Steve. He isn't a drinker, but would sometimes order bottles of water from me. For some reason, we really hit it off and he has been my best friend ever since, although I sometimes wonder why I torture myself with his friendship. He is brutally honest and sometimes says things that others might get their teeth kicked in for. One of his lighter comments was in response to me telling him that my phone bill was expensive from talking to him, he said, "I spend that much on aspirin every month listening to you." Even though he rips into me during many of our conversations, he is the person in my life that keeps me grounded. Occasionally, with a little twisting of his arm, he might make a comment such as, "you are such a great person, you just need to realize your potential." He always keeps me striving to achieve better things.

Steve was the first person to get me interested in poker. I would stand behind him on hands and he would explain Omaha High-Low to me. He convinced me to enter my first tournament where I placed 9th. He taught me his strategies for the game, and even told me the "Omaha secret" and I have done well ever since. I know he is the best Omaha player around and I feel privileged to have all this "inside" information on the game. Information that has taken him years to perfect.

One thing I admire most about him is that he has opinions on everything and he isn't afraid to tell people what he thinks. Some people might find this offensive and a few people don't like him for this. I don't understand how anybody can not like a person that speaks his mind whether they agree with his opinion or not. There is nothing fake about him and I find that refreshing. He also has principles that he stands behind. He has never once sat in a game that I have been playing on online because he does not want even the illusion of a conflict of interest.

With as much information that he has given me about Omaha, I sometimes watch him and am amazed at how good he is. In my humble (and maybe biased) opinion, I don't think any other player can play this game as well as he does.

Steve stopped playing tournament poker in 2008, instead focusing most of his time maintaining his websites, including PokerStars.com, which he helped found in 2001. I also have to thank him for getting me involved with Stars back then.

Steve's tournament poker accomplishments include wins at the Commerce Casino's LA Poker Classic and California State Poker Championship, the Horseshoe Casino's World Series of Poker, the Gold Coast Open, Omaha titles from the Bicycle Casino's Legends of Poker in 1995, 1997 and 1999, plus mid-size Los Angeles tournaments like Hollywood Park's National Championship of Poker and three Omaha titles from the Bicycle Casino's Winning of the Green, including 2002 and 2003.

A small note: when I told him that I was writing his bio, he said that I had to use the word "sweet" to describe him. I told him that there was no way in hell that word was going on his bio, but here it is... He can sometimes be sweet, if there is a full moon in the third month of the year on a Wednesday.