Poker Strategy Articles

Poker Journal
2004-2011

Poker Journeys

Poker Player Bios

Poker Tournaments 2005-2011 Reports

My Tournament Poker Results

Heroes

Site Map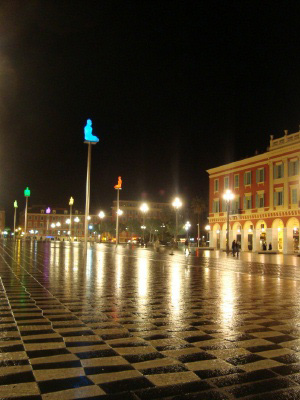 April 17, 2009
We arrived in France in the late evening and rented a car because my French hairdresser warned me about the ridiculous fees the taxi drivers charge. He had given me a run down of the French Riviera and made a lot of recommendations. We made our way to our hotel which wasn't an easy task and were quite pleased with the look of the hotel The lobby was decorated with bold colors and had great photographs of old-time Hollywood starlets. Our room was adorable and had a great view of a few of the streets of Messina. We were only one block from the central square of Messina Plaza, a walking distance from old town and from the Promenade Des Anglais.

We got ready and had dinner across the street at a wonderful karaoke restaurant. I am not a fan of karaoke and I would never get in front of a group of people and sing, but watching the French people have so much fun was very enjoyable. There was this one woman in particular who just lit up the room when she was performing. He voice wasn't great (not too bad either), but she loved what she was doing and it made the rest of us love it along with her. Our plane ride was so long and after a couple hours sitting there it was time to go to bed.

After a few hours of rest, I had a hard time sleeping. The room was quite stuffy because their heating/air-conditioning system was prehistoric. During the summer months, you can only have air-conditioning (no heat) and the rest of the time, you can only have heat. I like it cool when I sleep so I was forced to keep my windows to the balcony open which meant I could hear all the street noise. I kept waking up, checking the clock, and then going back to sleep. I was waking up every 5-10 minutes and finally decided to just get up at 4 in the morning and take a shower. My friend was having the same problem with sleeping so we headed out about 6 in the morning. Our hotel offered breakfast (which we thought was included, but instead was way overpriced) so we had a light breakfast before site seeing. My hairdresser gave me a list of places to see and suggested I drive the coast in one direction and take the highway in the other direction. So we headed towards Cannes visiting Antibes and Juan Les Pins on the way. We got robbed of some of the experience because it was raining most of the day, but we were able to see quite a bit. After seeing Cannes, we took the highway in the opposite direction so we could see Monaco. The whole way I was looking for somewhere I could eat crepes, but every time I found a place, we couldn't find a place to park. By the time we saw Monaco, I was so damn hungry I couldn't handle taking the coast back because I just wanted to get back to Messina and go to the crepes place that was next to our hotel (and next to the underground parking). We got back around 2, had our crepes in a smoke filled cafe and then we had to take a nap because our day started at 4 in the morning with very little sleep.

At about 7, my friend woke me up and said "You gotta get moving because your sleep schedule will be screwed up if you don't." After a LOT of nagging, I got my ass up and we walked around Old Town because the rain had finally let up. There were a lot of cute shops and restaurants all up and down the street and we enjoyed our walk until the rain started up again. We decided to take another drive and head up the coast towards Monaco since we missed that part during our first trek. We drove through Villefranche and then to St. Jean Cap Ferrat and I really enjoyed that side of the coast. There were hills and houses on that side and the view was beautiful. After a couple hours, we headed back to Old Town so we could eat at one of the restaurants. I picked a restaurant based on the how many people were dining there and how the menu looked and I did a fantastic job at picking one. The restaurant was called Chez Freddy and I would recommend it to anyone who plans on visiting Nice. The specialty of the house was Paella and it was the best I have ever had.

This morning I got all packed up so I could head to San Remo for the tournament. I don't play until day 1B but I wanted to go in time to attend the PokerStars party. I am currently on my first train ride in Europe and am looking forward to playing some poker and then seeing as much of Italy as I can with the remainder of my time.

April 17th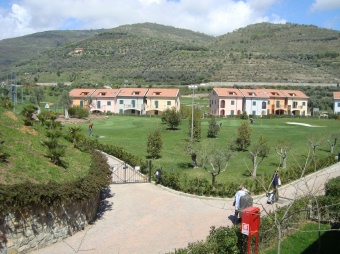 We took the train from Nice, France to San Remo, Italy and arrived in the early morning. We met a couple PokerStars players in the train station and ended up sharing a cab with one of them because he was also staying at the Castallaro Golf Resort.

The ride was an adventure. Before my trip, I had briefly heard about Italian drivers, but none of the stories came close at explaining what the experience was really going to be like. He drove like he was on a speedway, weaving in and out of cars and the worst part is we were only on a two lane highway. I was holding my breath each time he passed a car and narrowly missed the oncoming traffic. After what seemed like an eternity, he turned left and started driving up a windy road. It didn't take me long to realize that our resort was at the top of the windy road and I was just starting my adventure

We managed to arrive at our hotel safely and did the usual check in stuff. I got my PokerStars player's bag and we headed to our room. The room was a mini-apartment and was much more than we needed. There were two rooms with beds and a small kitchen and bathroom. Our patio view was the golf course. Even though that sounds amazing, it wasn't the type of hotel that I am used to staying in and I wasn't thrilled with our accommodations. I think we were only sleeping on box springs because the bed was almost on the floor, the internet connection was shitty, the bathroom had no counter space and the room temperature was controlled by the receptionist at the lobby. Fortunately I only booked this room for a few nights because I knew that if I managed to make it through to day 3 I would want to move to a closer hotel. Those hotels were booked when I originally made reservations and I knew as people were eliminated from the tournaments, hotel rooms would start opening up.

We had to take a nap when we got to the room because our bodies still hadn't adjusted to European time. We woke up with just enough time to get ready and head down the hill to the PokerStars party. The European PokerStars party was no different from the LAPT parties and I was surprised about that. There are three times the players in this event so I figured the party was going to be a major blowout, but it wasn't. We met a few new people, mingled with some old friends, drank free alcohol (I only had one glass of wine this time), and ate some free food. After a couple hours of mingling, we hopped on the shuttle bus back to our hotel. There were 9 people on our HUGE bus and all of our faces had the look of panic when the bus turned up the hill to make the windy road trek. I was doing alright for awhile until the driver had to take a sharp "almost u-turn" to continue his way up the hill. He went to make the turn and got too close to the side with the rock wall. He tried to turn and couldn't quite make it so he had to spend about 3 minutes backing up and then moving forward until he could make the turn. If he backed up too far, we were going over the edge and it was a LOOOOONG way down. I was literally in tears. When we got to the top, we vowed to never take the big shuttle again. Only small shuttles or taxis for us.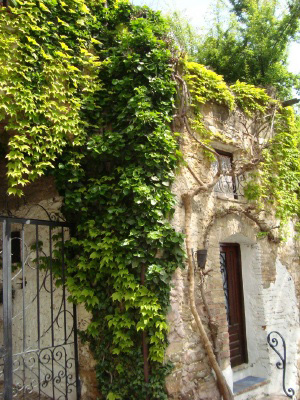 This morning we woke up early and had our complimentary breakfast at the hotel and then headed off to Bussana Vecchia with a couple we had met at the PokerStars party. We had no idea what this place was, but I found the place when I googled "things to do in San Remo". It didn't disappoint and the four of us had the best day of our trip so far. Bussana Vecchia ended up being a 1200 year old village sitting on top of a hill with all sorts of artists. Their houses were also their shops and they sold their goods from them. I ended up buying a bracelet, a candle, and a few postcards, but there were all sorts of things on sale including some amazing paintings (which I knew would be difficult getting home and lugging around for 2 weeks). In the last store, we met a woman named Jana and we all fell in love with her. She spoke great English and told us about how she came there in the hippy days and has been there ever since. She also told of us that we could walk down a back road and then take a bus from the bottom of the hill to the next place we wanted to go. This would give us a little more "Italy experience" and we wouldn't have to wait until the taxi driver made it back up the hill to get us. Our walk down that hill was an experience that I am so glad I had.

Our next stop was Villa Nobel which was the house that Alfred Nobel purchased in 1891. After his death in 1896, the place was sold a few times before it was bought in 1969 by the tourist board. It is now a museum and it is fascinating.

After our trip to the Villa Nobel, we walked to Casino San Remo so we could get our seating assignment for day 1B. We had a little bit of time until the registration desk opened so we went across the street to eat some real authentic Italian food. I ordered the 4 cheese Penne and it was spectacular. After registering, we jumped in a cab and headed back to our hotel so I could get a good night's rest for tomorrow's tournament.

April 20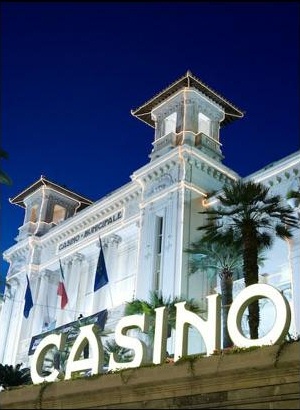 The tournament didn't go very well for me and I was out before dinner break. The whole trip has been frustrating and losing with the hands I lost with yesterday makes it even more frustrating.

The day started out with me drawing an extremely tough table including Marcel Luske. It seemed like every other seat was filled with a European pro and I wondered where some of the qualifier fish from PokerStars were. They certainly weren't at my table. I think I was only thirty minutes into the tournament when my first big confrontation occurred. I was dealt AA in first position and I made my standard raise of three times the blind ($150). Everyone folded around to the button and he called. The flop was 442 and I checked to him. He bet and I only called because I figured it was a pretty safe flop and I planned on check raising on the turn. The turn was a three and I checked to him again. He made a bet of $600 and I raised to $1700. After some thought, he called. The river was a jack and I made a bet of $4k. He raised the last of his chips ($2500) and I called. He showed 65 for the straight. I just shrugged it off because my first thought was there was nothing I can do about that. There were so many possible hands for him to have and mine beat most of them. There was no way I was going to fold for only $2500 more. But the more I thought about it, the more I wanted to kick myself in the ass. I had pretty much eliminated the possibility of him having a four, but I hadn't thought about other possibilities and I kept thinking that I could have (should have) got away from it or at least checked the river and hopefully saved some money by only calling his bet. Also, ruling out the chance of him having a four was dead wrong because he played 65 so he could have certainly played 54. I wasn't going to beat myself up while I was sitting at the table. I needed to stay focused and I still had about 3k in chips which I could work with.

By the time the first break rolled around, I was down to 2k in chips and I was feeling pretty shitty. I not only lost with those aces, I had also lost with AK vs QQ (he showed the flopped set after I folded on the flop) and with QQ against AA when I gave the 65 guy very little action because I correctly thought he was trapping. 2k chips is still more than a "chip and a chair", but it was a long way from where I wanted to be.

After the first break, things started looking up for me. I more than doubled my stack when I raised with TT and got two callers. The flop was 7 high and the player in the blind (the same 65 guy) led out and I threw the last of my chips in. The guy to my left thought about it for a minute and then finally folded. My opponent had QJ so I wasn't out of the woods, but I managed to escape the turn and river. The guy to my left claimed he would have made a set of eights on the river if he had stayed in. Fortunately for me, he didn't and I was back in contention. I managed to pick up some more pots including two where I was dealt pocket sevens and had about 8k in chips before losing a couple small pots. Losing those couple pots and going card dead made my stack dwindle to about $5500. I then got dealt KK and had a great shot at winning a very nice pot. I was on the button with my pocket kings and two players limped to the guy in the cut-off. He made it $1200 and I pushed. The guy in the small blind asked for a chip count and then did some thinking. Obviously, I had him beat since he wouldn't have hesitated as long, so I was pleased when he finally said "I call." Everybody else folded and we turned up our hands. He held QQ which was not pleasant for me to see since I run so bad against queens (and run so bad holding them). The dealer turns up three non-paint hearts and I looked at both of our hands to see if one of us had a heart. Sure as shit, he had the heart and the dealer wasted no time putting up the fourth heart for him. The river wasn't going to be of any help to me, but the dealer decided to put up a king to twist the knife a bit.

The tournament would have been a great one to win since there were around 1200 players in the event. First prize would have been a pretty penny, but I am going to have to wait until the next event. Not sure what that is going to be, but it will probably be a Latin American Poker Tour (LAPT) event because I have made so many great friends on that tour. For now, I am going to vacation in Italy starting with a trip to Venice.

April 22
I couldn't get out of San Remo quick enough. The place didn't have much to see and staying at that golf resort was inconvenient especially when it came to transportation. I woke up at 5 in the morning excited to get to my next stop, Venice.

Our train ride was an adventure in itself because we needed to get to a main train station to buy train passes that were flexible. Generally, I am not a very good planner and when you combine that with the fact that I had no idea when I would be finished playing the tournament, I couldn't make any set plans. A train pass seemed to be the perfect solution. Genoa was the closest main train station but when we arrived there, their computers were down, so we headed to Milan. When we arrived in Milan the woman at the counter told us that even when you buy passes you have to pay a reservation fee for each leg of your trip so a lot of times it doesn't work out to be any cheaper. We decided to not waste anymore time trying to figure out and we got on the next train to Venice.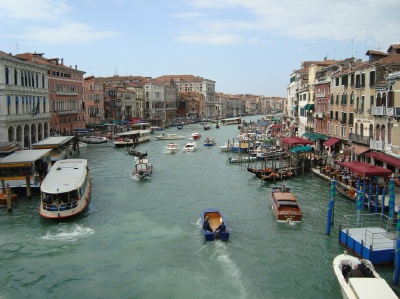 Our hotel was a two minute walk from the train station and it didn't take us any time to throw our stuff in the room and venture into the city. We didn't have a lot of time before nightfall, but we had enough time to see a few gondolas, take a picture on the famous Ponte di Rialto bridge, and browse in a few shops where Murano glass was the main retail item. We also had a great dinner including a salad (trust me I don't usually get excited about salads) with the best tomatoes I have ever had.

The following morning, we woke up early and walked over to San Marco Square where we explored some of their most famous attractions including Basilica di San Marco and Doge's Palace. The church was absolutely amazing and I literally get teary eyed when I walked into it because of the beauty. Everything is done in Mosaic and the detail that was put into each and every piece was unbelievable. After a couple hours of sightseeing, we had lunch at a little cafe and had some of the best pizza I have ever had. We spent the rest of the afternoon looking in shops and walking around the city and taking lots of photos. When dinner time rolled around, we walked over to the restaurant with the great tomatoes and I was disappointed they were closed for the evening. We settled on another restaurant that satisfying, but not even in the same league as the one from the night before.

We packed up our stuff when we got to the room because we were leaving for Florence the following day. In the morning, we had enough time to some last minute sight seeing. We took a private water taxi to the island of Murano where we saw the artists making glass sculptures. After touring one of the factories, we were guided the showcase area that was full of various glass items. I had always thought a lot of the glass sculptures were beautiful, but after seeing the pieces being made, I had an even greater appreciation. I was tempted and came very close to buying a $2,000 sculpture. Even though I still think the sculpture is amazing, I am so glad I resisted the urge to buy it.

April 23
We arrived in Florence in the afternoon and headed to our hotel which was close to the train station. On this leg of the trip, we decided to book a 3-star hotel rather than the usual 4-star we have been booking. We got a great rate on the room and didn't think there was going to be much difference between the two. We were way wrong! We definitely won't be booking any more 3-star hotels while in Italy. The location of the hotel was convenient, but that was about the only good thing it had going for it. The room was a little grungy and the bathroom was ridiculously small (even by European standards), but the worst part about the room was the bed. You could literally see the waves in the mattress from the wear and tear on it. Seeing the room was a bit of a downer, but we weren't going to dwell how crappy it was. We were in Florence!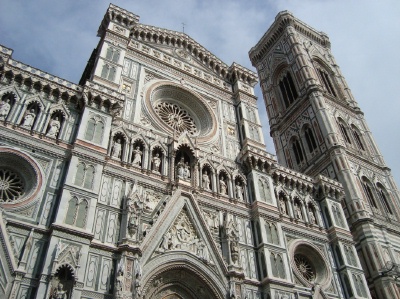 We didn't waste any time before seeing the city. Our first stop was Cattedrale di Santa Maria del Fiore otherwise known as The Duomo. The outside of the church was beautiful and the inside was no different. There were beautiful archways and high detailed ceilings, but my favorite part was the painting on the duomo ceiling. We got in line to hike up to the top of the Duomo and I am not exaggerating when I say "hike". It was 463 stairs to the top, but it was worth it. We got to see the paintings on the ceiling from up close and there was an amazing view from outside where we could see the hills of Tuscany and the rooftops of the buildings in Florence. After seeing the church, we went to Piazza Della Signoria where we saw Palazzo Vecchio and some amazing marble sculptures in the Loggia. After, we went to Ponte Vecchio and took a picture while sitting on the bridge and then did a little window shopping in the jewelry stores. The day was long and I was exhausted from all the walking and I was getting real hungry. We started to head back so we could have dinner before heading back to our crappy hotel. While walking, we stopped and talked to one of the artists and I ended up buying one of his waterpaintings. It was a painting of a musician sitting at a piano. I originally wanted to buy a painting of a landmark in Italy so I could be reminded of our fantastic trip, but the musician painting grabbed me and I wanted to have it for my house. I was certain I would be able to find another painting during my stay in Italy.

We found a restaurant close to the Duomo and it was everything I wanted. It had character, a great atmosphere, and the best Italian food ever. We started off by sharing a salad (here I go again with getting excited about salad) that was nothing less than spectacular. It had artichokes, ham, tomatoes, and the best mozzarella cheese I have ever had. The cheese was cut into oval shapes and it looked like a hard boiled egg. I sliced it into thin slices and put some balsamic vinegar on it and I was in heaven. There was enough cheese in the salad for each of us to have four pieces and I savored each and every one of them. After the salad, I had a spicy penne past dish and it had the most amazing flavor.

Earlier this morning, we took a day trip to Pisa. We walked from the train station towards the area with the leaning tower and we turned the corner, we could see it in the distance. The sight of it peeping from behind the buildings was exciting and I hurried to get up close. Once we arrived in the plaza, we saw a lot of people doing the cheesy photo where you pretend to hold the tower up. People looked funny as they did it, but its just something you gotta do when you are there. So we joined in on the fun and got some great photos. We spent the afternoon looking at the various sites, taking photos, browsing at the vendor stands, and climbing to the top of the tower. Climbing to the top was amusing because you could feel yourself being pulled or pushed to one side as you climbed around the building. It was also pretty cool to look out towards the other buildings with the slanted pillars of the tower in the foreground. It gave a nice contrast and the slope was easy to see when doing that. We headed back to Florence in the afternoon and did a little walking around before eating dinner at I Matti di Firenze (the same restaurant from the night before). Of course, we had to have the salad as a starter and then I had a pizza which didn't disappoint.

April 25
Siena was our next stop and we arrived yesterday, early morning. We talked with a couple on the train and they said we should see San Gimignano if we had a chance. So when we got to our hotel. we looked into tours and we saw one that went to San Gimignano and to try Chianti wine in Tuscany that left in the afternoon. We booked the tour and walked slowly up to our meeting point so we could see the city a little bit. When our tour guide arrived, he started calling out names of the people going on the tour "Rosario?" and I said, "yeah we are here". "Johnson" and the people answered and raised their hand. "Retarded?" and all the English speaking people looked at each other. A few of us gave a little chuckle. "Retarded?" His accent making it even more funny. He looks at this older couple and says "Are you Retarded?" I thought I was going to bust a gut, but I managed to hold it in. And then the lady replies to his question "I don't know." I couldn't refrain and laughed and laughed and turned my head so people didn't see me, but every time I looked at my friend Sos, he was laughing even harder than I was. We were both in tears and this group of three younger girls were laughing along with us. It was probably the funniest moment on our trip and thinking about it now still makes me laugh out loud.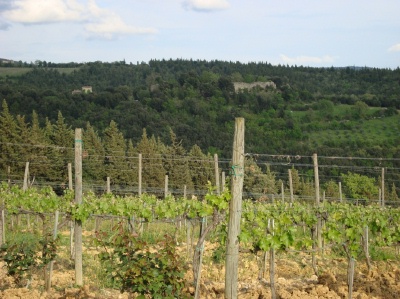 We went to a Villa and the owner of the property explained how he cleaned things up when he bought the place and how he planted olive trees in a certain area of the property and how he found an old recipe for a certain type of wine on the wall of the house and how it has taken years to perfect. We went inside the Villa and had a tasting and the everything was wonderful. I ended up buying spicy olive oil, truffle olive oil, balsamic vinegar, spices and wine.

Our next stop was the city of San Gimignano and it was a beautiful city. Our tour guide gave us an hour in the city to see whatever sites we were interested in seeing. I was interested in looking at the architecture of the buildings and walking along the streets. I was glad that we saw the city and thankful that we met that couple on the train or I would have never known about it. Our next stop on the tour was another villa where we tried all sorts of wine and had some lunch meats and bread with the tasting before having a vegetable/bean goulash dinner that everybody enjoyed but I couldn't bring myself to eating because it looked so bad. We arrived in the late evening and went to bed so we could get an early start in the morning. We wanted to see more of Siena before heading to Rome.

April 26
We arrived in Rome in the late afternoon after taking a train from Siena. After checking into the hotel (which was a huge upgrade from the one in Florence), we went to went to see some sites stopping at Trevi fountain first. The fountain is only 100 yards away from our hotel and it was one of the points of interests that I wanted to see most. I was shocked to see how many people were surrounding it and I was hoping that it wasn't an indication of what Rome was going to be like. I squeezed through the crowds and took a photo in front of the fountain and made sure to throw a coin into the water as part of the tradition.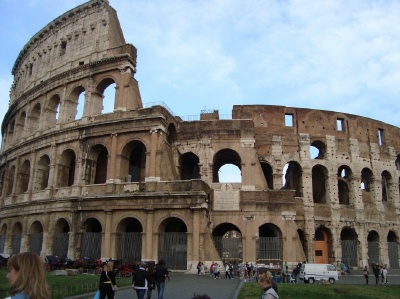 We walked to the Coliseum and stopped at one of the memorial buildings on the way. The building was as big as our White House and had guards in front standing still as a Roman statue. Past the memorial a bit, we started to see the ruins of the Forum with the Coliseum in the background. My friend wanted to stop and see all the ruins, but it seemed a little dull to me. We stopped, he was amazed because he is fascinated with history, I was bored because it just looked like old ruins to me. We proceeded to walk until we reached the Coliseum and I took some great photos. I liked seeing this because I am more aware of the history of the Coliseum. I also liked that I have seen it so many times in pictures and in movies, but this time I was looking at it up close and in person. We weren't able to go inside because it was after hours so we walked over to the Circus Maximus which was pretty interesting. This is the place where they used to have public games and chariot races (think Chariots of Fire). It doesn't even look close to the same, because it was covered with grass, but you could tell how large it was and could sense how it used to be thousands of years ago.

Today we went to the Spanish steps where I bought another painting. I really enjoyed this area because it was covered with brightly colored flowers and also had a great vibe with all the artists sitting at the top of the stairs selling their art. When we left there, we went to the Pantheon (my favorite building as of yet) and Piazza Navona before taking a tour to Tivoli.

In Tivoli, we stopped at Villa Adriana where we saw more ruins (yipee) and then we went to Villa D'Este (otherwise known as Tivoli Gardens) and it was amazing. It was a place that was recommended to me because I enjoy seeing gardens and flowers and the place did not disappoint. Everywhere you turned, there was another garden crevice or water fountain and each was more spectacular than the first. I think I took about one hundred photos of all the different areas. Our guide gave us some history on the place and we learned that the gardens took many years to complete and I thought that every moment the people worked on it was worth it because it was breathtaking.

We headed back to Rome in the evening and had dinner. So far, I have not been thrilled with the food in Rome. It isn't any better than any of the Italian food I get in Los Angeles. As a matter of fact, it hasn't even been as good as in L.A. I made up for the disappointment by treating myself to some Gelato.

Tomorrow we have plans to go to the Coliseum and the Vatican.

April 27
The past week has been so much fun, but also exhausting and I still have four more days of my trip left. This morning, we woke up early to do a guided tour of the Coliseum and the Forum. I am so glad that we decided to take the guided tour rather than just see it on our own because our tour guide was a walking encyclopedia. He told us he has been here for 9 years and is working on his Masters degree in Theology. He talked continuously throughout the tour and I was disappointed when it ended because I was learning so much about Roman history. Originally, we were planning on heading over to the Vatican after visiting the Coliseum, but when the tour guide said he does the Vatican tours on some mornings, we decided to eat lunch and call it a day. We have to wake up at 5:30 am tomorrow because we are taking a 13 hour tour to Pompeii and the Amalfi Coast. The following day, we are going to take the Vatican tour and hopefully the tour guide we had today will be the one working that morning (he was unsure of his schedule when we asked).

April 28
We just got back from our tour and I am glad we got to see all of the cities, but disappointed we didn't have more time and also disappointed that our tour felt more like a taxi ride.

The first stop we made was Pompeii to see the ruins. Once again, I wasn't thrilled, but having a guide helped because he explained what the different buildings were. He was also entertaining, but not in the usual sense. While exploring the inside of the bath house, we were behind a group of German tourist. Their guide was explaining things to them and we were standing behind them waiting. Our guide snapped and starting arguing with them in German. The tourists looked appalled and then headed off into the next area. Our guide turned to us and said "They just think they can take as long as they want. The stupid Germans. I hate them. They killed my Grandparents." And we all looked at each other like "What the hell? This guy is nuts." We went on to explore the brothel. Our guide said they could tell it was a brothel by the paintings on the wall. There was a series of sexual positions painted on the wall with a number next to them so they assume that the customers would go in, look at the paintings and then tell them the number they want. When we walked outside, he showed us a penis engraved into the stone leading into the building. Yep, there was no mistaking that this place was a brothel.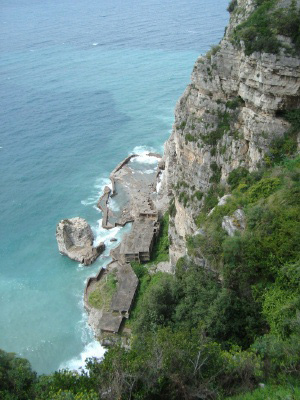 When we got into our tour bus, we noticed a group of Asian tourists heading into Pompeii. Our tour guide started ragging on them. He said "These Asian tourists do everything all fast. They visit Venice, Florence, Rome and Pompeii in three days They cover X amount of meters. Those Asian people are crazy." I turned to my friend Sos and said, "What is it with these racist tour guides today?

We went to the Amalfi Coast next stopping in Positano first. We had lunch at a restaurant right on the beach. It was beautiful, but it was raining most of the time, so that put a damper on the experience. When we were finished, we had about thirty minutes to see as much as we could. Even though we had umbrellas, it wasn't a great experience and I wished that we could have seen it at a better time. Driving along the coast toward Amalfi was great and I loved the scenery (despite the rain) and I dreamed of coming back and spending a few days on the coast during the next trip. When we arrived in Amalfi, we had an hour to ourselves and the experience was better than it was in Positano because the rain had let up. We saw a few sites, bought a couple bottles of their famous limoncello (you should see the size of the lemons - they were the size of grapefruits) and then headed back to our hotel in Rome.

April 30
Yesterday we went on the Vatican tour. We didn't get our same "stud of tour guide" this time around, but we got a girl who was interesting and was almost as good. We started the tour off by waiting for the Pope to make his entrance. We were fortunate that we had good spots and I got some great close up pictures.

After seeing the Pope, we went into the museums. The first site was a long corridor full of famous old marble sculptures. After seeing the one corridor I thought to myself, "This is truly amazing." I was amazed at how well the sculptures have stood the test of time. I was amazed at how many pieces of work were in one place (and I knew I barely scratched the surface). I was amazed at how the church can allow for all that wealth to be sitting in one place and how much good the money could do in the world. There should be no world hunger.

The other sites were just as amazing and the Sistine Chapel was the cream of the crop. Our tour guide gave us a huge lesson on Michelangelo and the work he did. And looking up at the ceiling was even more fascinating now that I had so much background information. She told us there was to be no photography inside the Chapel and she said that the guards are strict about it. When we walked into the area, I saw cameras going off like crazy and I knew they weren't going to come after me for taking photos because I was just a number in the crowd. When we left, she said she has never seen that before and she has given many tours. I was happy to walk away with some really great photos.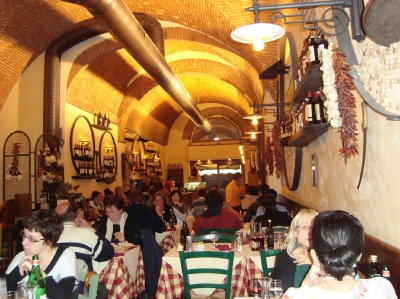 After seeing the Vatican, we left Rome and started making our way back to Nice. I had my heart set on going back to Florence. I don't know what it was about that city, but I felt like it was calling me back. When I was on the first trip to Florence, I didn't realize I enjoyed it as much as I did. As soon as I left, I kept wanting to go back to see more. Wanted to go back to see my artist friend. I wanted to go back to eat the mozzarella cheese in the delicious salad at my favorite restaurant in Italy. We booked a 5-star hotel (Montebello Splendid) and had a fantastic last day in Italy. We walked around the city, we stopped and talked with my artist friend like I wanted to and we had a fabulous dinner (I had the spicy penne dish and salad again). We finished off the night with a great night's sleep in our comfortable 5-star bed. Things couldn't have ended better. I love Florence. I love Italy. I love the fact that I have poker in my life and that it affords me great opportunities to do the things I enjoy.