Poker Strategy Articles

Poker Journal
2004-2011

Poker Journeys

Poker Player Bios

Poker Tournaments 2005-2011 Reports

My Tournament Poker Results

Heroes

Site Map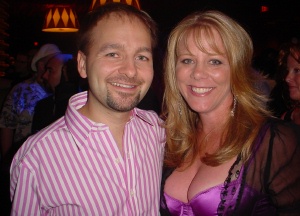 Daniel Negreanu is one of the most familiar faces in poker and rightfully so. His success is enormous, his talent is unrivaled and his personality is unforgettable. In 2004 alone Daniel won Cardplayer Magazine's Tournament Player of the Year award and the World Series of Poker's Player of the Year award. Many people (including myself) think Daniel is one of the best in the game. He might have the talent and natural gift of playing poker, but he also works hard; harder than almost anybody in the game.

The first times I ran into Daniel Negreanu I honestly didn't know what to think of him. My first impression was that he was one of the most congenial players I have come across. I later changed my mind and figured that he had to be fake because nobody that was genuine could have a smile on his face every time I saw him. I kept the latter opinion until it dawned on me... nobody that speaks his mind the way he does could be a fake. I have read many newsgroup posts and articles about Daniel. Many times, people get offended by what he says. I always take it for what it is: a man willing to speak up for what he believes in. I am not saying I agree with everything he has written, but it is refreshing to see a person speak their mind regardless of what others think.

Although I ran into Daniel Negreanu several times, I was never been able to sit down and have an in-depth conversation about poker with him. I am fortunate to be able to discuss poker with him via the Internet. One of the first things I was interested in knowing was which player of the year award he received meant more to him. His response was, "It's so hard to say because both are very valuable in very different ways. The WSOP title was something I'd focused really hard on and gave it my all to win. To come through after a grueling month of poker was an awesome feeling. With the POY it was different. I didn't think at the beginning of the year I had any chance. I'd already decided to play the big cash games and only the big tournaments. Halfway through the year, I realized I actually had a shot to win the thing. I led for most of the way but David Pham passed me with one tournament remaining for me to win that title. Only problem is I'd have to fight through 376 players to do it. I love the pressure though, and with my back against the wall not only did I regain the #1 yearly ranking, but I also won the tournament and a cool $1.8 million. So they are both special for very different reasons, which makes your question impossible to answer!"

I then asked him what it was like knowing he had to pull off a miracle during the last Bellagio event of that year to win the Cardplayer award and if it was extra rewarding because of the close race. He explained, "I'm kind of a sicko in that sense. When David passed me with one event left I was like, 'Cool. Pressure's on.' If I'm not challenged I'm a worthless poker player. If I don't play in high pressure situations I often become lazy and am totally void of focus. Picture playing chess with someone that you NEVER lost to; wouldn't that get boring after a while? I enjoy the thrill of victory, but without the agony of defeat it is definitely less rewarding."

I love watching Daniel play No Limit Holdem because of his great understanding of the game. He understands that it is not about the cards, but about the situations and playing the players. I wanted to know what kind of an edge he had by understanding both of these things. His reply was, "I think if there was one attribute I possess that rivals all other players, it would be my play AFTER the flop. In deep stack tournaments playing the right starting cards is so much less important than making crucial decisions throughout the hand. I focus more on the post flop rather than worrying about what cards I start with. Hey, I'm just not embarrassed turning over the 2-5 of clubs!"

As I stated earlier, I respect Daniel Negreanu for his ability to speak his mind. I asked him if he gets himself into trouble because of it or if he ever asks himself, "Why didn't I keep my mouth shut in this situation?" His answer was, "I can't say that I'm proud of everything I've said or done in my past, but that doesn't mean I would want to change any of it. I have no regrets because I genuinely feel like all of the things I've done in my past have helped me learn to be a better person. Without those 'mistakes' I may have not learned valuable lessons that have helped me become a happy person."


The last thing I discussed with Daniel was players that he respects. I, and probably 90% of the poker community, already know that Jennifer Harman would be at the top of his list, but it was interesting to hear that he thinks as much of Phil Ivey as I do. His reply to my question was, "There are so many people I respect in the poker world and they all have similar attributes: excellent players who are also genuinely good people and treat others well. Phil Ivey is an awesome talent and is well grounded at the same time. Jennifer Harman plays in the biggest cash games in the world on a regular basis and wins. She wears her emotions on her sleeve, so when she's pissed you'll hear about it! I respect Phil for his dedicated focus, and Jennifer for making it to the top of a 'man's world' despite all of the obstacles she's had to face in her life, including twice going through kidney failure and facing death."

At the bottom of an e-mail he sent me, he added a comment. A comment that we all should listen to and learn from: "With poker's explosion, poker players are now in a position to finally make some residual income for being good at what they do. I've been approached with several different offers over the past year and plan on doing more and more to help promote poker. I'm a poker fan first and a player second. I'd like to see poker's popularity continue to grow and will do everything I can to help protect the integrity and image of the game."

Prophetic words. Since that time no player has promoted poker more successfully than Daniel has. Daniel is the central member of the Team Pokerstars group of players and plays online under the name KidPoker.