Poker Strategy Articles

Poker Journal
2004-2011

Poker Journeys

Poker Player Bios

Poker Tournaments 2005-2011 Reports

My Tournament Poker Results

Heroes

Site Map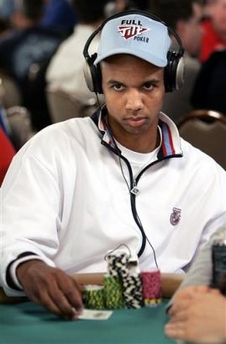 I first met Phil Ivey after his phenomenal success at the World Series of Poker in 2002. Phil took home three gold bracelets that year (tying the record held by Phil Hellmuth, Ted Forrest, and Puggy Pearson for most wins in a single year; Jeff Lisandro also tied it in 2009). I saw him from across the room at the Commerce Casino's California State Poker Championship and I decided I had to meet this poker sensation, so I approached him and introduced myself. I think he was a little shocked (maybe disappointed) that some girl was introducing herself to him based on his great poker ability. Of course, since the poker boom, women (and men) approach him constantly.

For some time, when I ran into Phil on the tournament circuit, I tried to convince him that he should give me 7 Card Stud lessons. He was always very pleasant when talking with me, but he chuckled when I would bring up the lessons. At first I was convinced that I scared him, but the more that I have gotten to know him, the more I realize he has a reserved personality. I have seen more of his personality come out and I imagine that it is partly because he deals with fans on a daily basis. I am still puzzled that a world class poker player that is known for his aggressive style is as quiet and shy as he is.

Phil Ivey resides some of the time in Las Vegas and plays in the biggest cash games there, around the world, and online. Some opponents he has played against are Doyle Brunson, Barry Greenstein, Chip Reese, Larry Flynt, and the billionaire Andy Beal. Phil spends some of his time away from the poker table at the golf course. I have heard rumors that when he first started playing golf he was hopeless (although if you saw him on ESPN shooting golf, it doesn't seem to be a rumor), but that hasn't stopped him from betting thousands of dollars while on the green. Betting on golf isn't the only thing he bets on. Phil is known for making some huge side bets including betting on himself to win bracelets at the World Series of Poker. In 2008, there was talk about his side bets being in the seven figures. In 2009, he bet on himself again laying 2.5-to-1 odds for any takers and this time he scored huge. He more than made up for his losses the previous year.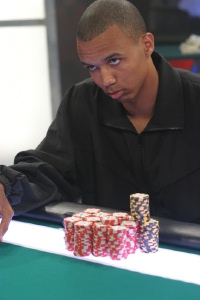 Mike Sexton gave Phil the nickname the Tiger Woods of poker, but I have to disagree. He is the Phil Ivey of poker, totally in a class by himself. He is definitely my favorite all-around poker player and I love his aggressive style. When I watch him play in tournaments, I am in awe by how focused he is. He seems to be paying attention to everything, absorbing every bit of information that the other players give him. One example of this was on the "Earphones Please" Poker After Dark television show. He was seated with five other players with four of them being borderline obnoxious or well over the border. A normal player would have lost their cool. I would have run out of there screaming, but Phil sat calm and collected and ended up winning the one-table tournament.

Another great strength he has as a player, is not realizing how good he actually is. I have heard him comment on some of his games and he really believes he needs a lot of work on some of them. I think that is what makes him such a great player. He is constantly working to make his game better.

When I talk about Phil, people sense how enamored I am with him. One person said, "you have a crush on him, don't you?" To which I replied, "I have a crush on his poker mind."