Poker Strategy Articles

Poker Journal
2004-2011

Poker Journeys

Poker Player Bios

Poker Tournaments 2005-2011 Reports

My Tournament Poker Results

Heroes

Site Map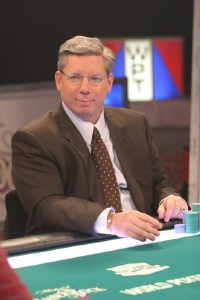 Mike Sexton's first poker tournament finish was in 1981. Before he became a professional player, Mike attended Ohio State University on a gymnastics scholarship, receiving his degree in Public Recreation. After graduating, he joined the Army in 1970 (serving as a paratrooper stationed with the 82nd Airborne Division at Ft. Bragg, NC). When he left the service, he stayed in North Carolina, got married, and worked "real" jobs for four years (as a military sales rep and as a ballroom dance teacher). At that time he began playing in home games and in late 1977 decided to quit his job and play poker for a living. He moved to Las Vegas in 1985. His advice to anyone considering playing poker for a living: "You better LOVE the game. I don't mean 'like' to play, I mean 'love' to play."

If there is a poker industry "star", it would be Mike. First, along with Chuck Humphrey, Mike was the founder of the Tournament of Champions of Poker. This unique event was held once a year around the turn of the century. Any any player that won a tournament during the previous year could compete. This field of champion players produced a "best of the best" (and a pretty hefty prize pool). Unfortunately, this terrific mixed game event only lasted three years. David Chiu, Spencer Sun and Brian Saltus were the three winners.

Mike then became the face of Party Poker and soon after that gained even more celebrity status by hosting the World Poker Tour with Vince Van Patten on the Travel Channel. He has also written for Cardplayer Magazine and Gambling Times

The attention he's received from announcing the World Poker Tour must be rewarding, but he was not permitted to participate in events. As a player, since these events can be so exciting, I thought this might be disappointing. He told me he is allowed to play in WPT satellites that give the $10,000 cash, but he cannot win a seat. But Mike is so busy that he rarely plays nowadays. He played for close to twenty-five years so he is okay with it.

I wondered if the insider knowledge he has helps him when he does play. (We only get to see the edited hands, he gets to see all of them). He said, "Yes. I definitely feel I'm a better player now by watching all the great players who play on the World Poker Tour. Ironically, even though I feel I've become a better player, I don't get to play much any more as I am not allowed to play in the WPT events." I asked whether there are certain players he enjoys watching. He said "Gus Hansen, Phil Ivey, Layne Flack, and Phil Hellmuth Jr. are all terrific, sensational poker players."

I did not think Mike would give me an answer to the last question I asked: What is it like to work with Vince Van Patten. He said it was a pleasure to work with Vince. He believes they compliment each other well. The producers ask them not to go into too much depth about strategy because it might make it difficult for the average person to watch. They don't want to get too detailed into pot odds because they have to appeal to the masses. They have to get the guy in Kansas to watch and Vince helps with that. Mike gives the audience enough to satisfy a player that might know a little more. He said he doesn't want to criticize a player too badly during the show because their family might be watching, but he does want to point it out if they make a bonehead play. He is certainly qualified to do so since he holds a World Series of Poker bracelet in Seven Card Stud High-Low and has tournament winnings in excess of $5 million.

Mike's other poker accomplishments include winning the 2000 European Finals of Poker, the inaugural Foxwoods World Poker Finals $10,000 No Limit championship in 1992, the $5000 Four Queens Summer Classic No Limit championship in 1996, which he successfully defended in 1997, as well as winning the €5000 Heads-Up Championship in Paris in July 2003. In 2006, in a what comes around goes around fashion, Sexton won the World Series of Poker Tournament of Champions and its $1,000,000 first prize.

Mike Sexton wrote the book, Shuffle Up and Deal.