Poker Strategy Articles

Poker Journal
2004-2011

Poker Journeys

Poker Player Bios

Poker Tournaments 2005-2011 Reports

My Tournament Poker Results

Heroes

Site Map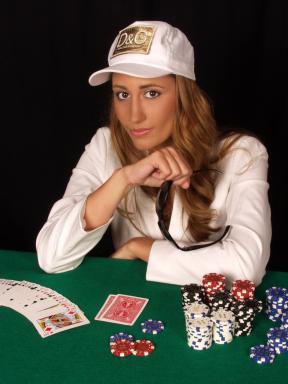 I first heard of Vanessa Rousso in 2004. My friend, Steve Badger, told me about a young woman player who approached him for some poker tutoring. There wasn't anything different about that, except he then told me what was interesting about her request was she wanted to learn how to deal with the two key problems she saw in her game. Most people would approach him about things like how to move up from a smaller limit to a higher limit. In other words, their focus was on how to make their strengths stronger.

Steve has always talked to me about making my weaknesses less weak. He told me that Vanessa's attitude was one I should think about more. I hate to admit when he is right, but he was right on here. For almost all players, getting a little better at what you are good at won't help too much. However, getting better at things you are bad at can transform your game. Just suppose an average player went on tilt half as often. That one thing would have a huge impact on their results.

Vanessa's poker career has moved right along. She came in seventh at the 2006 World Poker Tour Championship event, making over a quarter million dollars in the process. Steve immediately got Stars to work on signing her to Team PokerStars. She's made more than $3.5 million in casino poker tournaments, putting her among the top women of all-time.

Prior to that Vanessa had made a few final tables in major tournaments. In September 2006 she won a $5000 No-Limit Holdem event at the Borgata Casino in Atlantic City, New Jersey, taking home $285,450. She has done TV like the NBC late night television show, Poker After Dark, and most notably manipulating (and crying a lot) on CBS' Big Brother, where she finished out of the money in third place.

Vanessa Rousso attended Duke University and the University of Miami Law School, working poker in around her studies. She is very involved in community service work, including setting up a Celebrity Players Tour charity golf circuit in Florida when she first started attending law school.

Even though she was born in New York State, she is a dual citizen of the USA and France. Besides English and French, she also speaks Spanish, so I guess she better watch out for the "English-only" rules at the poker tables!

Her interests include backgammon, game theory, reading and Rubik's Cube. Vanessa once considered herself the "Master of Low Expectations" at the poker table, but I am sure things have changed now.

She has been a spokesperson for GoDaddy, the domain name and webhosting company, and a member of Team Pokerstars where she played online under the name LadyMaverick.