Poker Strategy Articles

Poker Journal
2004-2011

Poker Journeys

Poker Player Bios

Poker Tournaments 2005-2011 Reports

My Tournament Poker Results

Heroes

Site Map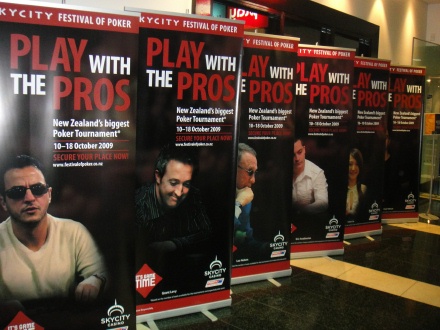 The Asia Pacific Poker Tour (APPT) is sponsored by PokerStars.net and hosts major tournaments in Asia and the surrounding area. Some of the hosting cities include Seoul, Macau, Sydney, and New Zealand. I have been to events on the Latin American Poker Tour (LAPT) and European Poker Tour (EPT), but have never been to an event on the APPT. Over the years, I have accumulated hundreds of thousands of FPP's on PokerStars and finally decided to cash some in for a package to the APPT New Zealand.

PokerStars always hosts fantastic events and the APPT Auckland is no different. The tournament is held at the incredible Skycity Casino and accommodations for qualifying players are at the luxurious Sky City Grand. The night before the main event, PokerStars hosts the welcome party where they provide free appetizers, alcohol and music. The great thing about the welcome party is that players have an opportunity to meet other players from around the world that share the same passion for poker. Many times players talk strategy with one another and also discuss how they qualified for the event. I always like hearing how different players qualified because sometimes I learn about a soft satellite that I can take advantage of.

The main event has a Day 1A and Day 1B and the staff does a great job at trying to accommodate the preferences of start dates for the players. I played Day 1B and was surprised when I saw some New Zealand natives doing a song and dance just moments before the start of the tournament. I am not sure if they do this at every APPT New Zealand event, but it sure started my day off well. I was also happy to receive a souvenir card protector (yeah, I know I am such a girl). The structure of the event was fantastic and on top of that, the typical play time for each day was only seven hour long.
The main event isn't the only tournament held in the casino. There are a variety of tournaments with a wide range of buy-ins including a $550 Pot Limit Omaha event, $330 No Limit 6-handed event, a $220 Ladies Event and a 10k High Rollers event. For players who are burned out on tournaments, cash games are offered. The only downfall about the cash games is the rake is extremely high. The casino takes 10% up to $15 per hand. However, the games are juicy and it is definitely possible to overcome the rake.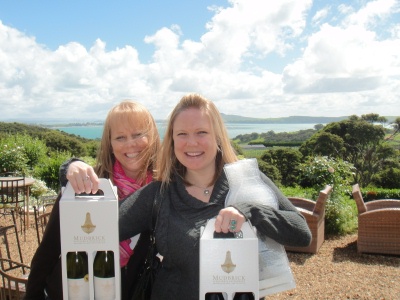 For the unfortunate players who happen to be eliminated, I say "Go jump off a building"; The Sky Tower structure where you can get suited up for an assisted base jump. The Sky Tower is the tallest free standing structure in the southern hemisphere and jumping off is exhilarating. If jumping off the building isn't your style, you can always do the Sky Tower walk where you walk around the whole building and get a 360 degree view of Auckland. There are so many things to do in Auckland (and other cities in New Zealand) that it is pretty easy to put the misery of your elimination to rest. You can take hikes up and around volcanoes, go canyoning down waterfalls, and visit One Tree Hill where you can get close enough to roaming sheep you can almost touch them. There are also neighboring islands with great things to do, like taking a relaxing wine tour on Waiheke Island.

PokerStars also provides all of their qualifying players with a great PokerStars player appreciation bag. On this particular trip, I received a rolling backpack with a t-shirt, polo shirt, hat, traveling satchel, a great jacket, and headphones for my iPod. Typically players receive their bag when they get their seating assignment for the tournament. At the APPT Auckland, players receive their player's bag the day before they depart. For some reason, logos aren't allowed in the casino so Stars makes sure to alleviate any possible problem by not letting the players have their bags until the event is nearly over.

To close out the wonderful trip, there is a closing party which is very similar to the welcome party. This party is even more special for the winner of the APPT event because he is able to celebrate his win with old and new friends. Satellite into the event now and see if you can be the next player to celebrate at the next closing party.

Also go here for my personal trip report about this tournament and my adventures in New Zealand.

Also see Caribbean Poker Adventure, Latin American Poker Tour, and European Poker Tour.