Poker Strategy Articles

Poker Journal
2004-2011

Poker Journeys

Poker Player Bios

Poker Tournaments 2005-2011 Reports

My Tournament Poker Results

Heroes

Site Map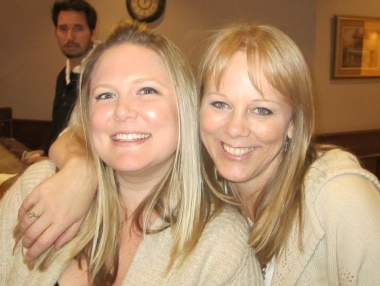 $1,500 Omaha High Low
I didn't make the money in the Omaha Hi/Low, but that doesn't mean I didn't play well. When I was eliminated from the tournament late in the evening, I was hardly disappointed because I was confident that I played my best game possible. It was just one of those days where I couldn't get anything going. I stuck around Vegas for a couple more days, so I could play the $500 Omaha event at the Venetian. That one didn't go so well either. I headed home immediately after I was eliminated. I have this love hate relationship with Vegas and sometimes I just need to get out of that town.

After a few days of kicking back at home, I am ready to go back. This week should be a good one for me. There are four HORSE events that are scheduled at various casinos. Of course, I have my heart set on winning the WSOP one, but winning one of the smaller ones beforehand would be great.

$1,500 HORSE
Prior to the WSOP HORSE event, I played in two other HORSE events at other casinos and cashed in both. The first was a $240 buy-in event at the Golden Nugget where I final tabled and finished 8th.

The following day, I entered the $550 buy-in event at the Venetian. There were 254 entrants and a first prize of more than $33,000. I saw a handful of talented HORSE players (most of which I play with on a regular basis in Los Angeles) and thought to myself "It's a big field and it is not likely that most of us will make it through to the money." However, when we finished play for the night, I noticed that almost all of us were still in.

We continued play the following day and when we got to the money at three tables, we were all still in. We all took our dinner break together and discussed how cool it was that all of us were still in. My friend Craig Chait eventually finished in 21st, I finished in 15th, Hollywood Dave finished in 13th and Frankie O'Dell ended up winning the whole thing. The two other players that I consider great all-around players are Mallory Smith and James VanAlstine (the best HORSE player in my opinion) finished in 7th and 9th respectively.

The following day was the WSOP event and I was hoping I was going to make it 3 for 3. As mentioned previously, that didn't happen and I was eliminated quickly. Even though the event was short lived for me, it wasn't without drama. I think I sat at the worse table in the whole room and that wasn't because of the superior play. One guy I play with on a regular basis, Jim, came to the table and said "This has got to be the worst table in the house." There were only two of us at the table and I wasn't familiar with the older lady's style of play. I figured she would be somewhat tight and predictable (I know. I know. Stereotypical judgment). Jim is a good player. He is a little too tight and I think that I know how to play against him, but he is sarcastic and always seems grumpy and rubs me the wrong way 50% of the time so I am never happy to have him at my table. The next person who came up was a player I see on a regular basis, but have never played with. The man is literally 600+ pounds and when he sat down next to me, he kind of sat sideways (so his belly wasn't up against the table) and was invading my space. I might have been able to handle it a bit better if he had not smelled as bad as he did.

Al Barbieri also sat down at my table and I knew I was in for a day. I like Al, but he is a real stickler for rules and procedures and will be very vocal if things aren't done correctly. He also has no problem telling a player off if he thinks it's necessary. About ten hands into the tournament during the Omaha round, the chaos began. We were at 50-100 limits and the heavy guy to my right threw in one $100 chip and a $25 chip which is a raise. He said he did it accidentally, but it doesn't matter. The rule states that it is a raise and every player at our table was fully aware of the fact. I spoke up and Al agreed that a rule is a rule and the guy insisted that we call a floorman. Al firmly states, "Do you really want to call a floor when you know what the rule is?" and the guys says "yes." We waited for a floorman to make the decision (it was a raise) and then the guy says "Can I have a second opinion?" So we had to wait until another floor came over to verify the decision. We continued the hand and I lost to the big guy and the older woman and the guy says "That's what you get for making me raise." As soon as he said that, Al started screaming at him. "Why would you even say that to her? A rule is a rule. You are so out of line." and the guy defended himself, "I was just making a general statement to the table" and Al said, "That was directed at her. She was the only one in the pot that lost and you are out of line." The big guy kept on talking and I soon realized this was going to be a lot worse than what I originally thought. The guy is not only smelly, but obnoxious too.

Al and the obnoxious guy went at it for a good portion of the first hour. They called a floor person over so often that a floorman was permanently stationed at our table. Eventually, a security guard joined him. And then a little later, two more security guards and another floorman joined in. The obnoxious guy was such an idiot that I had to turn my headphones on full blast to drown out the sound of his voice. One time, I could tell there was something going on and took my headphones off and heard the obnoxious guy tell the floorman, "Well he said that it doesn't really matter because I will be willing my cart out of here soon enough (he had one of those motor scooters)." I kind of assumed he was bothered by the comment because it could be viewed as an insult about his weight. However, that was not how he perceived it. He continued, "I take that comment as a direct insult to my ability as a player and it's not ok for him to insult my play." The floorman went over and talked to the security guards and then came back and said "All of us agree, that it wasn't a direct insult about your play." I couldn't believe that we had five people there strictly to babysit that idiot.

A new player joined our table and sat to my left and I said, "Welcome to hell." He soon realized that I wasn't exaggerating and joined me in putting his headphones on. The guards eventually left, but the guys still went at it and the floorman was called a few more times. It was so bad, that the guys were even arguing (and trying to call the floorman) over the placement of the placards. During HORSE tournaments, the placards are on the table so everyone can see what game we are currently playing (since they switch every 8 hands). Al suggested that at the start of each game, the placards should be moved a little closer to the middle of the table where the flop goes. Obnoxious guy insisted that they be in between seat 4 and 5 and never move. Al finally said "Why don't you go find a bridge and contemplate jumping off of it." Obnoxious guy called the floor over again so he could tattle and the floorman finally said "I am breaking your table." Fortunately, we were in the back of the room and were one of the first tables to break. I was so glad to get away from that guy and I hope I never play with him again.

I was eliminated at the next table I played at and was bummed that my WSOP experience sucked so bad. Halli joined me at the Rio and we had a nice dinner at Buzios. Alaskan king crab is a sure-fire way to cure the blues for me. She asked what I wanted to do next and I told her that I wanted to play the cash games. I played for about 5 hours and won my whole tournament buy-in back and then went into the Amazon Room to root for my friend, Brandon Demes who I met at the LAPT Costa Rica. He was heads-up for the $3,000 buy-in Limit Holdem bracelet, but eventually finished second. I'm sure he was upset about not winning, but he played great and I am so proud of him.

I played another HORSE event the following day and finished three out of the money. I have been playing so well that I have pretty much convinced myself that I should play in the 10k event next week. For now, I decided to come home and catch up on work. I will be going to a U2 concert on Friday and will probably head back to Vegas the following day to play in some cash games before the big HORSE event on Tuesday.

$10,000 HORSE
I played in a one table satellite to get into the 10k HORSE event and won it so it was a nice way to start my week. I played in the HORSE event the following day and was actually happy with my table draw despite the fact that PokerNews reported it as one of the toughest ones in the room. We had Matt Glantz, Alex Kravchenko, Abe Mosseri and Scott Clements, but we also had one player who was playing blind every hand. I couldn't believe that the guy paid $10,000 to throw his chips out the window. He was so crazy that he was eliminated in third level of the tournament. The replacement for him was Durrrr, but he wasn't much of an issue. He registered for the HORSE event, but he was still in the Pot Limit event (I think he was already in the money) in the Amazon Room and only came to our table when he was on break from the other one.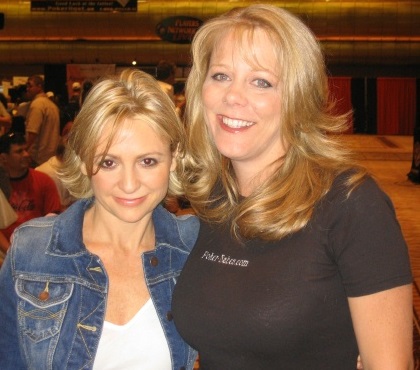 I made it through day 1 with a little less than average and knew that I still had some play the following day. When I woke up, I checked out my table draw and wasn't pleased to see that I had a lot of solid mixed game players; Todd Brunson, Jennifer Harman, Huck Seed and John Monnette. The day started out alright because I eliminated Todd on one of the first hands that were dealt. We were playing Holdem and I was dealt JJ. He was directly to my right and came in for a raise in early position. I three-bet and it got folded back around to him where he reraised and I called. The flop was JTx and he led out, I raised and he called the last of his chips with AQ.

The rest of the day went alright, but I had a hard time accumulating chips. It seemed that every time I got something going, I would lose a big pot in Razz. That stupid game is enough to make any person crazy. Even though it makes me crazy (and I just called it stupid), I like it and find that a lot of my edge comes in that game because generally speaking, players are just bad at it.

The next day, I played in an Omaha Hi Low tournament downtown at the Golden Nugget. When we got down to 10 players one of the players suggested a 10 way even chop which I objected to. I typically won't make a deal unless we are down to four players or less. In this case I wasn't chip leader or anything so it might have been beneficial monetarily but I wanted the title. I told Halli, "I'm going for glory." I ended up finishing 7th which was perfectly fine with me. I still like my decision not to chop.

I have been filling my spare time in by playing cash games and have been really successful. In previous years, I have just played the tournaments and went home in between the events if I had the chance. This new way is working out much better because I have pretty much free-rolled into all of the tournaments with my winnings from the cash games.

The next tournament I will play is the Omaha/Stud 08 mix on Monday and then I am contemplating the Ladies Event on Friday. For now, I will be heading down to jump in the cash games.

$2500 Omaha/Stud 08
I showed up for the event about 10 minutes ahead of time and stood in line to get buy-in. While I was in line, there was a computer glitch and they weren't able to assign any seats. I hoped that they would be able to get it fixed in order for me to play and about ten minutes later, they did. The glitch was probably the most exciting thing about my day.

I got a decent table draw and built up my stack to 10k by the time dinner break rolled around, but after that I couldn't win a hand and was eliminated around midnight. I hate tournament poker sometimes and decided the best fix to that would be to jump in the cash games. I recovered a little more than half of my buy-in I spent on the tournament earlier and went from thinking, "I frickin hate poker" to "Man, I love poker." The next event will be the Ladies Tournament. Praying for patience.

$1000 Ladies Event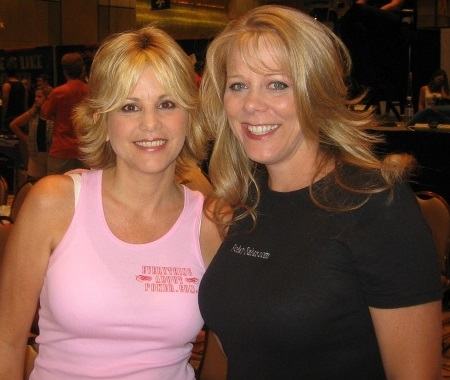 I typically skip the Ladies Event, but this year there wasn't an open-event that I wanted to play so I decided (with a lot of persuasion) to give the Ladies Event a shot. When I got to the event, I asked myself why I did it.

They had a ceremony before hand where they introduced a whole bunch of successful female poker players including Vanessa Rousso, Cyndy Violette, Jan Fisher, Linda Johnson and Barbara Enright. After the ceremony, a group women did a flashmob dance to "It's Raining Men" and I wish I had slept in for another 30 minutes.

This event is horrible because with only 3,000 chips, you have to play a little more conservatively especially if you lose the first hand you are involved in which happened to me. By the time I found another hand, I only had enough to play that hand in it's entirety. On this particular hand, I called a small raise from the blind with JT and flopped the nuts against the raiser. The board was 987 with two clubs and we got all of our chips in on the flop when I check raised her and she moved all-in. She had K7 of clubs and rivered the flush.

After that tournament, I had enough of Vegas and drove home in the evening when the traffic died down. Halli was still in the Ladies Event and called to tell me she had made it through day 1. I kind of felt bad that I wasn't there for her now that I knew she had made it through the day, but I was just done with Vegas and I promised her I would drive back if she made the final table. She ended up cashing, but not high enough to make me drive back. Till next year.

World Series of Poker 2008, World Series of Poker 2009, WSOP 2010