Poker Strategy Articles

Poker Journal
2004-2011

Poker Journeys

Poker Player Bios

Poker Tournaments 2005-2011 Reports

My Tournament Poker Results

Heroes

Site Map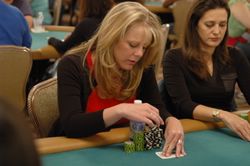 Bart Hanson, one of my co-commentators on Live at the Bike suggested that tournament players can not be considered great poker players. I totally disagree with him.

Poker players come in all shapes and sizes. Some are great Limit players, some are great Stud players, some are great Pot Limit Omaha High players and some are great tournament players. If one player does not excel at all of them he can still be considered a great player.

A great poker player knows what his strengths and weaknesses are. He makes correct decisions based on his previous experiences. He manages his bankroll so he can play in the game of his choice. He has morals and ethics while playing on the table. A great player can do all of those things and more. If he focuses on being the best that he can be while playing in the game of his choice and is successful at it, he should be considered a great poker player.

If the discussion is about the most well-rounded player, or best all-around player, then you must consider all games. Players such as Barry Greenstein, Chip Reese, or Doyle Brunson would be considered some of the best all-around poker players in the world, but that is a totally different topic. Poker and basketball are a totally different game, yet the same thing applies to both. Some players can be great even if they can't (or choose not to) do it all. Michael Jordan is the best person to ever play the game. He averaged 30.1 points per game, 6.2 rebounds per game, 5.3 assists per game, and 2.35 steals per game. He was a ten-time All-NBA First Team and a nine-time All-Defensive First Team player. He was even Defensive Player of the Year in 1988 and we all know what he was capable of doing on offense. He was one of the rare players who could do it all and he did it all remarkably. Does that mean that other players who can't do it all should not be considered great players? Absolutely not! John Stockton is a great example. Stockton averaged 10.5 assists per game and holds the record for the most seasons leading the league in assists (9). He also was great at steals with an average of 2.17 per game. He wasn't much of a blocker, but he is still considered to be a great player. In fact he was selected in 1996 as one of the "50 Greatest Players in NBA History." John Stockton understood what his strengths were as a player and he worked hard at being the best he could be in those things.

I'm not saying that a player who plays one game great but plays many other games terrible is a "great player". I'm saying that to be great at poker, a player should earn his/her success by bringing his best game forward every day. If that game happens to be "tournament" poker then ROCK ON and be GREAT!