Poker Strategy Articles

Poker Journal
2004-2011

Poker Journeys

Poker Player Bios

Poker Tournaments 2005-2011 Reports

My Tournament Poker Results

Heroes

Site Map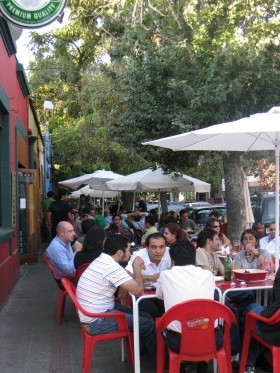 January 18
Halli and I arrived in Santiago, Chile in the early morning. We were both so exhausted from our twelve hour plane ride and the only thing we could think about was getting some sleep. As soon as we checked into our hotel, we immediately went to bed and slept for the next eight hours. We woke up in the late afternoon and jumped in the shower hoping that we could at least squeeze in a couple hours of sight seeing before the sun set. It was probably 5:30pm when we asked the bell man if he had any suggestions for places to go. He suggested a walk to the local square that had shopping and restaurants.

As soon as we walked out the door, the sun was still shining bright. We went to the square, had a nice dinner and browsed the local vendors selling their handicrafts. People were everywhere and it really seemed that the Chilean people enjoyed life and spending time with their friends and family. It reminded me of Uruguay in that way. One long street was full of bars where the locals drank their beers curbside on patio style furniture. The block next to it was lined full of restaurants and the block on the other side of the street was lined with Discothèques.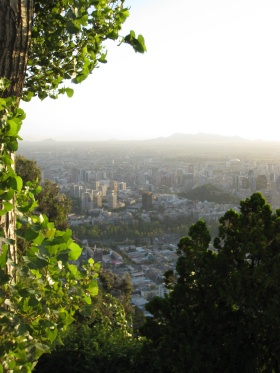 After our dinner (early dinner by Chilean standards), we went to the Metropolitan Park (Parque Metropolitano de Santiago) and took the funicular to the top. The park was one of the greatest ones I have ever seen and had a zoo, a Japanese garden, several pools, a restaurant, and more. It appeared to be a favorite spot of the local bicyclists and exercise enthusiasts and there were hundreds of people everywhere. We enjoyed our short time at the top of the hill and took some great photos of the city of Santiago. The sun finally started to go down around 9:15pm and we headed back to our hotel room.

The following day, we planned on spending a little time seeing the city before we were scheduled to take our wine tour. Our day didn't go as planned because neither of us woke up until 2pm and our bus was scheduled to pick us up at 4. So much for seeing the city. We opted for a quick lunch before leaving on our wine tour. All in all it was a good day, but it wasn't the kind of wine tours that I have seen before. They talked to us a bit, showed us a quick film about the history of the winery and then gave us two small tastings of wine (one red and one white). The tour was short and we made it back to the hotel around 8pm which gave us at least an hour of daylight left for exploring.

Our last day in Santiago was spent on a city tour and we learned a lot about the history of the country. The city is extremely clean and beautiful and I appreciated the architecture of many of the buildings. Even though I loved Santiago, I was ready to get to Vina del Mar to see all my friends from the Latin America Poker Tour (LAPT).

January 19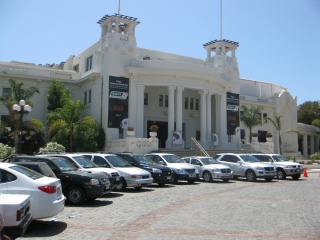 Halli and I arrived in Vina del Mar yesterday afternoon and we're loving the fact that we get to stay at the Del Mar Casino and Resort. The place is absolutely beautiful and we are fortunate that most of our friends are at this hotel as well. Once we got situated last night, we walked around the hotel and casino hoping to bump into one of our friends. Most of us don't have cell phones that work in South America, so it makes it a little difficult to arrange meeting times. We all made plans to go to the casino, but nobody had a specific time set in stone. It didn't take us long to run into Brian and Brandon and we spent a little time playing blackjack while waiting for the rest of the gang. By the time we met up with the rest of them, Brian and Brandon were ready for bed (they had just flown in a few hours prior). The group of us (minus two) went to dinner and spent much of the evening laughing and catching up with one another. One of the reasons why we were laughing so much was because Greg Pappas asked the waitress for a doggy bag because he wanted to take his leftover steak outside and give it to the dogs. The waitress told us they don't allow food to be taken out of the restaurant and then looked at us disgustingly as Greg made his own defective "to-go" bag out of a tournament structure sheet. After dinner, the group of us went to play a little bingo and then called it a night.

Today Halli and I spent the day walking around the city of Vina del Mar. We went down to the beach area and put our feet in the water, but it was too cold for us to actually go swimming. When we got back to the hotel, we took a swim in our heated pool which was much more my style.

Tonight is the Stars party and it should be a lot of fun. We have ran into most of our friends at one point or another on this trip, but there are a handful that we haven't seen and I am looking forward to seeing them.

January 20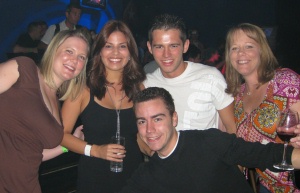 Last night's party was great because we were able to hang out with all our LAPT friends at one time. Halli and I had a little fun playing with Ylon Schwartz. We both acted like we had no clue who he was (I haven't seen the WSOP main event coverage on ESPN because I don't like watching poker on television anymore, but I knew his name when he introduced himself) and finally he told us that he won over 3 million dollars. I said "Wow. That's a lot of money." and Halli screwed with him more saying, "Do you realize that's as good as it gets. You are never going to run that good in your life again." Despite saying all that stuff, I think he liked us because he stuck around for a bit. I made sure to call it an early night because I wanted to be good and rested for the tournament.

Today is day 1 of the tournament and I am feeling great about it. I am rested and ready to kick butt.

January 20 (evening)
I just got done playing day 1 of the tournament and I am exhausted. I finished the day with about 40k in chips and I am looking pretty good for tomorrow. Hopefully, if luck is on my side, I will be able to cash in my first LAPT event. Maybe Melina and Brandon will be able to cash as well because both of them made it through day 1 also.

January 21
I got busted from the tournament about an hour and a half after the day started. I am feeling extremely disappointed despite the fact that I got my money in as a huge favorite (twice).

There were 63 players who started day 2 and for some reason, every all-in confrontation was being filmed. As soon as there was an all-in, the dealer would call for the floor and they would get the camera crew over to the table before the hand would continue. This meant that the hands were long and drawn out and we didn't get as many hands on each level as we should have. When I had my first big confrontation, it seemed like we waited five minutes for the camera crew to come over because they were filming another all-in at another table. I was sitting pretty with my AK against my opponents A8. I raised in first position and when everybody folded to him, he pushed from the big blind and I insta-called. He was sad while we waited. I was nervous because anything can happen in poker. The camera crew came over and the dealer put out the flop - Q84. He gave a shout and I sat hoping that I would hit my king. A ten hit the turn giving me a straight draw and a little more hope. The river paired the ten. I was left with about 11k in chips.

Two hands later, I was dealt the dreaded queens. A guy from middle position raised to $3600 and I pushed from the blind for about 7k more. He said "I have to call" and I said "I know." He showed A7 and flopped an ace and I couldn't hit one of the 2 queens that remained in the deck.

The day was brutal.

January 22
After my tournament was over and after the pouting was over, we went to our favorite dinner place where we had sushi and a couple glasses of wine. After dinner, five of us (including Melina who went bust before cashing (Brandon didn't cash either) walked across the street to hang out at one of the local bars. We all had a great time and we ended up calling it a night at 3 in the morning.

Today Halli and I requested an English speaking cab driver and then spent the day taking a driving tour of Vina del Mar and the neighboring city, Valparaiso. Again, the city streets were extremely clean with a lot of beautiful architecture. The problem with our tour was that there are a lot of windy roads in Valparaiso and that doesn't sit well with Halli. She was a trooper despite feeling carsick and stuck it out for awhile. After seeing the city, we asked to be dropped off at the mall because we heard great things about it. Our taxi driver said he would pick us up in an hour and then left. As soon as we walked into the mall, I realized I had left our camera in the car and I was so upset about it. We had taken so many great pictures and I told Halli that he can keep the frickin camera as long as I get the memory card. Being bummed about the possibility of him not showing up kept me from enjoying the mall as much as I would have normally. One hour seemed forever and finally it was time. We went to our meeting place and waited. And waited. And waited some more. Halli was optimistic (which isn't her strong suit) and said "You know these Chileans are loose with their time. You know how our room service is supposed to be in our room at 11, but you never get it until 11:30, our taxi driver is probably like that too." And wouldn't you know it, our taxi driver showed up about thirty minutes late with camera in tow. We ended our tour and he got a juicy tip.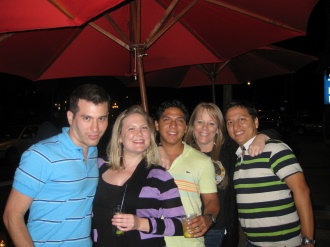 When we arrived at the hotel, we went up to the tournament room to see how it was progressing. We hoped that the tournament would be over so all of us would have enough time to hang out together on our last night. Things were just starting to wrap up and it looked like all of our friends were going to make it. The players and the PokerStars staff all celebrated our last night in Chile. Next stop is Uruguay and I haven't decided if I am going yet. I love traveling especially to the LAPT events, but at this moment I am so exhausted from this trip (I still haven't recovered from the trip prior to this when I went to the PokerStars Caribbean Adventure). I will decide in a few weeks. If I don't make the Uruguay trip, then my next stop is the EPT held in San Remo in April.

See also Asian Pacific Poker Tour and LAPT - Costa Rica.