Poker Strategy Articles

Poker Journal
2004-2011

Poker Journeys

Poker Player Bios

Poker Tournaments 2005-2011 Reports

My Tournament Poker Results

Heroes

Site Map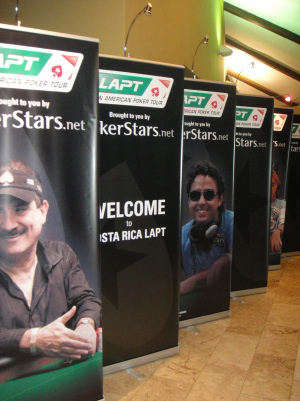 The Latin American Poker Tour is my favorite tour PokerStars offers. During the second season, I traveled to most of the destinations on the LAPT with Costa Rica being my favorite stop. In the third season, that particular event was held on the luxurious beach resort, Paradisus Playa Conchal instead of in the city of San Jose, so it was even more appealing to me. When the tournament schedule was announced, I immediately did a direct buy-in and booked a flight.

We arrived at Paradisus Resort and were greeted by the hotel staff. We were fortunate enough to be registered as a "Royal Service" guest. I think ¼ of the PokerStars guests got the Royal Service and I am pretty sure I was one of the lucky ones because of my Supernova status. They gave us the 5-Star treatment and set us up into our suite where we had our own personal butler (actually 2). Our butler told us that he was there to make our stay as comfortable as possible which meant he was going to make all of our dinner reservations (it was an all-inclusive resort and dinner reservations were a necessity) and take care of any special requests we might have. He even let us borrow his camera because mine took a dump halfway through our trip. Even though we had the "royal service", there wasn't much difference between our service and the "regular" service. All PokerStars players were treated like royalty and were pleased with the accommodations and service.

Each LAPT event is kicked off with a welcome party that is held the night before the tournament. Here players can mix it up with other players from around the world while enjoying complimentary hors d'oeuvres and beverages. For the players interested in meeting some of the members of Team PokerStars Pro, this is the perfect time to meet players such as Daniel Negreanu, Humberto Brenes, and Alex Gomez. We got to the party as soon as it began and had a great time catching up with old poker friends (especially my favorite writers; Otis, Dr. Pauly and Change100) and making some new ones. After the welcome party, there are usually satellites being held in the tournament room. On this particular night, there was also a charity tournament for Humberto's favorite charity "Pretoma" whose mission is to protect the world's shark population. I played the tournament and won a $220 bounty and an inflatable toy shark for knocking out professional Mexican wrestler, El Hijo del Santo.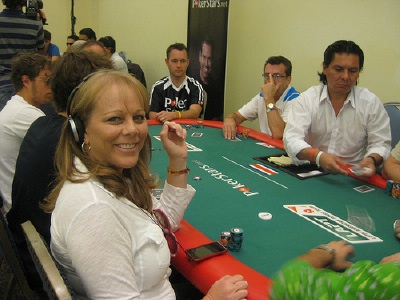 Tournament director, Mike Ward always runs a superb event with amazing structures which once again meant the tournament ran smoothly. Generally speaking, the LAPT events are some of the softest tournaments I have ever played in. Of course, I occasionally run into extremely talented players, but for the most part they are few and far between. During this tournament, I had the worst table draw and faced a whole table full of talented players. Some of the players included Jose Rosenkrantz and Alex Gomez. Once one of the players was eliminated, the seats were filled with softer players and I was able to accumulate a few chips (but not much). I ended Day 1 with a little less than average chips.

Approximately 120 players started Day 2 and it looked like it would be ran in the same manner as Day 1: Eight levels of play (or until the final 3 tables) with breaks every two hours and free food and beverages outside to keep the players satisfied. Unfortunately for me, my day ended in less than an hour when a player raised to $3500 from early position, I shoved for 23k with AK and he insta-called and turned over pocket aces. I managed to flop a gut shot on a board of JT4, but I never improved and I was eliminated and heartbroken.

For eliminated players like me, there are a lot of activities to do in Costa Rica. Paradisius offers free snorkeling, kayaking, rifle shooting, ping pong, a sunset cruise, and more. For the more adventurous, tours are offered for a fee and include canopy tours, ATV riding, and hiking in the National Parks. If poker is the only thing you are interested in, there are tournaments offered every day including the $1100 second chance event and there are side games as well.

One of my favorite things about PokerStars events is that they give Player's Appreciation Bags with all sorts of goodies. Some of the items included in this year's bags were t-shirts, hats, a scarf, a silver memorabilia card protector, a sweatshirt, and a portable docking station for your iPod.

As previously stated, the Latin American Poker Tour is my favorite of all PokerStars events. If you are interested in visiting some great places in Latin America, playing a tournament with soft fields and great structures, and meeting some incredible people (specifically the ones who help run the fantastic event; Mike Ward, Greg Pappas, and Thomas Koo), then try and qualify online now. I promise, you won't be disappointed.

To read more about my first LAPT experience in Uruguay, read my August 2008 journal. Here is a report on the Vina del Mar - Chile LAPT stop. Also see Caribbean Poker Adventure, Asian Pacific Poker Tour, and European Poker Tour.