Poker Strategy Articles

Poker Journal
2004-2011

Poker Player Bios

Poker Tournaments 2005-2011 Reports

My Tournament Poker Results

Site Map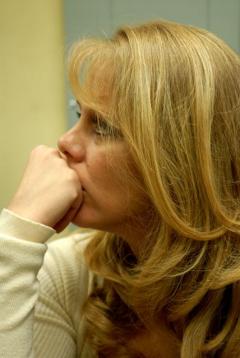 January 28
I played in the Omaha tournament at the L.A. Poker Classic yesterday. It was the first time I have been to a casino since I finished all of my breast cancer treatments. I was surprisingly comfortable walking into the room and not many people paid me or my hair (lack of) any mind. Maybe it was the hat. Maybe it was because I didn't look as "tore up" as I thought I did.

At the beginning of the event, the tournament director announced that there were 422 Omaha players in the room. Of course I got a kick out of that. It was more like 422 entries with 38 of them being Omaha players. I was happy that so many people showed up to the event and I am pretty confident that it sent a message that there is more than one game out there and people like a variety.

Only 36 people got paid and I went out about 60th. Overall, I was pleased with how I played my hands. However, I was a little disappointed that toward the end of the tournament, I allowed myself to engage in too much conversation. I don't think the conversation directly affected the few hands I played, but I did make a commitment to pay more attention while playing and I didn't do a great job during the last hour of the tournament.

I played the Omaha event on PokerStars tonight and only made it through about 1/3 of the field. Fortunately, I sat down and made some money in the online ring games and I ended up in the black for the day.

January 25
I specifically went to my keyboard yesterday, so I could make a journal entry about an interview that I just did. I started babbling so much about HORSE tournaments and Commerce that I forgot to even write about the article. If you are interested in reading it you can find it here.

I have not been thrilled with Poker After Dark, but this weeks episode has been amusing so far. I think they should rename it "Let's torture Ivey". Phil Hellmuth, Matusow, Farha, and Tony G.? That was definitely a plan to see if they could get Ivey to finally break and have a public outburst. Still not digging the show, but I always enjoy watching Ivey.

I played quite a bit of Omaha today, but actually mixed in a very micro-limit Sit N Go. I played my first $1 one-table sit n go and will almost certainly be my last. I got some wild hair to try 2-7 triple draw and it was the only tournament that was ready to start. I had no idea how to play, so $1 was the perfect investment. I can say for certainty that I am not a good deuce to seven player.

January 24
The tournaments this weekend didn't go as planned. I thought I was going to do well in the HORSE tournament, but didn't stick around very long. It basically came down to my chips dwindling because I really didn't get involved in any huge pots.

The Omaha tournament was smaller than it has been in a long time. There were only 98 players and they paid one table. I finished 11th. My overall results seem to be improving, so I am fairly certain that my brain is almost back to normal. I will most likely give the online tournaments another shot this Sunday.

On Saturday, the Commerce Casino is hosting an Omaha Hi/Low tournament as part of their L.A. Poker Classic series. I really look forward to getting back into the middle of the action, but am not thrilled about facing questions. I still look like hell (although I look ten times better than I did four months ago) and don't really feel like having people question me. And even worse than that, I don't want people to NOT ask me. Nobody is going to do the right thing in this situation. It's kind of like when a woman asks, "Do I look fat in this dress?" There is no way to answer that question correctly.

I received an email this morning from a friend who works at the Bike. He informed me that during the Bike's Winnin' O' the Green tournament, they have a HORSE event scheduled. Not only do they have a HORSE event, they have THREE Omaha Hi-Lo events and a Stud 8 o/b event. Kudos to the Bike for recognizing there are more games than No Limit Holdem.

January 21
I haven't been playing online as much this week because things have been a little hectic, but will probably make it up by playing in tournaments all day today.

I have really been enjoying the Sunday HORSE tournament on PokerStars and wasn't able to play it last week. I am getting to the point where I enjoy the tournament as much (if not more) than the Omaha tournaments. The game keeps me on my toes because of the game switches and that in turn helps me pay more attention. Whenever I do that, it is a good thing.

The Commerce tournaments are starting this week and I wish they had a HORSE event in their schedule. They don't, so for now I am planning on playing in the Omaha and tag team events. I might squeeze in a No Limit shootout, but I'm not positive about it yet. Today, I am just going to do my best in the online tournaments.

January 9
I played in the $215 HORSE tournament on Sunday and finished in 15th place. It paid more than $500, so it was a nice return (for the finish) considering that if you don't make it to the final table, you usually just get a little more than your buy-in back.

I have done consistently well in this tournament and it makes me wonder if I should be switching from the Omaha tournament to this one on a regular basis. I haven't been able to do much of anything in the Omaha and I have had to take a step back and analyze my play. Last year while I was going through chemo, I know my brain slipped up often. That hasn't been the case over the past two months and I have since wondered if the competition has finally moved up their play to "average". There was such a huge difference in ability, with about one in twenty-five players having somewhat of a clue. It might be about 1 in 5 now.

Now back to the HORSE tournament. Basically, the end of my tournament came down to one hand. The hand was against a well-known internet player and I was very surprised at how he played it. We were playing Stud 8 O/B . I had about 25k in chips and he had 33k in chips. Gank had us beat with about 68k, but the rest of the players had smaller stacks. I was dealt 867 (seven up) and he was showing the 3 of diamonds. He brought it in for $600 and I raised to $2000 and everybody folded to him and he called. 4th street brought him the 9 of diamonds and I hit a perfect 5 giving me the straight draw as well as giving me a low draw (which is most likely going to be good since he had a nine showing). He checked, I bet, and he raised. He hit a 10 of diamonds on fifth and I bricked. When all was said and done, I never made my low and ended up with two pair. I paid his flush off at the end. My point of bringing this hand up is that on fourth, his hand was one dimensional. I either had four low cards or a pair. Of course, he should have played the hand until the end, but the check raise on the turn wasn't the best move in my opinion.

I have still been playing the 10-20 Omaha ring games this week and I have still been watching "Poker After Dark". I'm hoping that it is going to get better at some point or I am going to cancel my Tivo season pass to it. After the first week, I don't know what was worse - listening to Hellmuth and Shawn Shiekan's rants or listening to the sounds of shuffling chips due to Gus' and Huck's lack of conversation (or forced conversation is more precise). The week did finish with a Director's Cut and at the end of that it had about three minutes of Shana's outtakes. One week of programming and the Shana fans got three minutes of fun. We'll see how this week goes with Doyle, Daniel, Gabe Kaplan, Matusow, Jerry Buss, and David Gray.

January 5
I've spent the past few nights watching Poker After Dark and it has not been what I expected. It's a good thing that most poker shows have commentators because the conversation on this show seems so forced. And I'm sure most of the guys watching have not been happy that there has not been a lot of airtime of Shana.

The Omaha game has been good to me over the past week except for yesterday. I spent hours on end at the table and ended up losing only a little. It was pretty spectacular considering that I had a hard time winning a hand during the first half of my session.

I checked out the PokerStars Caribbean Adventure tournament stats and pictures. I am a little disappointed that I was not able to go again this year. Out of all the WPT tournaments, the PCA would be my first choice to play in and I have not managed to make it to any of the three tournaments they have had. Hopefully next year.

January 1
I am not a person who normally goes crazy over New Years. It had always been "just another day" in my book, but 2006 was such a long and trying year for me, I was ready to bring-in 2007 with a bang. Considering the things I have been through and my current state of mind, "a big bang" meant spending New Years Eve at the Sushi Bar with my cousins. I did enjoy a beer which is something I haven't done in over a year (beer and chemo just didn't seem like a good mix).

I have never really been one to make New Years resolutions either, but this year I decided to make a few. I have had to endure my fair share of struggles this past year and through it all I have learned some things. There are people in my life that have really been there for me and I plan on spending more time with those people and really letting them know how important they are to me. I also plan on doing more work regarding my website. I have let it slide over the past year (with good reason I might add) and I am ready to update it on a more regular basis. I will try and update my journal more often which should be a little easier because I will be out playing on occasion. It is very difficult to write about online poker for one year straight. I like writing about live action play especially about the characters I come across.

As far as poker, one of my resolutions is to pay attention while playing. I have vowed to focus on numerous occasions and sometimes I manage extremely well and sometimes I really suck. I am really going to work on being consistent with it. Another problem I have is thinking about certain things while a hand is being played out, but not about other things. So I am going to think about each hand in it's entirety. For example, I might be thinking about my nut draw, but not be thinking about what my opponent's action was on the flop and why I might be able to take the pot away on the river if certain cards come. I want to make the most informed decisions and I can do that if I think about each action (including previous actions). The main thing I want to do during this year is make the best decisions possible in every situation. Impossible? Of course it is, but I am going to do my best and learn from the times I don't.

Tonight is the first episode of NBC's Poker After Dark. It will be airing late night and will feature some of poker's biggest "celebrities". The one thing that really blows me away is that one of the biggest celebrities of poker didn't get to be a star from her abilities at the poker table, but rather by hosting the World Poker Tour. Yes, I am talking about the infamous Shana Hiatt. She will be the host of the new show and I am sure she will have all the boys talking.