Poker Strategy Articles

Poker Journal
2004-2011

Poker Player Bios

Poker Tournaments 2005-2011 Reports

My Tournament Poker Results

Site Map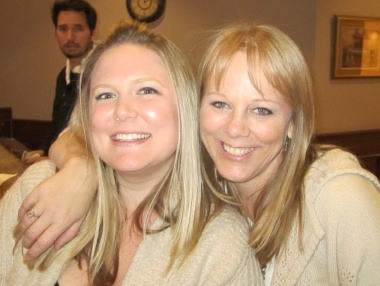 December 7
I still have a serious case of "lack of traveling blues." I wanted to go to Sydney, but decided against it because of the timing. Now I am not even sure whether I will be going to the PCA. I didn't get my usual deal with Stars (trust me, I am not complaining) and haven't had time to actually try and qualify. Hopefully I can find some time this weekend. If I don't manage to qualify then I am going to have to wait until at least February to cure my blues.

November 16
I will be leaving shortly to play in the NAPT HORSE event at the Bicycle casino and then later this week, I will be playing in the Omaha Hi/Low event. I am so glad PokerStars has added some mixed events into their tournament series. I decided to skip the main event for two reasons; I consider No Limit my weakest game and I had friends in from out of town celebrating my birthday on the day the tournament started.

There are about 18 players left in the main event and my buddy Matt Affleck is still hanging in. I will be sending all sorts of positive thoughts his way. (He ended up finishing 13th for $27k).

November 9
I would like to congratulate Jonathan Duhamel for winning the 2010 World Series of Poker Main Event. He is one of several of PokerStars sponsored players who have won the prestigious award. Other PokerStars champions include Chris Moneymaker, Greg Raymer, Tom McEvoy, Joe Hachem, and Joe Cada.

October 27
It has been too long since I have travelled to a new and exciting place to play a tournament. If I remember correctly, the last trip was to the Bahamas. I love the PCA and I plan on attending again in January 2011, but I need to venture out before then.

I have looked at the all the tournament tours that PokerStars offer and am really leaning towards the APPT event in Sydney. It is held in early December which is Australia's summer so it really seems ideal. I have never been to Australia before and would love to add one more continent to the places I have travelled. The only down side to going to this tournament is that it is so close to Christmas. Hopefully I can work out all the timing and go for it.

The NAPT is getting close. I have decided on a few events, but still haven't decided on whether I am going to play the main event. The one thing that I know for sure is that it is going to be great seeing all of my friends from PokerStars. I plan on having a NAPT/Birthday party during the week of the NAPT event which should be great fun. I really love how people of all ages from all over the world can become such great friends because of their love for poker. I have met some lifelong friends over the past years and it makes me happy that my life took this turn. When I was younger, I would never imagine that this is what I would be doing for a living and now I can't imagine my life without it. Life is so great.

October 15
I have been playing a lot of Omaha over the past couple of weeks. It seems like the games have been better than usual and I am not having any sort of difficulty finding a game in the limit that I like (15-30 to 75-150). I typically plan the 15-30 or 30-60, but every once in awhile I find a juicy $75-150 that I just can't pass up. I am very selective about that game and usually only play it a handful of times every month.

Since the North American Poker Tour (NAPT) HORSE event at the Bike is coming up, I should probably practice some of my weaker games. For the most part, I am a well rounded player, but some of my games are definitely weaker than others. I should make sure to get in several hours of Stud Eight or Better where my weakness is patience.

October 2
I am starting to get excited about the NAPT Los Angeles. I am not too sure whether I am going to be playing the main event, but I have plans to play in some of the side events. If time permits, I am going to play in the Ladies, the Omaha Hi-Low and the HORSE events.

Of course, I am most excited about the HORSE event. I have been asking Stars to put a mixed game (preferably not the 8-game mix) into their tournament schedule occasionally. This is the best opportunity for me to shine.

September 24
I played four more WCOOP events and cashed in two of them. In the Stud event, I was really setting myself up for a final table appearance, but ran into three really ugly situations. The worst was when I started with rolled up deuces and the guy ended up catching a three outer. Of course, I had the bring in with my deuce and I loved it. I brought it in for the minimum, another player completed with a queen and another raised with a seven (another seven was out). I called, the original raiser reraised and we both called. On fourth, the first player was dealt a four, the second player a queen (which was a great card because it made it even less likely the guy was rolled up or could catch another queen) and I caught Jack. The (7Q) bets, I call, the (Q5) raises, the (7Q) reraises and I though "I might as well cap here because these guys are loving their hands and they don't have any chips left." Both players were short and were all in once they called my last best.

They turn their hands over and show:
Player 1: Q77Q
Player 2: AAQ4
Me: 222J

I am loving my hand because there aren't many outs for the guys. But sure enough, player one caught the last queen on sixth. Remember there was a seven out on the board when the hands were originally dealt. He had one queen and one seven left in the deck. The other player had two aces or running cards.

I stuck around for a short time after that and was eliminated in 24th place. I also cashed in the Omaha Hi/Low tournament, but there wasn't anything too exciting about it. The only amusing story was that I lost a hand and then didn't have too many chips. I sat there patiently for a couple of rounds and finally had to commit all of my chips in the big blind. I was dealt three sixes. Nice Omaha hand. It was almost impossible for me to win with that hand and I didn't. I at least got a chuckle out of it which is more than I can usually say when I am eliminated from a tournament.

September 10
I have played in two WCOOP events so far this week on PokerStars. Both events were Stud games and I had no luck in either. The first event was Triple Stud (where you alternate between rounds of Stud, Razz, and Stud 08). On the second hand dealt, I was dealt rolled up aces. I thought, "If this continues through the tournament, I will have no problem winning this thing." Of course, that is not how it went. I would be bested by something just a little better almost every time I was in a hand and was eventually eliminated in the Stud 08 round when I made two pair and a six low and ran into my opponent's wheel.

The Razz event was pretty similar except that I had one guy who was trying his best to give me his chips. He would raise, and reraise me even though I was showing a better hand (and often times I would even have the better draw) and would pull a miracle out on seventh street. Steve happened to log in right as I was eliminated and called me to say "You suck so bad." He always jokes with me that I suck at running good.

I was thinking about playing the 8 game mix today, but didn't realize that it was starting so late. I am not sure if I am going to play in it. If I don't then I will most likely play the Stud event on Monday. Of course, I won't be missing the Omaha Hi/Low or HORSE events that are later in the series.

August 14
have played in three events at the Legends of Poker over the past week and a half and I have made the final table in two of them. The one event that I didn't cash in happened to be Omaha Hi-Low which is supposed to be my best game. Once upon a time, I would have bet that I would be more likely to cash in Omaha Hi/Lo than I would be in any other event, but that doesn't look like the case any longer. Both my cashes came in H.O.R.S.E. which show that hard work pays off because I have been working really hard to improve all of my games.

Of course, I am disappointed that I didn't win either of the events, but final tabling 2 of 2 HORSE events is a pretty amazing feat especially if you factor in my two other final tables in HORSE this year (I won one of them). I like the structures of the events because we play only 8 hands of each game (Holdem, Omaha, Razz, Stud, Eight or Better) which helps me keep my focus better. I have no time to get distracted because if I do, I could find myself playing Razz when I should be playing Stud. Focus, or lack of focus has always been my main problem when playing poker and playing HORSE events has really helped me work on my weakness.

PokerStars has announced their schedule for the World Championship of Online Poker (WCOOP) and I am pleased to see the variety of tournaments and buy-ins. At first glance, I am interested in playing in six events, but I might play in more if time allows. As of now, I am looking to play the Razz, (2) 8-Game Mix, Omaha Hi-Low, HORSE and Stud 08.

July 22
I have been playing a lot of Omaha Hi-Low online this month. I have had a good month so far and am trying to recover from my horrible previous month. It looks like I am on track to recover and I can only attribute that to the fact that I have REALLY been paying attention to my games this month.

I have been playing poker for so long and a good portion of those poker days have been spent playing Omaha Hi-Low. I know the game like the back of my hand. I can look at my hand and in two seconds figure out how my hand is working with the board and whether or not it is correct for me to continue on with any draws I might have. Playing Omaha feels like second nature to me. However, this is no way to play poker. Poker is about extracting every bet possible while playing the hand. It is about paying attention and not focusing solely on your OWN hand, but also on what the other players could possibly be doing.

Last month, I legitimately ran bad, but I perpetuated the problem by not paying enough attention. I continually gave my opponents credit even though they showed me they deserved none. I folded many winners and I could have had a losing month instead of having a disastrous one. So even though I have been playing for so long, I need to make sure to make adjustments to my game, try and keep up with any changes or strategies that other players might be making, and most of all FOCUS.

On a separate note, I just received Lost Vegas written by the infamous Dr. Pauly. I ordered three copies so I can give a couple of them out to friends. I can't wait to dive into it because nobody covers poker like Pauly does. You can order your own copy of Lost Vegas at LuLu.

July 14
I finally added my trip report from the 2010 World Series of Poker.

June 24
I just got back from the WSOP and I didn't do very well in the tournaments. I only played in four tournaments this year because I just bought a new house. I actually closed escrow on it when I was scheduled to head back to Vegas to play in the 10k Omaha event. Of course I was a little sad that I wasn't able to play in as many events as I am used to, but I am so happy about my new place that I am over it already. My new house is about a mile from the beach and I can't wait to spend the summer there. Over the next few days, I will be packing up so I won't be online much and I won't be updating my journal. When I get my internet service back up (It is scheduled for Tuesday), I will write up a tournament report about my Vegas trip.

May 29
I will be heading out to Vegas in a couple of hours to play in my first event of the 2010 World Series of Poker. I feel focused and ready to kick some ass. I will be using Twitter to post updates and I am sure Pauly will be keeping an eye on me as well so make sure you check out his blog over at TaoPoker. Even if he doesn't include me in his updates, he covers the WSOP like nobody else.

May 27
I recently went on a weekend cruise to Mexico and had an amusing poker experience while I was on board.

Every morning, we would receive a schedule containing the activities that were offered for the day. When I saw they were running a $100 No Limit tournament, I was happy because most of the activities weren't really my cup of tea (cmon a hair chest contest?).

When I got there, there were only two players and they were sitting at a video table. The guy who was "running" the tournament said we probably wouldn't get enough players to start and we could play virtual cash games instead. I said, "I'll wait a bit and see if we can get more players." I ended up grabbing two other people to play and we begged for the guy to let us play with only five players. He told us we could, but they would only pay 2 spots and it would be split up 70/30. We all agreed and he turned the computer on which proceeded to deal us our first hand.

I was dealt AQ on the button. After everybody limped, I raised it and got 3 more callers. Four of us took the flop which came out AQQ. Three of us went all the way to the river with the hand and I eliminated both of them. One was holding a weak queen (Q6) and the other guy was holding A7.

I thought I had the tournament in the bag at this point. I had three times the chips as the other two players AND I had the experience to back me up. Well I was wrong. One player called my shove on an a flop of KJ7 with his 33 (I had AQ) and said "I knew you were trying to muscle me." "Yeah, okay whatever," I thought. I then proceeded to lose three hands to the other guy at the table and was eliminated. The first hand, he called me with bottom pair with me holding top pair and he improved. On the second hand, the flop was KKK and I bet my AT. He said, "I sure wish I was holding something better." He finally made the call and I actually believed him when he said he had garbage. The turn was a six and I knew that hit him. He checked to me and I checked behind. The river was a seven and we both checked again. He turned over J6 and took the pot. On the last hand I was holding 65 and the flop came 543. We got all of our chips in and he shows me 32. The turn was another five making an ace his only outs and sure enough the ace got there. I finished in third place after taking two players out on the first hand. I at least had a good time. All of the players were really nice and cheerful. They were all just looking to have a good time which is quite different from the typical player I encounter at the real poker tables.

May 13
I finished my report on my first place finish in the HORSE event at the California State Poker Championship.

As far as the Razz tournament on PokerStars, I did well, but I wouldn't go as far as saying that I actually "schooled some fools" like I had planned on doing. I played in the $22 buy-in and $215 buy-in tournaments and cashed in both of them. The smaller buy-in event had 3064 players in it and I finished in 121st place. That was good for a $27 profit. In the medium buy-in event, I finished 45th out of 569. For the day, I profited close to $300 which isn't a bad days work. I am feeling really great about the way I am playing and hope to win something big at the WSOP. The first event I am playing is the $1,500 Omaha Hi/Low tournament and it is just around the corner.

May 12
I pulled out a win at the California State Poker Championship last night. I am extremely excited and proud that I was able to win a HORSE event two years in a row at this series. I now have two beautiful bear trophies sitting on my bookshelf. I will write about the tournament in detail tomorrow (for now I got to school some fools in Razz in the PokerStars SCOOP events).

May 11
I played in the Omaha Hi-Low and H.O.R.S.E. event at Commerce. I bombed out of the first one (the Omaha) and managed to make the final table of the HORSE event which is going to be played out today at 4:30. I am going into day 2 as one of the chipleaders. Will write more about both tournaments, but for now I gotta get ready to go kick ass.

May 7
I am an idiot. I can't believe I missed the Omaha SCOOP events. Last night I was really prepared to play and scheduled today around playing both of the higher limit events. Around 4pm pacific time, I jumped on the treadmill for an hour long session. Working out always makes me feel energized and stress free and I wanted to feel my best for today's online tournament. Around thirty minutes into my workout, I sent one of my buddies an email to let him know that the event was today (he also likes Omaha) and he sent a reply back saying "It started two and a half hours ago. I was wondering where you were." I ended up finishing my scheduled workout because I definitely needed to work off the stress now!

I can't believe I did this. I first thought that I messed up because of the military time (I occasionally get screwed up on that even though I know how to read it), but then I realized that I got confused because I was looking at the Commerce schedule last night and just got them mixed up. I just looked in my appointment book and see that I actually wrote down 2pm for the tournament today. I sure wish I would have looked at it a couple of hours ago. Oh well, I know that I won't be late for the Commerce tourneys on Sunday and Monday. I will be playing the HORSE and Omaha Hi/Low events over there.

Today's $5200 buy-in tournament has a $100k first prize. I would have loved to play for a shot at winning that.

May 3
PokerStars SCOOP tournaments started yesterday, but I passed on the events from yesterday opting to spend my Sunday afternoon with my family. Today, I played in two Badugi SCOOP events; the low limit $16.50 buy-in and the mid limit $162 buy-in.

I haven't played very much Badugi, but I prefer any mixed game to No-Limit Holdem, so I gave it a shot. About four hours into the tournaments, I was eliminated from the $162 buy-in event. Of course, I wish I had lasted in the bigger tournament instead of the smaller tournament, but I was happy that I lasted for as long as I did considering how little I know about the game. I spent the next three hours grinding it out in that small buy-in Badugi and ended up cashing for $42.00. Seven hours for a profit of $25.00 (although I was negative for the combined tournaments). Going to take that one to the bank!

The next event I will be playing is the Omaha Hi-Low tournament on Friday. I will probably be playing in all three leveled buy-ins so make sure to check on me under my screen name, Siren.

April 30
PokerStars is running their satellites for the WSOP. I haven't had an opportunity to play in any of them yet, but I will definitely be putting some time in trying to win my seat to the main event.

I looked at the schedule for the WSOP and it looks like I won't be playing in as many events as I have been over the past couple of years. Instead of having three Omaha Hi/Low events, they only have two. One of the buy-ins is $1,500 and I will be playing that event, but I decided to pass on the $10,000 tournament this year. If I happen to final table something beforehand, I might reconsider. I will also be playing the $1,500 and $3,000 buy-in HORSE events, the Razz event and the 8-game mixed event.

April 20
The news is finally out!

PokerStars announced on their blog today that they acquired a few top poker portals and one of those was mine. I have worked with PokerStars since 2003 (been a player since it's inception) and have always thought they were an amazing company with an amazing product. I am so fortunate to be part of it now. My best friend, Steve Badger and his website PlayWinningPoker.com was also acquired.

So the big question people have been asking me is "What now?" The answer is: Even though I sold poker-babes, I will still be working on it. PokerStars has decided that they want to keep me as the face of Poker-Babes and I will be paid to continue to run the site and consult with the company. It is a great opportunity for me to show them how much I love and believe in their product and with a lot of hard work could eventually lead to even more exciting things for me.

Yesterday, I was looking around various news outlets to see who covered the story and found one site that listed my site with a different URL. The writer talked about how they were surprised that PokerStars had acquired this so-called website. HELLO! They didn't acquire it, you clown. Next time spend some time reading the actual news report and double checking your facts. I can't believe the guy actually got paid for that article.

April 6
I have been playing a lot of Omaha Hi/Low online and the games have been great. I have made decent money, but not as much as I should. According to Steve, the reason for this is because "You suck so bad at running good." Often times, I have these guys over a barrel and they hit their two outer to win half the pot. Once (If) the cards start breaking even, I should be making money like I used to years ago.

I was looking at the SCOOP 2010 tournament schedule and plan on playing several of the tournaments. I will probably play the medium and high buy-in events of each of the following: Omaha Hi-Low, Stud Hi/Lo, Razz, and HORSE (Event number 14, 25, 27, and 36 respectively). I might even add the Badugi event and 8-game mix into the mix depending on my schedule.

March 23
I played a HORSE event at the Winning of the Green at the Bicycle Casino last week and it was a miserable experience.

I arrived a few minutes late and sat down to play and after about 5 hands of Holdem, I looked at the dealer tray to see what hand we were on. I saw that there were no little discs that say what hand we were on and realized I just registered for a HORSE event that had timed rounds and levels instead of the new and improved way where we play 8 hands of each games during a specified level (usually 30 minutes to an hour). I was immediately pissed off that I was going to have to sit there for 40 minutes of Limit Holdem before I got to move onto to Omaha Hi/Low.

So after a frustrating 40 minutes of Holdem, we moved onto Omaha Hi-Lo and I was dealt A266 in a four way pot. The flop was K66 and the first player led out, the second player called, I raised, the fourth player called, the first player raised and we all called the raise. I didn't want to raise the flop because I didn't want to slow the original bettor down. The turn was a queen. The first guy leads out again, the second guy called, I raised, the fourth guy called, the original bettor raised again (at this point I knew for sure he had KK for kings full of sixes) the next guy finally folded, I raised again, and the fourth guy finally folded too, and the last guy called. The river was a fricking King. The guy leads out, I said "you have quads right" as I tossed out my chips and he turns over KKxx. I showed my quad sixes and almost every body at the table made a comment about how it was great that I only called and I didn't raise, blah, blah, blah. One guy across the table said "Of course the guy had KK" and I thought to myself "What a bunch of clowns. Only one guy at this table even thought about the hand like he should have."

Sadly, it didn't get any better from there. I was eliminated in the Stud 08 round which I knew was going to happen. After 3 hours of play, there was only going to be enough chips to play a hand of Stud 08 unless I managed to accumulate some which wasn't happening. After one hand, I was finished and to be honest, I was kind of glad to be going home. I will not be going back and playing a HORSE event at the Bike unless they change to the 8-handed format.

March 9
It looks like I have failed miserably at keeping up with my journal. Things have been pretty hectic for me as far as business is concerned. I have some exciting things going on with poker-babes and will discuss it in more detail when things get finalized. I am also working my butt off on my other site, Poker Vibe. More on that soon.

Since I didn't post a journal entry during the LA Poker Classic, it was safe to assume I didn't win anything. I played in five tournaments and I finished fourth in the HORSE event. That was the extent of my tournament series. It's kind of hard to even think about tournaments when I am so busy working on other projects. The bulk of the work should be finished by the WSOP so I can focus on those tournaments and winning a bracelet. There are five events that I am definitely planning on playing in. If I do well in any of them, I will probably play a few more like the 10k HORSE.

I will try and post a new journal entry sooner next time around.

February 2
I played in the HORSE tournament at the LA Poker Classic and finished 4th out of 171. I realized a few things while playing it: one, I sometimes don't give myself enough credit and two, I still have a LOT to learn.

Tournaments are so difficult on me because I am so hard on myself. I am never happy with my results. If I bubble the event, I wish I would have at least cashed. If I cashed, I wish I would've final tabled. If I final tabled, I wish I would have won it. You would think that if I won the event, I would be satisfied, but NOPE. Last year when I won the HORSE event, I wasn't happy because I agreed to make a deal heads-up.

This time, I thought I had a better understanding of ALL five games combined than my opponents. There were players that might have been better in specific games, but overall I thought I had the edge. Just when I thought, "I really have a shot here," I screwed up a hand that cost me my tournament. Since then, I have been kicking myself in the ass thinking, "If I had raised on third street, I might have won this whole fricking tournament." Instead, I am at home waiting anxiously for the next one. Yeah, tournaments are rough, but I love them.

January 21
Take a look at Brad Willis' newest article on the cost of having a baby at St. Francis Hospital. He wrote the story because he wanted to get the news out there and I figured linking to his article is the least I can do for a good friend and fellow blogger.

January 13
I am finally home from the PCA. The trip home was a long one especially since I had a hangover from the night before.

Our last night there, we invited our friends to join us for dinner at Nobu. As I have stated many, many times, the friends we have made on the tour are amazing, but they do have one HUGE drawback (probably their only drawback)... they all work for Stars and the media. So when we went to the tournament room to invite them, they all declined our invitation because they were working.

Halli and I had dinner by ourselves and then went to the Coral Lobby where everyone promised to join us. It was about midnight before they all showed up and Halli and I were feeling pretty good by this point because we had shared a bottle of wine at dinner.

We spent another three hours hanging out and having a blast before calling it a night.

Our trip was fabulous and profitable. That's a great combination. This year, I hope to have many more profitable poker vacations. For now, I am reflecting on how lucky I am to be able to have these experiences at all.

January 11
We woke up this morning and decided we had had enough of the Bahamas. We have enjoyed our stay tremendously, but it's time to go home. I screwed up our reservations when I originally booked them. We had our room covered until the 12th (with the package I purchased), but our flights were booked for the 14th. When I noticed my error, we decided we would make our decision on what day to go home once we were in the Bahamas. Today we finally made our decision and swapped our flight for tomorrow. This gives us exactly enough time to celebrate our final table!!

January 10
Halli and I both had a nice finish today. I was eliminated (by Halli) in fourth place and cashed for $6680. Halli Pinson got heads up with Vanessa Rousso and ended up coming in second after a two hour battle. Her finish earned her almost $14k in the PCA Ladies Championship Event.

After playing for so many hours today (and yesterday), we didn't have the energy to do too much celebrating, but tomorrow night is another story!

January 9
Halli and I played in the Ladies $1k buy-in event today and we both made it through to day 2. 91 players started the day and there are 26 people left. I am feeling fantastic about making it through especially since I was down to $3k in chips about an hour before the day ended and worked myself back up to about 25k before breaking. For more details, read my 2010 PCA tournament trip report.

Tonight we are going to the PokerStars party where Kelly Rowlands is set to perform. It should be a great night because a whole group of us are going. I gotta make sure to keep things low key so I have the energy to kick ass tomorrow.

Yesterday, we had our first full day of sun and we spent it at the pool enjoying the waterslides. I remember last year, my favorite part about my trip was hanging out on the Lazy River and riding the slides. I had a blast doing it again this year. It really sucks that the weather has been so bad that we have only got to experience the pool and slides one time this trip.

January 7
The weather in the Caribbean hasn't been fantastic during my stay this year. Today was nice enough to take a walk on the beach, but it was definitely not warm enough to get my bathing suit on and take a dip.

A few of my family members flew in last night to spend five days with us, so the whole group not only walked on the beach, but also spent some time looking at all sorts of things the resort has to offer. "The Dig" was one of my favorite things. It is a maze of tunnels and chambers with ruins and underwater inhabitants depicting the lost city of Atlantis. The whole attraction was fascinating, but my favorite part was the jellyfish tank.

This evening we went to the marina and dined at the famous restaurant, Carmines. They serve their plates "family style" which means "ridiculous proportions." We all shared two plates; breaded artichoke and vodka penne pasta and there was still a ridiculous amount of leftovers. The food was great and even better was we felt like we got good value for our dollar which isn't an easy thing to come by at this resort.

January 6
I played my day 1 today and unfortunately that is where my main event ends. Of course, I am disappointed that I couldn't have gone farther (that first prize of over $2 million would be nice), but I played fantastic which helps ease the pain a little bit.

January 5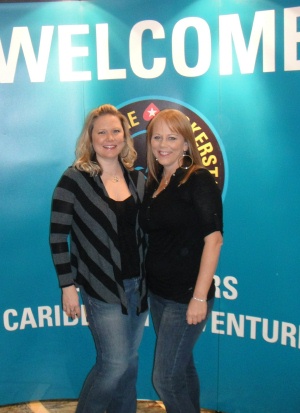 The party was a blast as usual. It is just so nice when I go on these types of trips and hang out with my friends. They are the nicest group of people and they never fail to make me laugh.

As soon as Halli and I were ready, we headed downstairs to meet up with Melina and Thomas. They both were working, but were hopeful they were going to be able to spend some time at the party. No such luck for them, but we did hang out with Alex who is a damn good substitute for his sister, Mel. We also enjoyed the company of Brad (our favorite blogger), Joe the photographer, Stephen (who also writes for writes for the PokerStars blog), Rich Korbin (one of the marketing directors), and we even met a few other nice guys.

The great thing about the party this time is I didn't have to play the following morning which was a really good thing. I had all day to recover from my long, exhausting flight and from the alcohol I drank (which wasn't as much as expected).

January 4
Our flight didn't go as planned. In fact, it was hell trying to get to the Bahamas, but we are here finally. And we are exhausted.

The first portion of our itinerary went fantastic. We were scheduled to fly from Long Beach to Fort Lauderdale, Florida before taking another flight from Fort Lauderdale to Nassau. When we arrived in Florida, we checked the board for our gate number and it said "flight cancelled." There wasn't a delay, it was just cancelled Jet Blue didn't do much to help us out either. While standing in line, we were advised to book a flight on another airline ourselves and then they would refund the portion of the flight we didn't use. I immediately went to Bahamas Air to try and book a flight before the other passengers arrived. I was able to book it and I thought things should go okay from there. Our flight ended up being delayed for several hours with people getting irate. When we finally boarded, we were seated in the last row of the smallest piece of crap airline with a crying baby sitting directly in front of us. The thirty minute flight was the worst flight I have ever taken (and I have been on 12 hour flights before) and I was closer to vomiting than I ever have been on an airplane before.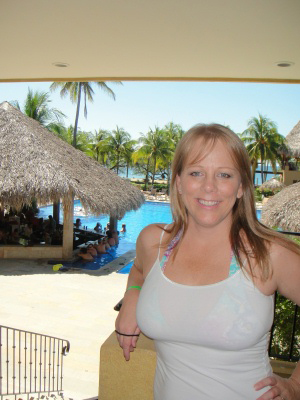 When we landed, I was relieved, but needed to get off the plane as quickly as possible. There was no chance of that happening since we were in the last row. And to make matters worse, I had this bitch from hell in front of me who couldn't get her bag out of the compartment and yelled at me when I told Halli to go around her. I originally tried to help the woman, but she still couldn't get her bag down and I was feeling more nauseous by the minute. I normally wouldn't even stand up until the people in front of me are starting to move, but this was extraordinary circumstances.

We took a taxi to Atlantis and arrived around 3pm which gave us enough time to take a nap for a couple of hours. Now we are heading to the PokerStars Welcome Party and I am hoping to see some of my close poker friends (most of which work for Stars or some sort of media outlet).

January 3
I am heading out tonight to play in my first live tournament of the year; PokerStars Caribbean Adventure in the Bahamas. I scheduled to play day 1B of the main event. I also qualified for the Ladies event that included weekend accommodations, a $250 spa certificate, and poker boot camp taught by Vanessa Rousso. There are a few other events that I am interested in if I have the time for them. I have been working on my eight game mix and I can finally say that my Deuce to Seven Triple Draw game doesn't suck nearly as bad as it used to. Our flight leaves shortly (9pm) and if things go as planned, we should be in Paradise by 9am tomorrow.