Poker Strategy Articles

Poker Journal
2004-2011

Poker Journeys

Poker Player Bios

Poker Tournaments 2005-2011 Reports

My Tournament Poker Results

Heroes

Site Map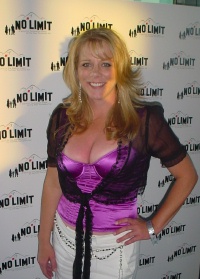 The Main Event at the World Series was scheduled to start on July 7th, 2005, so a lot of parties were scheduled for the days leading up to the big day. I had enough time and energy to make an appearance at three of them and had a great time.

I went to the premiere of the No Limit movie on July 5th at the Palms Casino. I planned on going with Mark Seif, but he was still playing in the Omaha event when the event started, so I went solo. I was greeted by Susan Genard (the subject of the movie) and she pointed me in the direction of the theatre. I walked into the theatre and saw so many familiar faces. Mike Sexton, Kathy Liebert, Phil Gordon, Mel Judah, Jim Meehan and Chip and Karina Jett are just a few of the people I saw in the audience. I am a subject of another poker documentary and the guys (Clay and Frank) that are filming me were also seated. I sat down next to them to watch the movie. The movie was not shown in its entirety, but we saw about 25 minutes of clips and it looks like it is going to be great.

After the movie, I went to the after party at the Ghostbar. The first thing everyone saw when walking into the bar was the girl standing on stage. She had "pasties" on her nipples and the rest of her body was decorated with body paint. Mike Sexton got on stage with her and the media went crazy. I would expect that picture to be showing up everywhere. Jennifer Tilly and Phil Laak made their entrance and they were mobbed by the reporters. I don't think they had any time to socialize because they had to interview after interview. They were definitely the hot ticket item of the night.

The party lasted about three hours and I enjoyed mixing it up with everyone. I even had a couple beers courtesy of the hosted bar and I was feeling good by the time I went to the next party on my list. FullTilt Poker and Bluff Magazine held a party at Le Bete inside the Wynn Casino. In front of the nightclub, there were three huge guys protecting the ropes and one person was checking everybody in. I told one of them my name and after they checked the guest list, they let me down the stairs. A lot of the who's who in poker were at the party. Almost all of the Full Tilt players were there. I immediately spotted Phil Gordon and Jennifer Harman. After a short time, I also saw Chris Ferguson, Howard Lederer and the great Phil Ivey. Some of the other people who showed up were David Williams, Daniel Negreanu, Penn Gillette from Penn & Teller, Marcel Luske and many of the writers from the blogging community.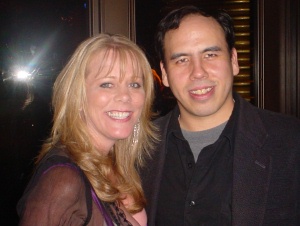 I spent a lot of time hanging with Pauly from Tao of Poker, but I made sure to take a few trips around the room to mix and mingle. My friend Jacqueline arrived at the height of the party and we had a blast. We danced and watched Chris Ferguson do the same. I knew he was a swing dancer, but I never knew he could actually dance to hip hop. He was getting freaky on the dance floor and he had more rhythm than I ever thought possible from a tall white guy.

I made my way outside where they had a seating area with two amazing waterfalls as the background. I talked a little with David Williams and I think I even made him blush a little. He was telling a couple of us how he hadn't placed in any of the events so far at the World Series and I was telling him how hard it was with the huge fields. I turned to Sherry (another writer) and said, "He hasn't placed, but you have to admit he still has the greatest smile in poker" and she agreed.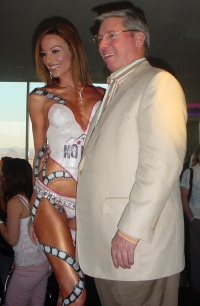 FullTilt auctioned off some of their players signed jerseys. I had a bet going with the CardPlayer guy that Phil Ivey's jersey was going to be the highest selling item. The first player's jersey to be auctioned off was Phil Gordon's and it sold for an impressive $5000. It was going to be hard for Ivey to top that one, but I had faith in him. Ivey's jersey ended up going for the same price as Gordon's and the team jersey (with autographs from all of the players) went for something like $12,000. I think all of the other players were a little lower than $5000. The money went to the Boys and Girls Club.

Late in the evening, I hung out with all of the writers outside. Daniel came out to talk with us and we ended up getting a show. Two writers had their voice recorders and started asking Daniel questions. He started out with a serious interview and then took it to a whole other level when he started doing Scotty Nguyen imitations. I am not sure which websites had the podcast, but if you ever find it, I promise you will enjoy it.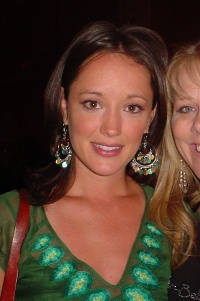 The party was winding down, but the girls still had some energy left. We went over to the nightclub at Caesars where Antonio Esfandiari was hosting a party. We danced a few songs, but decided to call it a night because the club was so packed that we couldn't even move. On our way out, we saw Scott Fishman and Chino with a group of guys. JC Tran took a liking to me (or maybe he took a liking to my boobs) and started bragging about how much money he and Scott had. He didn't realize that I actually played poker and knew some of the group. Scott wised him up a little, but he still didn't get it. He tried to introduce me to Chino and I told him, "I know Chino" before he even spit out his name. I also stopped him before he introduced me to Robert Mizrachi. The guys invited us to go to a strip bar with them, but we declined the invitation and called it a night.

The next night was the PokerStars party. Jacqueline attended this party with me as well. The event was nice, but it didn't have the same atmosphere as the prior night's events. We stuck around long enough for me to catch up with Chris Moneymaker. I asked him how the new baby was, how his wife was, and then asked him if he was broke. I already knew that he wasn't, but I wanted to squash the rumor once and for all. I ran into Erin Ness and Isabelle Mercier and grabbed a couple pictures before leaving the party. I needed to get a good night's rest because I was scheduled to play the next day.

2005 WSOP reports: $10,000 No Limit Championship
$1000 Ladies World Championship and $2500 No Limit Holdem
$5000 Omaha High Low, $2500 Omaha High Low, $1500 Omaha HiLo Split
$5000 No Limit Hold'em and $1500 No Limit Shootout, WSOP 2005 Parties