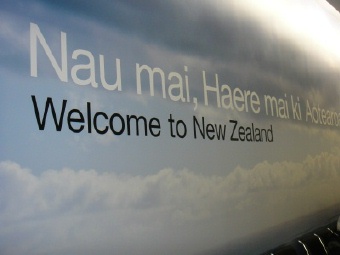 October 9th, 2009
Last night, Shirley and I embarked on yet another poker journey - this time heading to New Zealand for the PokerStars Asian Pacific Poker Tour (APPT). We are planning on spending a few days driving around the country before camping out in Auckland for some serious poker.

I must be getting used to these long flights, because the 13 hour trek from Los Angeles to Auckland wasn't so bad. In my opinion, I would much rather have a direct flight (like this one was) then stop and change planes – I think I just like to get the whole thing over with in one clean shot. We flew Qantas Airlines, which I have heard good things about and left me with no complaints after our flight.

When we arrived in Auckland, it was very early in the morning and I knew we were in for a long day. Having already checked the weather before we left, we weren't surprised to be greeted by pouring rain and chilly temperatures. Determined to not be slowed down by the dismal weather, we decided to make the most of our day and hit the road. While Shirley negotiated the rental car agreement, I went in search of a much needed coffee. I hadn't slept much on the plane and needed fuel for the day ahead (Shirley is some kind of super human who doesn't drink coffee). When I found an airport coffee kiosk, I was immediately confused by the choices on the menu, which had prices listed for "tall black" and "short black." Still half asleep and starting to get seriously desperate for caffeine, I took a leap of faith and simply asked the woman behind the counter if I could get a regular cup of coffee. She pointed at the menu and asked if I would like a short or a tall. Ah, so these must be sizes. I told her to please give me a tall, but I usually take milk in my coffee, so I didn't want it black. After looking at me like I was from another planet, she surprised me with her patience while she explained to me what I was facing as a coffee drinker in New Zealand. It turns out that a "short black" is simply an espresso, while a "tall black" is a shot of espresso mixed with hot water (at home I know this as an "Americano"). When I enquired about getting a regular old cup of joe, she replied "You mean, like the kind with a plunger? That's sort of old fashioned, don't you think?" Ok, when in Rome, err, New Zealand. Now nearly dying of exhaustion, I was grateful to receive my tall black and a 7am lesson in fashionable coffee drinking from this Kiwi barista.

Feeling much more prepared for the day, I joined Shirley in a mad dash through the rain with our luggage in tow. Our rental car was small but suitable for the two of us. Although fitting our luggage in the trunk was a quite a mission, the real challenge was Shirley getting used to driving on the opposite side of the car (and the roads). Combined with the rain, this presented a very interesting and comical start to our day. Despite getting some well deserved dirty looks from other motorists, she seemed to get the hang of it pretty quickly.

After we stopped at a bank to exchange some money and loaded up on supplies at a local grocery store, we hit the highway for a town called Rotorua, which is located in the center of the North Island of New Zealand. Before we left LA, I had made a general itinerary for our trip when our friend Andrew (who we spent a lot of time with in Costa Rica) gave us some tips after coming to the APPT event here last year. The further we drove from the city, the more beautiful the scenery became. Everything is amazingly green here, and so much less developed than most places in the United States. When we arrived in Rotorua, we were starving, but our appetites were slightly suppressed by the thick stench of rotten eggs residing in the air. This is due to the many sulfur pools and geysers in the area, which makes it a popular tourist destination but leaves me wondering how anyone could buy a home here. Sulfur smell or not, we needed food and managed to find a very cute restaurant where we enjoyed a meal after our long drive. The waitress was ridiculously nice and accommodating (as was the woman at the front desk of our hotel) and I found myself asking Shirley if these people were for real. We concluded that we needed a bigger sample, but it was starting to become clear that the Kiwis are just plain sweethearts.

After eating, we were downright exhausted. Despite it being only 5pm, we went to our room and called it a night. Shirley immediately passed out while I stayed up a bit longer to plan our day tomorrow. There is so much to do and see here, it is ridiculous. I'm starting to think that 11 days is not going to be enough time to even explore the North Island. Right now, I have to get some sleep because it looks like we have quite an adventure ahead of us.

October 10, 2009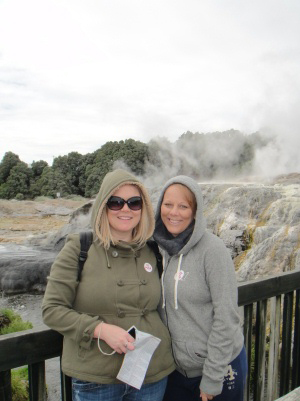 This morning, we woke up to more grey skies and chilly temperatures in Rotorua, but felt rested and ready to get moving. We got in the car and headed to Hell's Gate, which is known as Rotorua's most active thermal reserve. Basically, it was a lot of bubbling mud pools which we admired while we froze our asses off. It was so cold and windy; I seriously kept fantasizing about jumping into the hot pools, despite the result being certain death. There was one section that we were allowed to touch because it wasn't insanely hot. The smooth, warm mud was so inviting that I was tempted to spend the day in the mud baths they had set up for visitors. Unfortunately, we had a lot planned for the day and didn't have time to lounge in the mud. At the end of our self guided tour of the reserve, we were invited to carve a traditional Maori symbol into a piece of wood (the Maori are the indigenous people of New Zealand). I was done with mine fairly quickly but Shirley was being a perfectionist and took her sweet time (and I'm sure I wasn't helping by mocking her determination the whole time). We pocketed our souvenirs and I warmed up in the gift shop with an espresso – err, short black coffee – and we hit the road.

We made our way around Lake Rotorua toward a hilly green area where we wanted to go Zorbing. For those of you who don't know, Zorbing is when you roll down a huge hill inside a large plastic ball. As far as I know, there are only two locations in the world where it is offered – one being in Rotorua. Because it's so rare and seems like such a unique experience, our hearts sank when we arrived to find the Zorbs out of action due to the high winds. The instructors told us to try back later in the afternoon, so we decided to do just that.

The next stop on our tour of Rotorua was Te Puia, home to Maori Arts and Crafts Institute, located in the Whakarewarewa Thermal Valley. Despite the fact that it was still quite chilly and windy outside, we explored the grounds and I especially enjoyed seeing some of the handmade traditional Maori clothing on display. The main attraction at Te Puia is the Pohutu Geyser (which means "Big Splash") and for good reason. It explodes two to three times per hour and the explosion is nothing short of impressive; we probably took 100 pictures of the damn thing.

Our next stop was Mt. Ngongotaha, were we rode a gondola upwards and enjoyed a spectacular view of Rotorua. Now, I had read about all the thrilling activities at the top of this mountain, but as a world class chicken, I hadn't told Shirley about them until the last minute (when I finally got my nerve). True to form as a first class thrill seeker, Shirley immediately lured me to the Sky Swing when we reached the top of the mountain. My legs were still shaky from enduring the windy gondola ride, and when I saw the swing in action, I nearly passed out. I have always had a fear of heights, but before we left LA I made an agreement with Shirley that I would participate in any activity in New Zealand, as long as I did not have to sky dive or bungee jump. Now, I was sort of regretting this pact. Not giving me any time to protest, Shirley led me up the stairs and we boarded the swing. A huge hook grabbed our seat and began to pull us up to the top of a crane behind us; I was literally in tears, moaning and wailing as Shirley cackled. In addition to the great heights that we were reaching, the swing was located on the side of the mountain to increase the thrill (or in my case, terror). When we reached the top of the crane, I was more frightened than any other time I could remember. Shirley was in charge of pulling the cord to release us, but she was hesitating because she couldn't find it immediately. I started to seriously freak out and yelled at her to just pull the damn thing because anything had to be better than being stuck at the top of this crane in anticipation. I was wrong. When she pulled the cord, our swing was released into a horribly thrilling free fall. We proceeded to swing back and forth until we settled back down to earth, both of us in tears (me from my terror and Shirley from laughing). There was a camera on the swing which recorded the entire thing, and we were hysterical after watching it. The video made the whole thing worthwhile for me and I actually found myself thanking Shirley for pushing me to do something so far out of my comfort zone.

After I recovered from my near heart-attack, we bought tickets to go luging down the hill. The luges were not what I expected; crude plastic cars with wheels and handlebars, which you could pull on to control the breaks. We had a blast racing down the mountain on the winding cement paths, but we nearly froze to death riding the ski lift back to the top. After two runs, we couldn't take the cold anymore and warmed up with some lunch in the lodge.

We decided to try one more time to go Zorbing, but unfortunately the winds were still too strong. Although we were disappointed, I'm not sure if I could have taken one more thrill for the day anyhow. We used the remainder of the day to drive south to the town of Taupo, where we checked into a hotel just before sunset. On our way to dinner, we stopped to take some pictures of the sun setting over Lake Taupo. It was one of the most beautiful scenes I have ever witnesses, and we got some great photos. After enjoying a delicious Italian dinner (and some much needed wine after that Sky Swing), I am exhausted and we are calling it a night. Tomorrow should be an exciting day, kicked off with Shirley bungee jumping (there's no way I'm getting talked into that one). I can't believe we've only been here for two days, it feels like we've seen and done so much – and there's still so much ahead.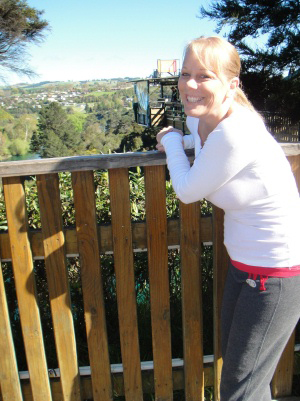 October 11, 2009
This morning, as we were getting ready, I noticed Shirley was a little more quiet than usual. I'm definitely not used to seeing her nervous (that is usually reserved for me), but today she was embarking on her first ever bungee jump, and I could tell she was slightly freaked out. We got an early start and were pleasantly surprised to find it sunny and a little warmer than yesterday. In the early morning light, I was struck by the beauty of Lake Taupo. It is incredibly blue and serene, flanked by snow capped mountains that create a postcard worthy picture. After snapping a couple of pictures of the lake, we set out towards Taupo Bungy, where Shirley was prepared to risk her life for a thrill (she must be nuts).

When we arrived at the sight, I was somewhat startled at how quickly they had her fill out the forms and got her ready for the jump. It seemed like only moments passed when the girl behind the counter said "Ok, go ahead out back and jump." Shirley seemed a little surprised as well, so we took our time and checked out the scenery before she finally walked out onto the long wooden bridge that lead to the jumping platform. We were standing on the side of a cliff that overlooked the Waikato River, and I found myself thankful that I wasn't attempting to jump so that I could enjoy the beauty of this spectacular place. Shirley wasn't so lucky; after walking about halfway across the bridge toward the jumping platform, she exchanged a few words with the instructor and headed back towards me. I've never seen her so unglued. She was nervous (for good reason) and really wanted to see someone else jump before her. We waited for a few more minutes, and when it became clear that we might not see anyone else take the leap for a while, she decided to just go for it. I was very proud of her as she marched back across the bridge to the platform, but as I watched them strap her feet to the long cord, I started to get extremely nervous. It was a good thing I wasn't out there on the platform with her because I probably would have tried to talk her into giving up on the idea and going out for breakfast instead. Finally, after what seemed like hours rather than minutes, Shirley cautiously stepped up to the side of the platform and hurled herself off. I was impressed with how graceful she looked as she fell toward the river and found myself laughing at the blood curdling scream she released on the way down. A boat picked her up at the bottom and I enjoyed a tall black coffee while she hiked back up to meet me. She was all smiles upon her return and I was happy to see her alive. I have no regrets about not jumping… the thrill of watching Shirley was quite enough for me.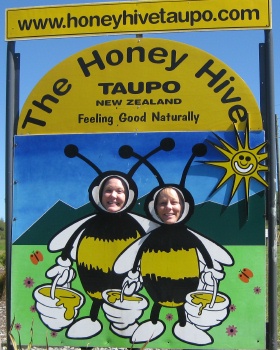 We drove down the river a bit, to Huka Falls, where we snapped some photos and marveled at the turquoise water rushing under the bridge we stood on. After a quick stop at the Honey Hive (which is basically a bee museum and gift shop – not too impressive but the sight of one of my favorite pictures we've taken so far), we left Taupo and drove south towards Tongariro National Park. The park was amazing and overwhelming in size. Without intentions to stop too much, we drove through the park and tried to take in as much as we could. The geography was so stunning; it's no surprise that director Peter Jackson shot so much of "The Lord of the Rings" movies there. We cut down a side road and eventually stumbled upon a ski resort. If we had had more time, I think we would have stayed the night there and spent the day skiing (never mind that we had no clothes suitable for snow) but we had to keep moving if we were going to stay on schedule and get to Auckland in time for the tournaments. As we drove back down the mountain towards the main road of the park, we decided to take a quick hike at one of the trails that lined the road. We chose the Tawhai Falls Walk, which was about 20 minutes each way. It was slightly chilly but the sun was out to warm us as we walked, and when we finally reached the falls I sat on a rock and admired the rushing water beneath me. It was a picturesque scene and I definitely could have stayed there all day, but after a while we said goodbye to the falls and made our way back to the car.

Our plan was to spend the rest of the day driving north to Waitomo Caves, and that's exactly what we did. I've never really enjoyed spending a significant amount of time in the car, but today was definitely an exception. Everywhere we looked was beauty, and everything was incredibly green and lush. We drove through countless farms and saw hundreds of sheep and cows, and made sure to take lots of photos along the way. The day was beautiful and I really enjoyed Shirley's company as we made our way across New Zealand.

As I write this, we are in Waitomo Caves; a very small village that is home to a large underground cave system that has become an attraction to tourists over the years. Our friends Andrew and Brandon went on a cave excursion here last year and told us that it was one of the most awesome experiences of their lives. The way Andrew described it was "OMFG the best adventure-related day of my life, hands down. Donned full wet suit gear, we then abseiled 100m down the cave, so misty could not see the bottom. Then climbed along rocks for a while in pitch dark with only helmet light, followed by totally unexpected UPCURRENT RAPID RIVER swim+climb?? Don't even know what to call it. Then unreal glowworm experience with roaring river in pitch dark cave." After reading this, I knew that Shirley and I absolutely had to do this. She doesn't seem so convinced, as we know we will be wet and cold for a good deal of it – and if there's one thing that Shirley hates, it's being cold. I keep telling her that it will be an amazing experience and she can deal with the cold for one day. However, I'm a little nervous about it being too physical for me because I haven't worked out in ages and the tour is supposed to last for seven hours.

Before we get some rest for tomorrow, I have to quickly say that the hotel where we are staying is an experience in itself. When I planned our trip on our first night in Rotorua, I wasn't able to book most hotels in Waitomo Caves online (most required phone reservations). Because we have no phone that works in New Zealand, I booked the only one possible: the Waitomo Hotel, about which my tour book said "If the Bates Motel and the hotel from the Shining had a bastard son, this would be it." It is indeed nothing short of creepy and Shirley is nothing short of pissed that I picked this very old school hotel to spend the next two nights (which I find hilarious). When we arrived, we tried to warm up the room but it soon became clear that there were not any heaters to be found. After a while I figured out that the beds had heating blankets on them - so in order to warm up, that's where you have to spend your time. That probably works out fine because I have a feeling we will need all the rest we can get for our cave adventure tomorrow. Currently, the hotel's internet is out (and I get the impression it's not coming back anytime soon) so we are at an internet café down the road. Since we will probably be tired tomorrow after caving, I'm sure my next update will be in a day or two.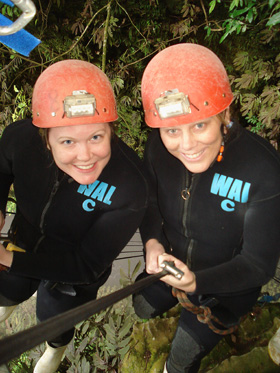 October 13, 2009
Ok, when I'm wrong, I admit that I am wrong – and I was wrong about the caves. I'm not sure if Andrew was playing a practical joke on us or what, but yesterday was, by far, the most mentally and physically challenging day of my life.

I woke up excited and in high hopes of a great adventure. After a light breakfast, Shirley and I made the short drive to Waitomo Adventures Centre, where I had made our reservation for "The Lost World" seven hour water caving excursion. On the website, they had said to bring your swimsuit, towel and an open mind – and I had them all in tow. As we filled out the waiver, I was relieved to see that there was no mention of physical fitness requirements. They asked about medical conditions and swimming abilities (I have always been a fairly strong swimmer so this didn't worry me). I stopped worrying so much about being out of shape and prepared myself for an awesome day ahead. What a fool.

Our tour group consisted of me and Shirley, three middle aged men from Italy, and three young American girls. We all boarded the bus and spent the next thirty minutes being transported up winding roads through farmland, finally arriving at a small wooden structure. We were all given wetsuits to change into, which was incredibly difficult because they were still a little wet from another group. I was so relieved when I finally got the damn thing on; I thought to myself that the hardest part is over (because I'm obviously an idiot). After our guides put harnesses on all of us, I noticed how much weight I was carrying. In addition to the heavy wetsuits and the harnesses around our waists, we were all wearing huge rubber boots which made each step a chore. "Wait until they fill with water," one instructor laughed when I mentioned the weight. Hmmm, uh oh.

Only slightly fazed by the extra weight I was carrying, I was still in good spirits as we walked down a dirt path through a wooded area towards the entrance to the cave. As we approached the giant hole in the ground, I started to feel a little nervous for the abseil – I knew it would test my fear of heights but after that sky swing I felt ok about it. After we were hooked onto the ropes, we were instructed to sit back on a steel beam behind us (which was the only thing between us and the huge gap in the earth beneath us). My knees were only slightly weak and I felt surprisingly at ease (for me) as we sat on the beam, then let ourselves hang free. It took about 20 minutes to abseil the 100 meters (about 328 feet) into the cave. By the time we reached the bottom, my abs felt like jelly from keeping myself upright in the harness. Our guides served us a lunch of sandwiches and cookies while we marveled at our surroundings. We were standing in a huge cave, with only the light shining in from the hole above us to illuminate the beauty around us. I remember thinking that this was going to be one of the most amazing days of my life. Shirley didn't look so sure, and kept eyeing the very cold water that was rushing through the cave.

After taking a couple of photos, our guides told us we would be hiking against the river current. I felt extremely motivated and was eager to get started on journey through the caves. Overcome with a surge of energy, I led the group up the rocks alongside the river. I was in great spirits and felt like there was nothing I couldn't accomplish. I enjoyed maneuvering my way over the rocks; it reminded me of hiking in Northern California with my parents as a kid. After a little while, the rocks sort of ended and the only place to go was in the water. Shirley and I screamed when we jumped into the water because it was freezing. I was taken aback when I realized that we had to clutch the rock wall and pull ourselves along, because the water was so high that our feet wouldn't reach the bottom. Like I said, I am normally a strong swimmer, but the current was stronger and there was no way I could fight it (especially being out of shape). To make matters worse, our boots immediately filled with water, which, combined with all the extra weight of the wet suits and harnesses, caused us to sink. Clutching that wall was incredibly difficult without gloves, and my hands were sliced up within minutes. The rest of the day kind of blurs together in my memory (perhaps I am blocking out the horror now). I know there were many times we had to swim, pull ourselves up impossibly large rock walls, and climb insanely high ladders. Imagine doing the most physically exhausting thing you've ever done, only to have it followed with another, and another and another. At one point, I nearly drowned because of exhaustion and had to be rescued by one of our guides. Perhaps the most challenging part of the day was the lack of water available. I am a big water drinker and feel crappy in my day to day life if I become dehydrated. The guides carried no water and we only had two short breaks though out the day. There were a couple of times when we could drink the fresh water that was dripping into the cave, but it was rare to find and I almost got left behind a couple of times because I couldn't get enough water. When we finally took a break, the guides served us hot lemonade and chocolate covered marshmallows. I nearly had a fit – the last thing I wanted was a sugary drink that would only dehydrate me more. I swear I almost fainted a couple of times because of the exhaustion and lack of water. At first, Shirley and I kept trying to empty the water out of our boots because they were so heavy, but eventually we gave up as they just kept filling up again.

I'm sure that the guides were fed up with us (especially me). At first, I tried to keep up and not complain but after a while, I didn't care any longer. I was swearing up a storm and cursing Andrew for sending us to hell and back. The thing that pissed me off the most was that the young girls in our group looked like they were having the time of their lives. I swear they were laughing at us a couple of times, but the Italians were actually very sweet and helped us a couple of times when we were struggling. The lowest point during the day was when I fell off of a rock and into the water, bashing my leg against a boulder. The bruise I am left with is unreal.

The highlight of the day was when we took our second and final break. The guides had us all lie down on a big rock (which felt amazing) and turn off our helmet lights. We all marveled at the glow worms that lined the roof of the cave while our guides quietly sang Bob Marley's "Redemption Song." I know it sounds cheesy, but it was pretty cool. Of course, when we had to get up again, my muscles had completely tightened up and the only thing motivating me to continue was that I knew the day was almost over. When we finally saw the opening to the cave where we were exiting, I was ecstatic and shouted to Shirley that we had made it. Unfortunately, we couldn't believe our ears when the guides told us that we had to hike over a few hills to get back to our starting point. I'm not sure how long we hiked uphill (I'm thinking close to two miles), but by the time we were done, Shirley and I were pretty much in tears. I have never been so happy to be done with anything in my life. We changed out of the wetsuits, took hot showers and ate a barbeque dinner that the guides prepared for us. Over dinner, they told us that if that water had been any higher, the tour would have been cancelled. The water level in the cave is usually about a half meter lower than it was for us, which makes it normally easier. I asked them what happens if someone gets injured in the cave, and they said it is horrible; just recently a woman shattered her pelvis and it took a crew three days to get her out. I left thinking that no matter how horrible this day was, it could have been a lot worse.

After our ordeal in the caves, we were simply exhausted and went right to bed. This morning, we woke up early, eager to get the hell out of Waitomo Caves and make the drive north to Auckland. I am so happy to be in a beautiful hotel, far away from cold caves and freezing water. PokerStars has definitely done it again; the Sky City Grand Hotel is lovely and in a great location. The casino is located directly next door and is surrounded by tons of restaurants. Tonight is the PokerStars Welcome Party, which always delivers lots of laughs, but will probably be a different experience than what we're used to because we don't know anyone here. On the Latin American Poker Tour, we have lots of friends, but I'm determined to meet some people here as well and am looking forward to the party.

October 14, 2009

Last night was the PokerStars Welcome party, which probably would have been a lot more fun if we had known more people. I think we were still tired from the caves and only had a couple of glasses of wine. We did meet a few nice people, including James Honeybone, who is a local poker celebrity and has had international tournament success. He was extremely friendly and introduced us to some of his friends. After chatting with them for a while, we left the party in search of sleep.

This morning, we decided to get out and see some of the city before it was time to hit the felt. We started our day by driving across the famed Auckland Harbour Bridge, checking out the hundreds of sailboats in the marina. It's easy to see why Auckland is called "The City of Sails." We then headed to One Tree Hill where we endured the wind and took some great pictures of Auckland. There were so many sheep all over the hill and walking into the road that it made the drive up fairly entertaining. We stopped at the base of the hill for a delicious lunch before going back to Sky City.

We just arrived back at the hotel, and I suggested to Shirley that we play one of the preliminary events: a $500NZ buy-in No Limit Tournament. I'm thinking it will be a good warm up for her (she is playing the Main Event tomorrow) and a nice sized tournament for me. Hopefully we will have good news to report tomorrow.

October 15, 2009
There were only 40 entrants in the tournament last night, and the field was fairly soft. Shirley was knocked out shortly before the money and I ended up taking third. It was very frustrating for me because I was definitely the best (and probably most experienced) player at the final table and I really, really wanted to win it. When we got three handed, my cards went extremely cold and because one of my opponents was very loose and had over 50% of the chips, it was a bad situation for me. I feel like I played my A game, and although I was sad to not win it, I am happy with third and the $3000NZ that I won. When I got back to the room, it was dark and quiet because Shirley was already in bed, resting up for the Main Event. I had a private celebration on the bathroom floor with a slice of pizza and a good book before finally going to sleep.

This morning was the second starting day of the $3000NZ buy-in Main Event, which Shirley played. The event only got 263 entrants but the Sky City Poker Room is small so it required two flights. I slept late and brought her lunch about halfway through the day. She seemed in good spirits and looked like she was having fun at the tables, so I left her to do her thing and jumped into a cash game. The game was fairly tight, but definitely beatable. I tend to play a little tighter than normal during my first session in a new casino and today was no exception. The only big pot I won was when I turned the nut flush versus and over pair and trapped my opponent into doubling me up. When the day ended for the Main Event players, I decided to call it a night myself and book a small win. Shirley made it through to day two but is short chipped, so hopefully she will go on a heater tomorrow. We went to the bar to have a couple of drinks and played "play money roulette" (which was set up for instructional purposes). Shirley was very pleased when the dealer let her spin the wheel, because she'll probably never get to do that again. Hopefully tomorrow will be filled with glory and we will have something huge to celebrate by the end of the trip.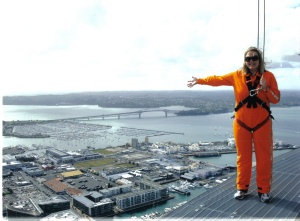 October 16, 2009
Today was filled with thrills and terrifying moments, but most them occurred away from the poker tables. This morning, after wishing Shirley good luck on day two of the Main Event, I decided to go back to the cash games. Unfortunately, I only played for about an hour because Shirley was eliminated despite doubling up early in the day. When she came over to talk to me, I wasn't sure which I was more upset about: the fact that she was out of the tournament or that she now wanted to go walk around the top of the Sky Tower. For those of you who don't know, the Sky Tower is the largest building in the southern hemisphere and the focal point of Sky City. You can see it from all over Auckland because of its impressive 1,076 foot height. For some reason, people think it's a good idea to walk around the top of the tower's rim that has no railings (of course you are harnessed). There is also an option to do a controlled jump off the tower, which is sort of like bungee jumping but you only freefall for a moment before the cables slow you down and you eventually land on a target below. I had told Shirley that I would do the Sky Walk but not the jump, and she seemed satisfied with that. Now, facing the fact that I actually had to do it was slightly terrifying considering my fear of heights.

We went directly to the tower from the casino as I was silently hoping they would say they were booked for the day (or the rest of our trip). Much to my dismay, they were very accommodating and said that we could do the Sky Walk in about 30 minutes, after getting suited up. We were paired with a brother and sister from Romania who were very nice and had good senses of humor. I started to relax as we put on the bright orange jumpsuits that made us all look pregnant and delivered a good laugh. The instructors were extremely anal about making sure we didn't have any loose jewelry and that our shoes were laced tight enough; by the time they we done with me, my feet were slightly numb from the tight laces.

I was actually in pretty good spirits when a young woman, who turned out to be our guide for the walk, came to get us. We all boarded a glass elevator and as we rode up the side of the tower, I started to get very nervous. When the doors to the outdoor observation deck opened, I was startled at how my body was physically not allowing me to step outside. The height was so much greater than I imagined and the wind was so strong that I felt I might fly off. To make matters worse, the "floor" of the deck was a metal grate that you could see through, all the way to the street below. I thought I might faint or throw up at any second. Shirley and the others were looking over the side railing and seemed to be enjoying the view while I could barely keep my eyes open. Thoughts of turning back were flooding my mind when our instructor started to clip us to the rope overheard. Then I noticed the gate on the left side of the platform. I suddenly remembered that this was a Sky Walk, not a "Sky Stand on the Observation Deck and Nearly Pee Your Pants." The gate was about to be opened and I was informed that I would be the first one to follow our guide out. She assured me that this was the best place to be if I was afraid (which she could tell by now that I was, very much so). Once she opened the gate, I somehow managed to follow her out onto the three foot wide platform that formed a circle around the tower. There were no railings and the wind was extreme. I was sweating profusely and couldn't bring myself to let go of the rope that was attached to the wire overhead. Just walking forward at a slow but steady pace was one of the most difficult tasks of my life, and every time the guide would stop us, I had a hard time starting again. The others amazed me; the Romanian guy especially was extremely care free and had no trouble leaning over the edge. Even though I couldn't see her (because I was too terrified to even turn my freaking head), I knew Shirley was a little scared as well. Afterwards, she told me that it was more challenging than bungee jumping. If I had known beforehand how scary the Sky Walk would be, I never would have attempted it. Despite not joining the others in leaning over the side or dangling from their harnesses, by the end of the walk I was able to look out and enjoy the view a little bit. However, I was very relieved when I realized we had walked the entire circumference of the building, and once we were back within the railings, I was able to look down and actually take it all in. Ultimately, I think that doing the Sky Walk helped me conquer some of my fears and I am glad that I did it. Thanks to Shirley for pushing me to my limits once again.

Next, it was time for Shirley to jump off the tower. She got suited up and I went outside to watch from the giant target at the bottom. I snapped some great photos of her as she plummeted to the ground and was relieved to have her back alive. She described the jump as a piece of cake compared to the walk, but I still wouldn't want to try it in a million years. I think the Sky Tower activities were a great way for Shirley to get over her tournament loss, and I would recommend them to all players who visit Sky City Casino.

We spent the rest of the afternoon walking around Auckland and just checking things out. We decided to try out the Chinese restaurant at Sky City for dinner, which was okay. The food wasn't quite what I was expecting (we had heard good things) but was interesting nonetheless. Tomorrow is the ladies event, which I definitely plan on playing and I think Shirley might join me. She and I both share a hatred for women-only events, but mine is definitely more of a love-hate relationship. I find ladies events to be typically very soft and always a good spot. Don't get me wrong; I think that women in general are capable of being great players, but most just haven't taken the time to learn the game and I am definitely expecting to be one of the most experienced there. Stay tuned to find out if Shirley kills some idiot woman before the end of the day.

October 17, 2009
Just as I had suspected, the $200NZ ladies event was extremely soft. It brought out 43 women, and I got the feeling that a few of them had never played a tournament before (which isn't too surprising for an event with such a small buy-in). I started the event off strong, building my stack and becoming one of the chip leaders by the time two tables remained. Unfortunately, my cards went fairly cold around this time and I found myself going into the final table with a disadvantage (probably 8th in chips). Shirley had been knocked out earlier in the day (which she couldn't have been happier about and bee lined it to the door) so she was watching when I got all in with JJ versus AA and spiked a J to win the pot and double up. She told me "I knew it was coming," which I found very sweet but of course incredibly absurd. Before I knew it, we were three handed and I was short again. Eventually I shoved all in with KQ and didn't improve against my opponent's pocket fives and was eliminated in third place. Once again, I left the Sky City poker room feeling like if poker was purely about skill, I would have schooled them all. At least I was about $2kNZ richer and I couldn't complain after getting 3rd in both events I played here. Shirley and I celebrated with a late dinner, then retired to the room because tomorrow we are going wine tasting, which I am really looking forward to.

October 18, 2009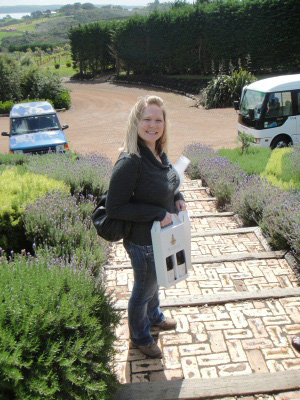 Today was an awesome way to spend our last full day in New Zealand. We woke up early this morning and walked to the harbor where we caught a ferry to nearby Devonport, a suburb of Auckland that is known for its antique shops, restaurants, book stores and cafes. We enjoyed the great view of Auckland as we travelled across the Waitemata Harbor and I was only slightly nauseated by the ride when we arrived in Devonport. Despite somewhat chilly temperatures, Shirley and I had a nice time wandering the streets and checking out all the used book stores. I was really taken aback at how many there were – it's such a shame that corporate book chains have taken over in the United States because these shops were quite charming. We found an amazing little restaurant where I enjoyed a fabulous brunch of perfectly cooked poached eggs with potatoes, avocado and crème fraiche.

After our quick visit in Devonport, we boarded another ferry and headed to Waiheke Island which is located in the Hauraki Gulf and is famous for its wineries. Once there, we were greeted by our bus driver who drove us to our first stop while filling us in on a little history of Waiheke. We were joined by an American couple, and two gentleman; one from Italy and the other from Russia. It started pouring rain as we made our way to Mudbrick Vineyard, but subsided by the time we arrived. We actually had good luck with the rain all day, as it only decided to pour when we were inside or on the bus.

Mudbrick was amazing and definitely my favorite of the three wineries we visited today. Settled on the top of a hill that overlooked the island and the sea, the vineyard was stunning and the wine was delicious. The man that helped us with the tasting was extremely passionate and knowledgeable about the wine, which made the experience that much better. Shirley and I both ended up buying a couple of bottles, which I plan on saving for a special occasion.

The second winery was not impressive by any means, and neither was the wine. I actually don't even recall the name of the place – it was that forgettable. The highlight of this part of the day was that they served us some delicious bread with pesto, olives and tapenades. After drinking a lot of wine, the food hit the spot and sobered me up a bit. The last stop was Te Whau Vineyard, which like Mudbrick, was in a beautiful location and offered amazing views. Here, we got quite a lesson in how to taste and enjoy wine, and also about how their wines were unique from others in New Zealand. Shirley and I both bought a bottle here to take home on the plane tomorrow.

We are back at the hotel now, and are completely exhausted. Although we had originally planned on going to the closing party for the APPT tonight, we have decided to skip it in favor of going to our favorite restaurant at Sky City and calling it an early night. Tomorrow, we are planning on getting up and going to Eden Garden before we have to catch our flight back to Los Angeles. This trip has been amazing, and has pushed me to so many limits. I will never forget the experience and will definitely be returning to New Zealand for future APPT events. Thanks to Shirley and PokerStars for helping make this a trip for the books.

**To see all of our pictures from our journey to New Zealand, take a look at our flickr page.