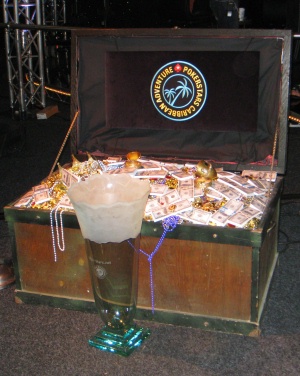 January 5th 2009
I started my New Year out by taking a trip to the Atlantis Resort and Casino in the Bahamas for the prestigious PokerStars Caribbean Adventure tournament. I left late Saturday night and arrived early Sunday morning. When I got to the hotel, my room wasnít ready and I was forced to sit around in the lobby for a couple of hours. After traveling all night, the last thing I wanted to do was to sit around with a bunch of people that I know from poker. I felt like shit. I looked like shit and the only thing I could think about was going to bed. I approached the lady at the counter numerous times and told her that I know she has heard it from everyone, but I really needed a bed. After my third trip to the counter, she got tired of me and worked some magic and I was allowed to go to my room and get the rest I needed.

The PokerStars party was held outdoors and was a lot of fun. This wasnít your typical PokerStars welcome party, they went all out on this event. There was live entertainment, great food, free alcohol and lots of people who were exchanging poker stories. Because there were so many people at the party, it took me awhile to find anybody I knew. I was relieved when I saw Brad (Otis) and Pauly. I stayed with them and some other writers including Alex , Simon and Ruairidh from SikTilt. After the welcome party, we made our own party in the Coral Lobby and drank the night away. I always enjoy hanging out with the writers and this night was no different.

The tournament started at noon the following day and I showed up about fifteen minutes late. I woke up late and then made myself a little later because I made myself eat a little breakfast before heading down to the tournament area. If I donít eat when I wake up, I am pretty much good for nothing (especially after drinking so much the night before) so it was well worth showing up a little late. When I finally arrived at the table, the players told me they thought Phil Hellmuth was going to be joining them since he is notorious for showing up late. I laughed a little and said that I am guaranteed to cry less than he does.

My table was extremely tight and nobody seemed to be getting out of line. A lot of players were being eliminated at tables around me, but nobody busted from my table. I never had as many chips as what we started with (20k) because when I had arrived late, $300 of my chips had already been blinded off. My stack kept dwindling and at one point, I was down to 6k in chips. About thirty minutes before dinner break, I got it back up to 19k and then lost a little right before we broke for dinner. During my break time, I went up to my room and relaxed a bit. When I headed back down to the tournament area, I was refreshed and ready to play again. Two rounds later, I was eliminated when I got all of my chips in preflop with 99 against my opponentís AK. He flopped a king and turned another one and I went bye bye. I originally thought I played the hand fine, but after talking with Nick and Mark, I realized I still have a lot to learn about No Limit and I also learned that there are so many options with any given hand. My friend Nick is a whiz with numbers and broke it down for me in several different ways. The way I played it, I pushed over the top of him and increased my stack by 30% uncontested if he folded. Or I could have flat called and pushed over the top regardless of what came out on the board. He thought seeing a flop and pushing over the top of my opponent was the better move. He said he thought I had 3 times more chips than his probable continuation bet so an over the top all-in might get my opponent to lay down his hand in certain situations (like if an overcard to his pair came or if he missed the flop altogether) and there was even a chance that he might lay down a hand that had me beat. Say for example, the guy held pocket tens with a flop of K62 and I pushed over the top of him, he might (emphasis on might) lay down. But if he didnít laydown, that meant he had a hand that he was going to call with preflop anyways. I really didnít have anything to lose by playing this way. His analysis made a lot of sense to me, but that didnít stop me from discussing the hand with my best friend Steve and also David Huber. Both Steve and David thought my push was reasonable considering the guyís range of hands was so huge. Whatever the case, it doesnít change the fact that I was eliminated on Day 1 which is always disappointing.

January 6 2009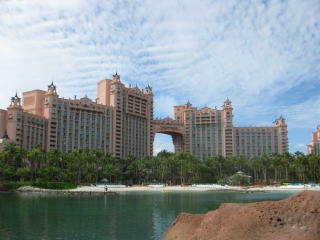 When I made plans to come on this trip, I decided to travel solo. None of my close friends had qualified for the event and I didnít even bother asking anyone to accompany me because I know so many people in the industry that I figured I would have plenty of people to hang out with if I happened to get eliminated. In addition to that, I wanted to make sure I stayed focused on the task at hand. I should have known better. Halli has never distracted me from any tournament and I enjoy hanging out with her. I am really regretting my decision.

During my tournament travels, I have met so many people, but the ones I have grown closest to are on the business side of poker. That means I have nobody to hang out with during the day now that I have been eliminated. So today, I spent my afternoon in a raft on the Lazy River. It was very relaxing, but I couldnít help myself from feeling extremely lonely and I kept wishing one of my friends from Los Angeles had made the trip with me. Next year, I will insist that one of accompany me even if they donít happen to win their seat.

Once I finished relaxing by the pool, I went up to my room to shower because I wanted to get something to eat. I ran into Alex (Barry Greensteinís girlfriend) and asked her if she wanted to join me. She told me she had just finished eating with Barry but to make sure to look her up later because she is usually bored while Barry is playing. I went to eat by myself and then went to the tournament room to check on my good friend, Mark Seif. He is one of my closest friends and I would have hung out with him making my trip a lot less boring (and lonely), but he is still in the tournament. I am willing to sacrifice some of my fun here in the Bahamas if he could manage a final table finish. He ended up finishing the day with chips and so did my friend Andrew who was my pick to win the PCA main event. On the first night, ten of us made a bet and picked one player who we thought would win. If our player won, the others had to each pay $100. I wanted to pick a successful online pro and also somebody that plays a lot and he is the only person I know personally who is Supernova Elite.

January 7 2009
I played in the 2k No Limit Holdem event today and was glad to fit in a little more poker while in the Bahamas. The resort is spectacular and I love hanging out in the pool, but there is only so much you can do when you are by yourself for a week.

The tournament started out great and by the second level, I had 28k in chips (we started with 8k). I then proceeded to 14k of them when I played one hand like a total idiot. During the second level of play, all players folded to me in the small blind and I limped with 98 of hearts. The player in the big blind raised to $600 and I called. The flop was AT7 with one heart giving me the open end straight draw and the backdoor flush draw. I checked, he bet $1,200 and I called his bet. The turn was the three of hearts giving me the flush draw also. I checked, he bet $2,200 and I pushed. He instantly called me and turned over AQ. The problem with how I played the hand was I totally ignored the reason I originally played the hand in the first place. I normally play suited connectors because I love stacking my opponents when we are both deep stacked. By pushing on the turn, I was trying to blow him out of the water and I wouldnít have stacked him unless he decided to call which means I would have to hit my draw. There are so many ways I could have played the hand and Nick was eager to point out my flaws once again. He said he hated that I even limped to begin with and that I made several other mistakes. This is one more lesson in my No Limit career.

I lasted for awhile after that miserable hand, but then was eliminated after dinner break with I got all of my chips in against a dominating hand. I had pocket eights and the other player had pocket nines. I hung with some of my friends and had a great time.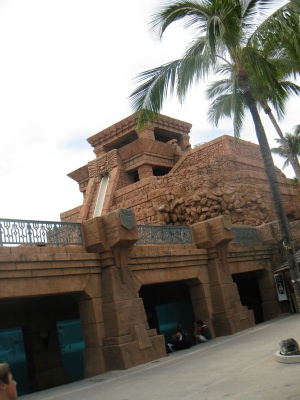 January 8, 2009
When I woke up this morning, I immediately headed down to the pool area. I had already decided that my whole day was going to be spent on the waterslides. I have always been an adrenaline junkie and am basically a kid at heart, so riding the huge waterslides is right up my alley. Even though I spent the whole day by myself, I had a blast. I ended up spending several hours on them and went on a total of seven slides and each slide I rode multiple times. One of the great things about the slides at the Atlantis is that many of them are connected by a floating river which means you donít have to even get out of the water to ride them if you are feeling lazy. You can ride the river around and then take the conveyer belt to the top so you can ride another slide down. I did this one time, but then was too impatient to wait for the river to bring me back around. Every time I rode the slide, I would get out of the water and walk back up to the top because it was much faster.

After my great day on the slides, I headed to my room to take a shower. I then went to the tournament area to check on my friends that were still in the tournament. The last I heard, both Mark and Andrew were still in and doing well. By the time I finally made it to the tournament, they both had been eliminated. Mark finished in 58th place and Andrew finished 56th. I was the last person standing in the betting pool we had made, but I didnít win anything because your pick had to actually win the tournament. We should have made some sort of consolation prize, but we didnít and I will have to remember that next year if we bet again.

I stuck around the tournament area waiting for my friends who work for PokerStars to be finished. Once four more players got eliminated, they were done for the night and free to do what they pleased. We headed for the sushi bar, Nobu and had dinner and a couple of drinks. After our fantastic dinner, we went to the Coral Lobby and socialized for a few hours. I wanted to make sure that I spent my last night in the PCA spending as much time with the PokerStarsí staff as possible because I donít get to see them often enough (usually only when I come on these trips) and I enjoy their company so much.

I had a great time playing in the event and an even better time hanging out with my friends that I have made on the circuit. I also enjoyed meeting a few new ones. This adventure will definitely not be last in the Bahamas.