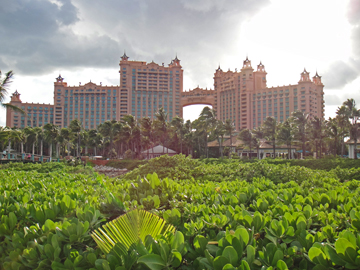 January 4, 2010
This morning, Shirley and I arrived in the Bahamas for the PokerStars Caribbean Adventure (popularly known as the PCA), which is probably the biggest poker festival outside of the World Series of Poker. There are over 50 events scheduled over the next 10 days, including the prestigious and highly competitive $10,000 buy-in Main Event that starts tomorrow. Coming to the PCA has always been sort of a dream for me, and I couldn't be happier to finally be here. Anyone who's anyone in poker will be showing their faces here in the next few days, and I am quite pleased to finally be part of the excitement rather than reading the PokerStars blog from home like I usually do.

While I am extremely excited to be here, our journey from Los Angeles to the PCA was a frustrating one. Our red-eye Jet Blue flight was scheduled to go from Long Beach to Ft. Lauderdale, and then on to Nassau, Bahamas. Because I love the comfortable Jet Blue planes and have never had much of a problem with the company, I felt pretty confident that our trip would run smoothly. Even when our first flight was delayed, we didn't mind too much and were mainly concerned with our hotel room being ready when we arrived in the Bahamas (Shirley had a pretty miserable experience last year when she arrived early and had to wait in the lobby for hours before getting her room). We flew through the night and arrived in Ft. Lauderdale eager to hop on the last flight to the Caribbean, which is only about 30 minutes or so. Unfortunately for us, Jet Blue had cancelled our flight, along with half a dozen other flights, causing mayhem in the airport at 7am. We begrudgingly got in a very, very long line at the ticket counter and soon realized that we were going nowhere fast. Shirley (the impatient girl that she is) promptly ran like a mad woman to the Bahamas Air counter and booked us tickets on their next flight to Nassau, which was leaving in a few hours. I continued to stand in line, in hopes of getting us a refund from Jet Blue, while I watched her run around the airport as she tried to get our bags in time to be loaded onto the Bahamas Air flight. Between the disgruntled people all around me, my cell phone dying (which caused Shirley and I to unsuccessfully attempt ridiculous hand signals across the crowded airport), and Shirley running around like a mental patient (and taking care of business, I might add), all I could do was laugh.

When we finally reached the Bahamas Air terminal, only to find out that our flight was delayed indefinitely, we were pretty delirious. Several other angry passengers formed a small mob while I watched with a mix of amazement, horror and glee as they yelled at the poor woman behind the counter (who was obviously having a worse day than us). Shirley and I aren't the rioting kind, so we camped out on the floor next to an outlet for our phones and computer while we waited. After a couple more hours, we were finally boarding the plane and were no longer so concerned about our room being ready (since we were now hours behind schedule).

Now, it should be noted that I was barely able to get myself out of bed yesterday because I had been battling the most horrible case of food poisoning I've ever encountered. However, up until this point I had been pretty impressed by how my stomach was holding up, even with the lack of sleep and airport food. Needless to say, the flight on Bahamas Air from Florida to Nassau was one of the most nauseating and terrifying flights of my life. I knew right away that it was going to be bad: the small, crowded seats with the upholstery ripping off was what initially tipped me off. The 25 year old stench of cigarettes and the loud Caribbean music playing on scratchy speakers throughout the tiny plane made me nearly vomit as we took our seats. I thought I had lost a good deal of my fears regarding flying, but I think this flight set me back 10 years. The turbulence was ridiculous and I can't believe I didn't throw up all over myself. When I looked over at Shirley, she was engrossed in playing a game on her iPod, which I found insane, but also somewhat comforting. Afterwards, she told me that she was terrified and that she didn't want to freak either of us out by panicking. I'm glad she didn't or I'm sure I would have lost my shit.

When we finally touched down in the Bahamas, I was definitely over the whole "let's be in good spirits cause we're going to the PCA" thing and just wanted to get in bed and take a nap. However, my spirits were renewed somewhat as we rubbed elbows with poker pros Nam Le, JC Tran, Daniel Alaei and Tuan Le in the customs line. When we stepped outside and grabbed a cab, my stomach was settling a bit and I started to get excited for the last leg of our trip to Paradise Island. Unfortunately for me, our driver was a crazed lunatic who flew through the twists and turns of Nassau with no regard for his pukish passenger. A huge feeling of relief washed over me as we crossed the bridge onto Paradise Island and pulled into the beautiful Atlantis Resort, which we would make our home for the next 10 days.

Now that we had arrived several hours later than expected, getting our room was no problem. We immediately dropped our bags and took a much needed nap. After catching a few hours of sleep, I am definitely feeling excited to be here and looking forward to what the next week will bring. First and foremost, I can't wait to see our Latin American Poker Tour friends that I have been missing for months, not to mention the PokerStars staff who I adore. I am also pretty stoked to play some poker and hopefully bring home some cash. I have been running pretty bad since the World Series of Poker last summer, and am definitely due for a few nice scores. Already, I feel pretty lucky to have won my seat on PokerStars.com to the $1000 buy-in Ladies Championship that starts on Saturday. I also have my eye on the cash games here, since they are my specialty. Shirley also won a seat to the Ladies Event, but hopefully will be asking for a refund if she is still in the Main Event (which she plays on Wednesday). For now, we are off to explore the Atlantis and attend the PokerStars welcome reception where we are hoping to meet up with some of our favorite PokerStars players and staff.

January 5, 2010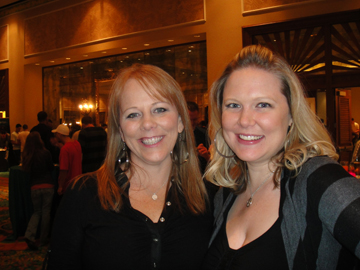 Last night was just as I expected: a fantastic reunion filled with laughs. Shirley and I left the room early in the evening and headed to the tournament room to see what kind of trouble we could get into. We immediately ran into our old pal Melina, who we have spent a considerable amount of time with at LAPT events. This time, she was working for PokerStars, running the board for the cash games – a job that was keeping her incredibly busy. It was great to see her and Thomas (her husband who also works for PokerStars) but we are a little sad that it looks like we won't get to spend much time with them because they will be working the entire time. After saying hi to our favorite floormen Greg Pappas and Mike Ward (who is tournament director for this year's PCA), we headed over to the PokerStars Welcome Reception for some food and drinks. It's too bad the weather isn't cooperating because the party was originally set to be outside, but due to the unusually chilly temperatures right now, I think PokerStars made the right call to bring it inside.

The party was nothing short of impressive and definitely lived up to the standards that have been set in the past. In fact, this was the biggest PokerStars party I've ever seen, complete with several bars serving complimentary cocktails and local beer as well as a few food stations serving up freshly carved meats, pastas and salads. Shirley and I grabbed some food and wine and caught up with one of our favorite PokerStars bloggers Alex (who is also Mel's brother). He introduced us to his friends, one of whom I quickly found out was a writer for the New York Times and doing a story on the PCA. Hold the phone, the New York Times??? As a former journalism major, I almost fell over when he started asking me questions about my poker career and if I wouldn't mind doing an interview with him. As I started to hallucinate about my name being in a Times headline, my heart sank when I was brought back to Earth with his inevitable question that I should have seen coming if I wasn't such an idiot. "What day are you playing the Main Event?" he asked casually. Ugh. Another cash game player bites the dust. As I quickly spouted off how I wasn't a tournament player, but a steady cash game player who works hard and grinds it out day in and day out, blah blah blah, his eyes glazed over. When he turned to Shirley, found out she was playing the Main Event and quickly took her outside for an interview, I think I threw up in my mouth a little bit. Don't get me wrong – I think it's amazing for her and I hope she shows up in his article, but I'm a selfish bitch and always have been. Anyhow, when she returned and I pretty much jumped up and down at what had just occurred, Shirley kind of shrugged with a "meh" expression and pretty much said "yeah whatever, I've been in the New York Times before, so who cares, let's get another drink." That woman never ceases to amaze me. But ok Shirley, well played. I definitely needed that next drink.

Before long, we found ourselves in the Coral Lobby (the lobby at the base of the Coral Towers, which is one of a few at the massive Atlantis resort) where we caught up with all of our friends that we've been missing since the last PokerStars event. All our favorite writers and staff were there, along with a few high profile players including PokerStars Pro member Katja Thater, who I found to be even more beautiful in real life. Another big name who was hanging around was Gavin Smith, although he definitely drank too much and was soon passed out in a chair in the corner of the bar. After a few hours of drinking and laughing with our friends, we went to grab a late night dinner at the deli with a couple of them – one of them being Gavin Smith who had now awoken but was still highly intoxicated. Dinner with Gavin was interesting to say the least. After sharing a delicious club sandwich, Shirley and I called it a night and headed back to our room.

Waking up this morning, we were a little disappointed to find the same gloomy weather that we experienced yesterday. Although it looks like the chilly temperatures and cloudy skies will probably be lingering for almost the whole trip, we are expecting to get a couple of sunny days later in the week, which will hopefully give us a chance to hit the many waterslides and pools here at the Atlantis. Shirley's two daughters and her cousin Cori will be arriving tomorrow evening, so hopefully the weather will give us all something to enjoy.

Because Shirley isn't scheduled to play until day 1B of the Main Event (which is tomorrow) we decided to spend the day checking out the resort. Like I mentioned earlier, she came to the PCA last year so she knew her way around and gave me a tour. I have to admit, the Atlantis is pretty spectacular and it took a couple hours to navigate through the sprawling property. We stopped for lunch in the casino's sports bar and found out that, like in other countries we've visited, the Bahamian people don't really feel the need to rush you through your meal. Unfortunately for us, we were starving and not in the mood to wait over an hour for our food to arrive. Despite the long lunch, it gave us a chance to talk about the rest of the trip, particularly about the challenges facing us at the poker tables. While the PCA draws many inexperienced online qualifiers, there is incredible talent here as well, and Shirley and I both know that we have our work cut out for us on the felt. We discussed some strategies that she might want to implement during the Main Event, and I found myself getting very excited for the ladies event. Hopefully we will both have huge cashes under our belts by the end of the week.

After walking around a little more and watching Team PokerStars Pros Andre Akkari and Victor Ramdin ham it up in the pool for PokerStars TV, I decided I was jonesing for some poker. We headed to the tournament room, where I took a seat in a $2-$5 No-Limit Hold'em cash game, in which you could buy-in between $200 and $1000. I opted to buy-in for my usual 100 big blinds (so $500 in this case) and see how it went. I ended up playing for about 4 hours and pretty much had cold cards the whole time. Even though I ended up losing about $400, I had a good time because Shirley joined the table and our friend Andrew sat behind me for a while so we could catch up. Because he is a PokerStars Supernova Elite, which is the highest VIP level reserved for their most important players, Andrew is being totally pampered; staying in the nicest tower at the Atlantis and free rolling the Main Event. I made sure to give him some serious shit about sending us into the caves in New Zealand (which you can read about in my Asia Pacific Poker Tour Auckland report) and almost killing us. Of course he had the nerve to act like he didn't know what we are talking about and still maintained his stance that the caves were awesome. Different strokes I guess.

Anyhow, we decided to pick up our chips early so that Shirley could get a good night's sleep for the Main Event tomorrow. I'm hoping to hit the cash games early before her kids get here, because I know I will want to spend a lot of time with them. I'm not a huge fan of children in general, but her girls (who are 9 and 13) are pretty damn cool. They should be arriving around 9:30pm tomorrow, right around the time Shirley will (hopefully) be wrapping up her day one with a mountain of chips.

January 7, 2010
I didn't end up playing at all today because the Main Event didn't free up any tables or dealers for cash games until early evening. I spent the day on the balcony off our hotel room, reading and occasionally checking in on Shirley downstairs. I wish I had better news to report about her PCA Main Event this year, but unfortunately she was eliminated in a late level of the day. While PokerStars did an amazing job with the event and gave the players a maximum amount of play with an incredible structure, Shirley couldn't withstand a couple of coolers, despite building her stack earlier in the day. When she showed up at the room around 8pm, she was sad to have been knocked out but in relatively good spirits because she knew she played great. It was also a nice consolation to know that her kids and her cousin Cori would be arriving very soon. Sure enough, they showed up less than an hour later and we all went to have dinner at Nobu, a high end sushi restaurant that we love (we have also eaten at the locations in Los Angeles and Las Vegas).

After dinner, it was getting pretty late for the kids so we left them in the room to get some rest while we went to the Coral Bar to meet up with our friends and introduce them to Cori. We had another great night, and I was happy to get the opportunity to meet some new friends and get to know Cori better.

When we woke up this morning, we were greeted with another gloomy day outside. It's too bad that the weather has been so foul because Atlantis is an amazing place to enjoy the sun. There are several pools and huge waterslides scattered across the property, not to mention that the ocean is only a few steps away. We've heard from several reports that tomorrow should bring sunny skies and warmer temperatures, so we definitely plan on hitting the water then.

Fortunately, there is plenty to do here even when the weather won't cooperate – especially for the kids. If you are looking for a poker vacation that is suitable for the whole family, you should definitely go to the PokerStars Caribbean Adventure. The Atlantis offers activities for kids of all ages, where you can drop them off and they are kept busy (and of course supervised) by doing fun things like taking cooking classes and doing arts and crafts. Many of the activities also include lunch or dinner so it's a great opportunity to go out and have a nice dinner without them. There is also a movie theater that offers free movies to resort guests, and the popular Club Rush; a "night club" for teenagers only. Anyhow, after lunch at the deli, Shirley's younger daughter seized the opportunity to join a kids cooking class while the rest of us went for a walk around the resort.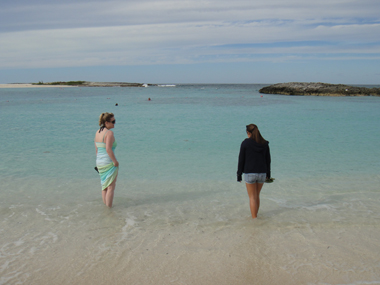 Even though the temperature was a little chilly outside, I really enjoyed our walk. This time, we went out onto the beach and checked out the white sand and beautiful blue water (which was actually warm enough for swimming, but we would have froze when we got out). We walked though all the towers and ended up at the Dig, which is a marine habitat that you can walk through and observe different kinds of sea animals. My favorites were watching the jelly fish gracefully swim around in their tank and seeing the thousands of baby seahorses that were so tiny they were almost unrecognizable.

After a nice day with the kids, I decided it was time to get back to the grind and try to win a few bucks at the cash games. After chatting with Mel for a while in the tournament room, I grabbed a seat in a $5-$5 No-Limit game and immediately picked up aces - which would have been great if they didn't get cracked on the river. Ugh. There's nothing I hate more than getting stacked right away and then trying to dig myself out of a hole for the rest of the night. Unfortunately, the night just got worse and I never got close to even. After about five hours, I had to call it a night because we are planning on getting up early tomorrow to spend the day outside. I ended up taking a $1300 loss and making the long walk back to the hotel room alone. While I am pretty sick about my loss, my spirits have definitely been lifted by Shirley's girls who hijacked my camera and made some very hilarious videos. I couldn't help but crack up when I just watched them.

January 8, 2010
Today was awesome, and definitely a great cure for my poker depression. As soon as we woke up, we all put on our bathing suits and went outside to enjoy the nicest day we've seen here so far. While it was still not quite as warm as we would have liked, the slight chill in the air didn't stop us from grabbing some inner tubes and hitting the lazy river and the water slides. The day was such a blast, and we all laughed for about five minutes when me and Shirley's oldest daughter got toppled over by a wave in the lazy river and totally wiped out (we were riding in a two person tube). The slides were a lot of fun, even for a sissy like me, and I ended the afternoon by taking a solo swim in the ocean. The water was absolutely beautiful and the sand reminded me of white flour. I am very thankful to have had this day.

While the kids went off to do their chosen activities for the night, Shirley, Cori and I went to the Atlantis Marina to have dinner at Carmines, a family-style Italian restaurant that was delicious. After dinner, I headed to the tournament room for my cash game revenge, but soon realized I wasn't feeling it. The room was packed, the board was long and I just didn't feel like grinding tonight. I reasoned that I should get some rest (especially after a long day in the sun) for the ladies event, which starts tomorrow. Like I mentioned earlier, Shirley and I both won a "Ladies Package" on PokerStars.com before coming here, which included hotel, the $1000 buy-in, a spa gift certificate, spending money and an entry to a ladies-only boot camp taught by Team PokerStars Pro Vanessa Rousso. While I'm sure Vanessa has some good tips to offer, the camp takes place at 9am tomorrow before the tourney so we will definitely be skipping it (I'm also fairly sure that the lessons will be aimed at amateurs). Getting rested and ready by noon is already a big enough challenge, so I will be sleeping in as long as I can. Hopefully Shirley and I will both make it to day two, but the PokerStars party tomorrow night will surely be a good consolation prize if we have a bad run.

January 10th, 2010
I am just getting back to my room after a long two days on the felt in the PCA Ladies Championship, in which I ended up taking second place to Team PokerStars Pro Vanessa Rousso. I am extremely exhausted to say the very least.
When I woke up yesterday, I felt the most rested that I have so far on this trip, and I was grateful that I made the decision to skip the cash games the night before. Although I did want to get some rest for the event, I also knew that if I happened to take another loss, my head wouldn't quite be right for the tournament the next day. I didn't want to risk going into the event slightly tilted.

91 ladies turned up for the tournament, and I immediately knew I was in for more of a challenge than expected. With one turn of my head, I spotted Annette "Annette_15" Obrestad, Vanessa Rousso, Katja Thater, Anna Wroblewski and of course Shirley. This was no ordinary ladies event, which are typically filled with stone cold amateurs who barely know how to read their hands. I silently asked the poker gods that no matter what happens, do not make me face Vanessa Rousso or Annette Obrestad for the title (the two women I feared the most in this line up). I think I jinxed myself right there.

Of course, PokerStars did another incredible job with the structure, giving us long levels and deep starting stacks. I was continuously impressed with the level of play, although I don't think I had the best (or the worst) table draw on day one. There were several women who I recognized as experienced internet players – not by their names or faces, but by their style of play and bet sizing. While the field was tougher than any other ladies event I've played, the fish were still fish and I ended up building a nice stack by the end of the day. There was one memorable pot in particular when a woman, who I knew was inexperienced but trying her best to play well, raised before the flop in late position and I called with A9 suited out of the blind. Against a tougher opponent I might reraise in an attempt to take down the pot preflop, but I don't mind playing post flop when I feel I have a significant skill advantage, even out of position. I flopped top two pair on a board of A92, and we both checked. The turn came a 7 and I decided to check again because I knew if she didn't have anything, she wouldn't call a bet but a check would likely induce a bluff. Sure enough, she made a large bet and I shoved all in. She thought for only a few seconds and announced "call." I was pretty shocked to see her turn over 67 and be drawing very slim. I understand why she bet the turn, but calling my all-in was pretty atrocious and sent her to the rail while I stacked the huge pot and silently said a thank you for the incredible gift.

The end of the day was nearing and I found myself as one of the chip leaders. Cori sweated us during the last level and was a fantastic cheerleader despite not really knowing much about the game. Shirley, who had chipped up early in the day, also made day two, but with a short stack that was in danger. The only big pro I recognized who had made day two was Vanessa Rousso, who had an extremely healthy stack (um, hello poker gods – don't forget about my plea!) We bagged and tagged our chips and set off for the PokerStars party in good spirits.

The kids went to a Justin Bieber concert being held at the Atlantis while we enjoyed the company of our friends and the performance by Kelly Rowland at the party. It was, by far, the biggest and most lavish PokerStars party I have seen so far, complete with celebrities like actor Adrian Grenier (who plays Vince on "Entourage"), rapper Nelly, guitarist Slash, and of course PokerStars pros like Bertrand "ElKy" Gropellier. After the party, we went to our home base, the Coral Lobby, for a couple more drinks and laughs before calling it a night. Cori had to get up early to catch a flight home with the kids and Shirley and I needed to rest up for our big day on the felt.

Waking up this morning, I was a little nervous but felt extremely focused. As we made our way to the tournament area, I immediately saw that my table draw was pretty good and I currently had the biggest stack there. Interestingly, both Michael "The Grinder" Mizrachi's wife Lily and his mother were at my table. Lily was seated immediately on my left, which I thought I could use to my advantage seeing as how she is a very aggressive player. I knew that if I could pick up a good hand, she would likely bet for me and I would have the opportunity to see what all the other players did before I reacted to her actions. As it turned out, I immediately got involved with both Mizrachi women. On the second hand, I was dealt 22 in the cutoff. Mama Grinder made a medium sized raise and I called along with Lily, who was on the button. I flopped a set on a clean board and Mama Grinder bet out. I called, hoping that Lily would go into hyper agro mode, which she did. She made a large raise, which her mother in law quickly called and I just called again, expecting that Lily wasn't very strong but trying to make a play which she would continue on the turn. I filled up on the turn and checked to Lily, who bet again. Mama Grinder, to my astonishment, called quickly. I decided to make my play and put in a raise, to which they both quickly folded and I was pushed the large pot. Nice way to start out the day. Lily was eliminated a few hands later despite starting out with a large stack. Mama Grinder ended up busting just before the money.

We started the day with four tables and only 16 women would make the money (we played 8 handed). I continued to accumulate chips throughout the day, using my big stack to my advantage and taking down several unclaimed pots. Shirley was a real trooper, doubling up over and over and never giving up. As we approached the final table, Vanessa and I were about tied for the chip lead and Shirley (who was at Vanessa's table) was holding her own. I ended up going into the final table with a slight lead over Vanessa when I busted Irene Baroni, a talented young Italian player who was actually giving me some trouble as we played five handed. She was on my left and was extremely aggressive, which created a challenge for me but also presented opportunity if I could make a good hand. In the last hand she played, she raised to 3 big blinds from the big blind and I called her from the small blind with J9 (after initially limping). I flopped the nut straight, and she flopped an open ended draw with one over card. Fortunately, I was able to eliminate one of my toughest competitors and go to the final table with a bit of a lead over Vanessa.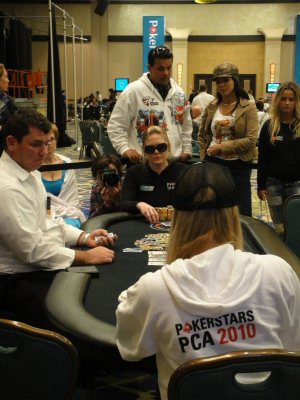 The final table was an interesting one and commanded more media attention than I was used to. Obviously, Vanessa was the main attraction, but Shirley is quite well known as well – plus there was a South American model at our table as well. Despite all the photos and videos being taken, I kind of surprised myself with how focused I remained. I think I played very well, taking down a few pots here and there and trying to observe Vanessa as best as I could. As each lady was eliminated, it looked more and more likely that I would be facing my worst fear and playing Vanessa heads up for the title. When she won a key pot versus Carlos Mortensen's girlfriend Pastora, she took the chip lead and we were five handed. The next three ladies fell very quickly, and unfortunately Shirley was one of them. She ended up taking 4th place and over $6,600 for her strong finish. I was really sad that it wasn't us two heads up, but I'm so proud of how she played. No matter how short she got throughout the tournament, she never gave up and kept fighting. It was really fun to be at the final table with her, but it would have been a serious party if the two of us had made it to the very end together.

I asked Vanessa if she wouldn't mind taking a quick bathroom break before we started playing heads up. She agreed and Shirley and I went for a short walk. I didn't really have to use the restroom, I just needed to get my head together before sitting down for what I knew would be a tough match. I don't know how many times my brother and boyfriend have lectured me about how I need to practice my heads-up game. Now, I really wished I had listened; Vanessa is an accomplished heads-up player and I rarely ever play one on one.

Walking back to the table, I desperately wished my poker coach /brother Skye and my heads-up specialist boyfriend Mike were there to give some words of advice and encouragement. Shirley did a good job of keeping me calm though, and I was grateful to have my friend there to sweat me as I played the most important match of my life this far.

When we started, Vanessa had a lead over me with about 550k to my 450k in chips. When I sat down, I felt more comfortable than expected and found myself thinking that I may not be a heads-up expert, but I am a damn good poker player and have a lot of experience with this game, and I can win this thing.

We ended up playing heads up for nearly two hours, but it flew by very quickly. Unfortunately for me, my cards were extremely cold and Vanessa's aggressive calls made it nearly impossible for me to take down many pots. She continuously called me with weak holdings like bottom pair and improved on later streets. It was very frustrating because I couldn't make much at all. In one hand, I check raised her on a ten high flop when I held AT and she called with middle pair. She called another big bet on the turn and tripped up on the river to beat me and scoop a very large pot that I feel was key to the result of the match. I had to really work during the entire match, and the one big pot that I won was earned by her laying down the best of it. I ended up check raising her all in on an AQ42 board when I held A3 for top pair, a gut-shot straight draw AND a 3 high flush draw (which I felt would be good if I hit). I knew that I likely needed to improve to win the hand when I made the raise, but I felt that my fold equity was very strong. I was representing a made hand and Vanessa would have a very hard time calling with AJ or AK, which is what I put her on at the time. She tanked for a very long time, studying me and thinking through the hand out loud. While she was thinking, I felt calm and collected because, while I preferred a fold, I didn't mind her calling either. At the time, I estimated I was about a 30-40% favorite to win the hand if she called with AJ or AK, and the pot would be massive and give me a big lead if I hit. Before this hand, she had a pretty nice lead on me (about 2 to 1) so it was a good time for me to go for glory. She eventually folded and told me that she had AK. Looking back now, I feel good about the way I played the hand (and it turns out I was about 34% to win that hand if she had called and in fact held AK).

After another hour or so, I lost the match and the title when I failed to improve after getting all in on the turn with an open ended straight draw and flush draw versus Vanessa's two pair. I was really sad that I lost the match, but very proud of myself to make it so far and play as well as I did. Anyone who was watching the heads-up match would think that I really got spanked; Shirley even told me so (honest girl that she is). There's no denying that Vanessa is a more experienced tournament player than me, but I definitely feel that the cards played a big role in her beating me. She was continuously hitting hands while I was literally given almost nothing to work with. It wasn't easy to be the known underdog during the match; my back was to the rail and I could constantly overhear spectators talk about how Vanessa had a huge edge over this "nobody." I never gave up though, no matter how it looked to anyone watching, and feel happy with the outcome overall. I'll be taking home almost $14,000 for my 2nd place finish which is pretty good considering I qualified on PokerStars for only $215.

After the match, Shirley and I headed up to the room to get some rest after our long day at the tables. Seeing all the messages of support and requests for updates on my Facebook page made me feel a lot better about my loss. I am so thankful to have all the people in my life who are always there to make me smile, even when I'm feeling disappointed. Right now, I'm too tired to feel much of anything – but I'm sure it will all hit me tomorrow.

January 13, 2010
Shirley and I woke up the next morning feeling pretty good about our 2nd and 4th place finishes in the PCA ladies event. While we have had an amazing time at the PCA, we are just about ready to head home. If the weather had been a little nicer, we might have wanted to stick around for a few more days – but all our friends were heading out the next day, so there's wasn't much of a reason to stay.

After having a lazy morning and taking our time getting ready, we headed down to the tournament room where the final table of the Main Event was taking place. I also had an appointment to meet up with Mad Harper, a writer from PokerStars, to do an interview about the ladies event. It was a real pleasure to chat with her and I hope I gave her some good insight and a nice quote to use in the press release. She is such a pleasure and one more friend I'm thankful to have met at the PCA.

After the interview and a couple of pictures, Shirley and I walked around and chatted with all of our friends and PokerStars staff that were hanging out in the tournament room. We were really hoping that the Main Event would be over by dinner time so that we could finally have a nice meal with everyone to celebrate our wins (most of our friends here are bloggers, so they are stuck until about an hour after the tournament ends). When it didn't look like the players were in any hurry to finish up, we made a reservation at Nobu for us and Andrew. He was hanging out with his friends but said he would meet us there later.

In the meantime, Shirley and I watched as the heads-up match for the Main Event began between two 19 year old players who would each be millionaires by the end of the evening. Eventually, Harrison Gimbel was crowned the 2010 PokerStars Caribbean Adventure Champion and pocketed $2.2 million when he defeated Tyler Reiman (who took $1.75 million for 2nd place). Watching the Main Event wrap up, I couldn't even fathom that these two kids, who aren't even old enough to legally gamble in the United States, are now richer than I can ever even imagine being. Anyhow, it looked like our friends would be stuck for at least another hour to write their blogs, so Shirley and I headed off to Nobu to enjoy some sushi and a bottle of wine with Andrew.

Shirley totally called it when we walked into the restaurant and she said that Andrew probably wouldn't show up. I refused to believe her, saying he is such a sweetheart and would never in a million years ditch us. Ugh, I hate it when she is right. After about a half an hour, we gave up waiting and decided to enjoy our celebratory meal by ourselves. We stuffed ourselves with sushi and toasted to our victories. The dinner was a great last meal and a nice chance to reflect on what an awesome trip this has been. We left dinner with a pretty good buzz (wine combined with glory perhaps) and headed to the Coral Lobby where we were sure to find our friends.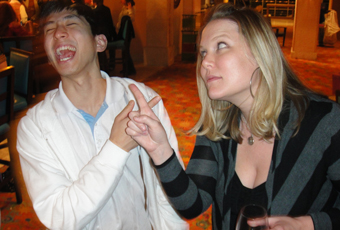 Walking into the lobby bar was a bit of a buzz kill. No friends. No celebratory mood. In fact, the place was dead and we didn't recognize a soul. We sat down and ordered some wine and wondered where everyone was, considering we had been at Nobu for nearly two hours. When we were just about to give up and plot our double suicide, our friends finally came pouring in and our last night of drinking and laughing at the PCA ensued. Everyone came by, including Mel and Thomas which was a real treat considering we hadn't really seen them much except when they were working. Even Andrew finally showed his face, and although he did leave me a Facebook message (that I didn't get before dinner) saying he wouldn't be able to make it to Nobu, I gave him a really hard time. Of course he laughed at my drunken rant and all was forgiven. We must really love Andrew.

Our night of partying went fairly late and from what I remember, it was great. We were very sad to say goodbye to all of our friends when we finally went to sleep in a futile attempt to be rested for our flight home in the morning. Now that I'm home and looking at all the photos of our 2010 PokerStars Caribbean Adventure, I can't help but think that this is one of our best poker journeys yet.

**To see all of our pictures from our adventures at the PCA, take a look at our flickr page.