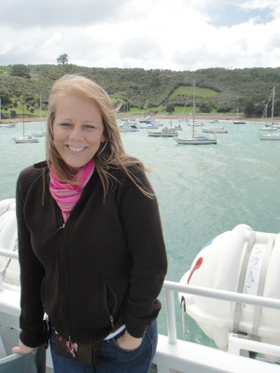 I have always been an adventure seeker. One of the biggest adventures in my life so far has been trying to kick ass in a game that has always been dominated by men. The ride has been a memorable one and it has had its fair share of ups and downs, but the majority of my experiences in and around poker have been great.

Over the past ten years, poker has become one of the biggest parts of my life. What started out as a passion for playing tournament poker has eventually turned into a career and a way of life. After succeeding in tournament poker (I have five 1st place finishes and numerous cashes), I started to play online poker and shortly after got a job as a prop player at the Bicycle Casino. While spending the majority of my time playing, I opened up my first poker website, poker-babes.com and started operating in the business side of poker. Although I make a great living playing and working, the personal side of poker is most satisfying to me. I have met some of the nicest people in this industry and have formed some very special friendships that will last a lifetime. One of the most rewarding friendships that I have made is the one I have with Halli Pinson.

I instantly clicked with Halli when I met her. I liked that she was another female who managed to make her living from playing the game, but my reasons for liking her went way beyond that simple fact. She made me laugh with her sarcastic humorous comments, she had similar views on life, and we could spend hours talking and sharing stories. I just enjoyed hanging out with her. So when I decided to take my first trip to Punta del Este for the Latin American Poker Tour sponsored by PokerStars, I knew she was the person I needed to invite. During that first trip, we found out that we had even more things in common. She also has the sense of adventure I have and like me, she has an insatiable passion for traveling.

After that first trip to Uruguay, South America, our lives have never been the same. Since then we have travelled all over the world together including Costa Rica, Chile, Bahamas, and New Zealand. We have had some unforgettable experiences on our trips including white water river rafting, jet skiing, cave exploring, bungee jumping, and hiking. During our trips, we have also met some fascinating people from around the world and have formed bonds because many of them share our passion for poker and travel.

Please share in my experiences by reading my trip reports below and if you enjoy traveling and playing poker, try and qualify for one of PokerStars' tournament packages. I promise you won't be disappointed and who knows - you might run into two wine drinking, adventure seeking, crazy blondes.
---
Punta del Este - My first trip to South America where I played in the main event of the Latin American Poker Tour sponsored by PokerStars.net

San Jose - My report on our trip to Costa Rica where we played poker and hung out at Thomas and Melina's beach house.

Nuevo Vallarta - Mexico was an adventure in itself considering the tournament got shut down in the middle of it.

Vina del Mar - Halli and I spent several days exploring Santiago, Chile before heading off to Vina del Mar to play in the Latin American Poker Tour.

San Remo - I spent several weeks in Italy after I played the European Poker Tour in San Remo making this trip one for the books!

Auckland - One of the most memorable experiences of my lifetime because there are so many adventures in New Zealand for thrill seekers like me.

Playa Conchal - My second trip to Costa Rica was just as enjoyable as my first because I explored new areas of Costa Rica like Arenal and Playa Conchal.