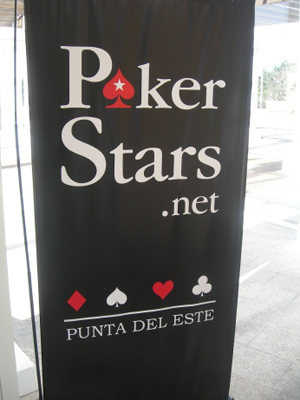 August 6, 2008
My trip to Punta del Este, Uruguay for the Latin American Poker Tour came at a great time because I really wanted to "get away from it all." There were three legs of the flight and altogether was really long, but LAN Airlines did a great job making us as comfortable as possible be during the trek. Each passenger had their own television and had a wide selection of free movies, television programs and music to choose from. They also fed us - a lot. During the first leg of the flight (Los Angeles to Lima, Peru) we were served two meals and all of the free wine we could drink. On the other two flights (Lima to Santiago, Chile and then Santiago to Montevideo, Uruguay), we were served two more meals. Even though they tried to make us feel comfortable, we had a difficult time resting and were exhausted when we arrived at Punta del Este and were in desperate need of a nap.

PokerStars.com has always known how to treat their players and it was no different during this event. Each qualifying player was given a backpack filled with goodies like t-shirts and hats. They also gave each player two wristbands for entry into the PokerStars welcome party.

After we received our goody bag, we headed to the room to get some rest so we would be ready for the party. We had a good time (too much of a good time actually) and met some really nice people. After mixing and mingling, we called it a night (at 10:30) because we were both still very tired from out long day of flying.

August 7, 2008
The Pokerstars LAPT Uruguay event started this afternoon and had over 300 players. I don't think they were prepared for that many players because it took a long time to get everyone registered. The event started about an hour after the scheduled time, but it ran smoothly once it got started.

I had heard that the Latin American Poker Tours were pretty soft fields and I have to agree. Many of the players played very passively and I was able to benefit from it. At my first table, I felt I had a lot of control of the action and I built my chicks up nicely. It seemed a few of the players got tired of me and a couple of them started pushing back at me. On one of the hands where a player pushed back, I eliminated him because his AJ was no match for my AK. Eventually our table broke and I got moved to another table where the players weren't as passive.

After sitting at my new table for awhile and observing the action, I decided to slowplay the first hand I got involved in. One player raised from middle position and it got folded to me in the big blind with AK. I didn't want to build a huge pot out of position and I hoped that I would be able to win a large pot if I managed to connect with the flop because my opponent wouldn't put me on a strong hand. The flop was jack high and I just check-folded. I figured since I didn't make the pot large beforehand, then there was no need to make the hand more important than it was. For awhile, I justified the way I played it, but the more I look back it (hindsight at it's finest), the more I want to kick myself over it.

On another hand, I was on the button with pocket nines. There were three of us in the hand including the original raiser, me and the player in the big blind. The flop was AAT and both players checked to me. I made a bet that was slightly less than the size of the pot and the guy in the big blind pushed. The player who originally raised thought about it for a moment, but then folded and I folded as well. A short time after that, I picked up some chips after a few players limped and I shoved with AK. Then I went totally card dead and to make matters worse, I didn't have any opportunities to pick up any pots. I ended up pissing away my chips until I had about 10x the big blind. I proceeded to get all of my chips in when I was in the big blind with A8 when a guy on the button raised, I shoved and he was committed to call with his garbage hand of K2. He flopped two pair and I was eliminated.

There is a second chance tournament tomorrow and I plan on playing in it. The structures are great at this event which makes it a lot more enticing. Halli has an itch to play as well, so hopefully one of us can cash.

August 8, 2008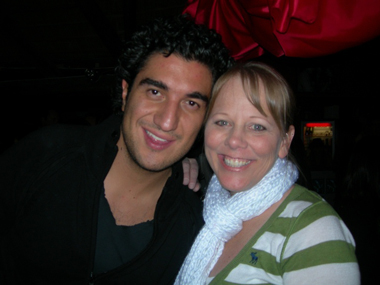 About 150 players entered the LAPT second chance tournament today and first prize was over 60k. I only made it through half the field because I lost when I got all of my chips in preflop with pocket aces against KQ. As I am writing this, Halli is still in with 27 players left. She is short stacked and has to make it to 18 to make it in the money. She knows what to do in this type of situation so I have faith in her.

This trip has been a great experience so far. The hotel is beautiful, but to be honest I wouldn't expect anything less from PokerStars. Their staff has been even better and have treated us like gold. We received great goody bags that included a really nice bathrobe in it. Halli has been living in the damn thing and I am surprised that she didn't pull a Vanessa Rousso and show up to play the tournament in it.

Now that we have had a chance to play poker on our trip, we are planning on spending the next week seeing what the country has to offer. We originally planned on staying in Uruguay for the duration, but we are now discussing the possibility of heading to Peru to see Machu Pichu.

I am going to head back down to the tournament room to see how Halli is progressing. The main event is down to 27 players so I will check in to see how that is going as well. The only PokerStars Team Pro that is left is Vanessa, so I will be rooting for her. It would be great if two women happened to win within the next day.

August 9, 2008
The trip got even better yesterday starting with Halli cashing in the tournament. She barely squeaked into the money, but it was an accomplishment nonetheless because she never had a lot of chips to work with and managed to survive a few all-ins.

After the tournament, the two of us went to a small bar near the tournament area. Several poker players and PokerStars staff members walked by and told us that the place to go for the night was a local bar named Moby Dick. Of course this sounded perfect to the two of us and took a taxi to the club. The bar was full of people we had seen during our stay and we socialized and drank the night away. Uruguay is different in the sense that the nightlife starts very late in the evening (technically, very early in the morning) and about 2 am, the party was just getting started. Halli was the life of the party and had a lot of the people laughing hysterically at her comments and funny antics. One of the funniest parts of the evening for me was when she got the urge to smoke a cigarette and grabbed a guy's cigarette and and then proceeded to put it in her mouth the wrong way. There were about five us standing there watching and we all laughed our asses off when we heard the sizzle come from her tongue. That should teach her a lesson about the dangers of smoking. We ended up calling it a night about 5 in the morning and we left the bar. The crazy part is that we were one of the first people to leave that night and we heard that most people got back to the hotel about 7:30 in the morning.

We have met some wonderful people on this trip and they have made our experience even more amazing. The PokerStars staff has been great and we have enjoyed hanging out with so many of them including Rich Korbin, Thomas and Melina, Alex the Blogger, Greg and Mike (the tournament directors). We have also met a lot of players including Matt Affleck (mcmatto), Alex Fitzgerald (assasssinato), Scott, and Christian. I am very glad that Halli and I got to go on this poker journey and we are planning on going to Costa Rica in November just so we can hang out with them again.

This morning we got ready and headed down to the tournament room to see what was going on. We bumped into a lot of people from last night and most had hangovers (including Halli), but we all agreed that it was worth it. We shared some stories from the previous night and we all cracked up again.

To pass some time, we spent a few hours seeing the city. We spent a few minutes at the beach seeing "the hand", but since it is winter we took a few pictures and then walked along a few of the streets. We visited a pharmacy (which is a hilarious story), had a little something to eat, and did some shopping in the local stores. We then headed back to the casino to see how the tournament was progressing.

The final table has been going on for awhile now and it doesn't look like it is going to end anytime soon. I sure wish I was at that table, but I know there will be another chance for to try my luck at one of the Latin America Poker Tours.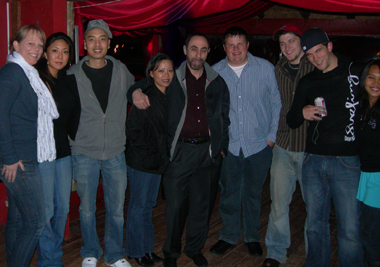 August 10, 2008
After a long battle, the tournament finally ended. We had checked in on the tournament several times throughout the day to see how it was progressing and we hoped it would end sooner rather than later so all of the staff could hang out with us again. We ate dinner while we passed the time and then went back into the tournament area where Jose Miguel Espinar just defeated second place finisher Alex Brenes. The presentation took awhile and when it ended, we all started talking about where we were going to go for the night.

We headed to the nightclub, El Diablito at about 1am. Even though it was late by California standards, there was still a lot of time left in the evening by South American standards. I wasn't expecting the place to look like a ghost town though. There were only four people in the game, but we were happy to see that all four of them were players from the event and not just random people. We were all talking about how dead it was in the club and how we hoped that more people would be showing up. Shortly after, Barry Greenstein and Alex (his girlfriend) showed up and we chatted it up for a bit. I did a little video blog with Barry that he is going to post on his site, PokerRoad. While we were doing the video, a couple of people showed up, then a few more, and then they just started flowing in. Halli and I ran into a couple of Uruguayen girls who said they saw us on the street shopping. They got a big kick out of that for some reason. I told him how beautiful we thought the women were in their country and that made them smile even more. Around 4 in the morning, the place was packed and we were having a hard time locating Stars people in the crowd. We stuck with one group and hung outside on the patio before leaving at 5am. When we left, the club was still going strong and I am guessing they continued their partying until 8am.

This afternoon we packed up because we are heading to Montevideo for at least one night. We won't be going to Lima because we finally decided to do some research and found out that Machu Pichu is nowhere close to the Lima airport. It would take us about 25 hours to get there once arriving in Lima and we don't have the time for that. Instead we decided to spend at least a day in Montevideo and maybe we can squeeze Buenos Aires into our schedule as well.

August 15, 2008
We had a fabulous few days in Montevideo and had almost as much fun as we did in Punta del Este. The two of us spent a couple of days doing the normal touristy kind of stuff. We did a little shopping and spent some time seeing the heart of the city. The city was amazing and appeared so rich in culture. I felt like I was able to get a good sense of the Uruguayan culture by observing the building's old architecture and by watching the locals on the street. It appeared that the people were generally more relaxed and appeared to enjoy the company of family and friends. Halli and I took note and spent several hours conversing and drinking wine while eating dinner.

One evening, we had dinner with the PokerStars crew. There were about fifteen of us and all of us were asked our opinions on a variety of things concerning the LAPT Punte del Este and future events. The entire PokerStars crew are a pleasure to talk with because they are all so nice. Being at a group dinner where you get to see some of the behind the scenes operations of a major company is even more amazing. When you factor in delicious food too, the experience was unforgettable.

Our trip home was even longer and exhausting than our trip to South America. We hit a few bumps in the road, but managed to make it home in one piece. We had three legs of flights and each one had some sort of problem with it. The first flight was delayed for 40 minutes and we kind of freaked out thinking that we wouldn't make the connection for Lima to Miami. We made it there just in time to board the plane and we prayed that our bags would make it with us. When we got to the front of the line, we asked if our bags would be on the flight and they confirmed that they made it as well. In Miami, we had to pick our bags up at customs. We didn't know that we were supposed to just put them back on the loading zone at the end of customs. So we dragged our bags with us through the airport running at top speed so we could make our flight (trust me it was fricking FAR!). We got to the ticket counter and were informed that our bags didn't make it in time. Of course, if we had put the bags back on the conveyer belt while in customs, we wouldn't have had any problems. We had to take the next flight out which was an hour and a half later.

I am so grateful that I am allowed opportunities to see the world and it a bonus that I am able to combine it with my passion for poker. This trip was extra special because I got the chance to get to know Halli better and I am certain that this trip will be the beginning of a long exciting, adventurous, and rewarding friendship. If you are thinking about playing a tournament in another country, I would highly suggest playing one of the Latin American Poker Tour events. I already booked my flights for the next one in Costa Rica; that's how much I love these events.

**To see all our pictures from our poker journey to Punta del Este, take a look at our flickr page.