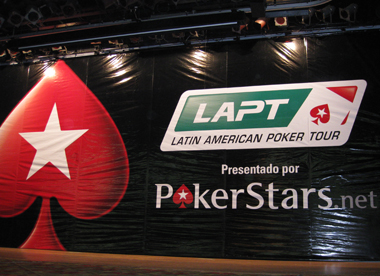 November 1
I just got done packing for the Latin America Poker Tour in San Jose, Costa Rica. My plane leaves in a few hours and I'm currently trying keep myself busy because I am soo excited. One of the greatest things about poker is that it allows me the freedom to travel whenever I want to and also introduces me to new and exciting places because I make it a point to travel to tournaments held in countries I haven't visited before.

The PokerStars package includes 4 nights, but Halli and I will staying eight nights. We have so many memories from our adventures in Punta del Este, Uruguay and I am sure we will be making plenty more in Costa Rica.

November 3
I just got knocked out of the poker tournament and am royally depressed. I lasted about 9 1/2 hours and made it down to about 50 players (they were paying 24) and I'm satisfied with the way I played. Even though I played well, I feel defeated and don't feel like writing all the details. For now, I am going out with Halli and the LAPT gang and will write the specifics of the tournament tomorrow.

November 4
Our adventure at the Latin America Poker Tour in San Jose has been great so far. We arrived Sunday morning and immediately caught up on some sleep before going to the PokerStars party. The party was great because we ran into so many people we met at the last Latin American Poker Tour event in Uruguay. The first two guys we saw (other than Rich Korbin who sat with us on the bus) were the tournament directors, Mike Ward and Greg Pappas. By the end of the night, we saw the whole gang; Christian, Thomas, Melina, Alex, Brad (Otis), Gary Wise, Lizzie, and the main man for the LAPT, Glen. We also met some of the players who I have played with online for several years including ArbianNights. We stayed at the party for hours and drank a little, but nothing compared to how much we guzzled at the last party in Uruguay. We were in the room at a respectable time and had plenty of sleep for the big event.

My table draw for the tournament was good and even though I went up and down a bit during the first few hours, I accumulated some chips overall. About 4 hours into the tournament, our table broke and I was moved to a new table with David Plastik and some guy who was a total maniac. Shortly after I sat down, the crazy guy went all in and then stood up and yelled, "I am all-in, allllll-innnn, because that is what I do. I go allllllllll-innnnnnn." I can't even begin to describe how loud and obnoxious the whole thing was or how many people came running over to see what was going on because he made it seem like some big ordeal. I was appalled at his lack of table etiquette, but at the same time I was laughing inside, thinking "What the hell is wrong with this guy?" He didn't stop there. He kept it up his shenanigans and David Plastik was furious. Eventually, David called the floor on him for a second time and the guy got a time out for his bad language. David took some chips away from the guy when his pocket tens beat the maniacs pocket kings. The video can be seen here and you can even catch a glimpse of me (with Halli standing in the background). I also took chips off the crazy guy right before dinner break when I opened for a raise with AK, he raised me and I pushed. He had AQ and after my hand held up, I was the chip leader at my table.

Things continued to go well from me for awhile when we got back from dinner. I got all of my chips in with QQ versus an opponent who was short stacked and had AA. I hit a queen on the turn and eliminated him. Like I said, he was short stacked, but adding 7k to my 30k stack was still nice. When I had about 40k (which was average at the time), my QQ was beat by A4. I was in the small blind and the guy pushed from the hijack seat. It was a pretty big shove so I had to actually think for a minute. I ruled out that he had AA or KK because he woulen't have overshoved with those hands. I was pretty relieved to see he only had A4, but the ace was right in the window and I didn't improve.

For a little while, my chip stack went up and down and then I finally shoved with AQ on the button. The guy called from the small blind with QQ and his hand held up. I got knocked out during the last level of Day 1. There were about 50 players left at the time, but they only paid 24.

When play was resumed for the night, a big group of us went to a local bar and played a little pool. Of the 20 of us who went out, only one player happened to make it through to day 2. There are thirteen players left, so he has a good shot at winning the whole thing. When the bar closed, we all went back to the hotel to have a late night snack. While waiting for our food, Halli and I went back to our room to use the restroom and we heard some guys being loud in the room next to us. They said something like, "Can I bend it any way I want. Will it count if I fold it in half and put it in my mouth." We looked at each other and laughed and were like "WTF are they doing in there?" When we got back in the restaurant, some young guy - who was certainly a poker player came in asking for some saltine crackers. According to him, he and his friends were making a bet whether one of them could eat 6 crackers within a minute. Halli started laughing and asked, "Was that you asking about folding it in half and putting it in your mouth." He nodded his head and confirmed that it was him and she joked with him about him being in Costa Rica and having nothing better to do than be in his room with a bunch of guys shoving crackers in their mouth.

When we woke up today, we went over to the tournament room and saw that there wasn't too much going on. We talked with a bunch of people and then headed back to our room to watch the election returns. We both are mildly obsessed about this election and we certainly hope change is coming. For now, we will be keeping our eyes glued to the television set. In a few hours we will most likely be out on the town with our group of LAPT friends and hopefully we will be able to make a victory toast for our presidential candidate.

November 5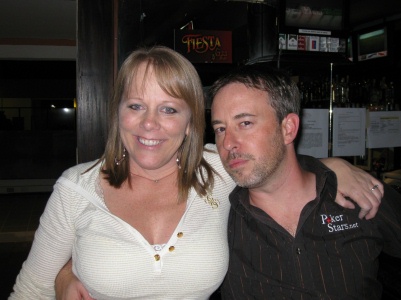 After watching the election returns on television, Halli and I decided to celebrate at the bar near the casino. By the time we got there, there was a bunch of people doing exactly that. It appeared that many of the poker players were as happy with the election as we were. At our table, there were around ten of us including many of the PokerStars staff and we had a such a fun night. I had a nice time hanging out with everyone, but especially with Brad (Otis) the guy in charge of the PokerStars blog. Our busy schedules don't allow for us to hang out very often, so when we do get a chance, it makes for an especially nice time. After many hours of celebrating and socializing, we headed back to our hotel.

November 7
Early morning yesterday (way too early morning), six of us including Halli, Melina, Alex the blogger, Brandon (1h8pp), Andrew (Azntracker), and I went for a full day of whitewater rafting. The trip that was amazing to say the least. The bus picked us up at 6am (which was hell for all of us poker players) and it drove for two hours before arriving at the meeting grounds. We had a nice local breakfast and then changed into our swimsuits and headed down to the river where we met our guide Alonzo.

It seemed that Alonzo knew our group was going to be a barrel of laughs because he immediately tried to flip our raft over. The joke was on him because he was our only casualty. When all of us caught our balance, we helped him back into the boat. The rafting trip was rated between a 3 and 4, so there were numerous times when we were being thrown around inside the raft. Overall, we did a pretty good job staying in control and nobody was ever thrown out of the raft even though we all had a few close calls.

The scenery during our rafting trip was spectacular and I found myself being caught up in the beauty of the river rather than paddling like I should. The river floated between two mountains and we also got to see a couple of breathtaking waterfalls. It is hard to even sum up the whole experience. The only thing I can say is that if you ever get a chance to take the trip, then do it!

Thomas and Melina offered for us to stay with them in their beach house in a different region of Costa Rica called Guanacaste. They are so kind to offer to share their house with Halli and I (and Andrew) and I am certain it will be a memorable experience. The drive was beautiful and as we were driving, I told Thomas that Costa Rica is the most beautiful place I have ever been. When we got close to the beach house, we stopped at the grocery store to pick up some food for a barbeque at the house. We had a nice dinner, played a No Limit tournament and then went for a night swim in the ocean.

We are going to stay here for another couple of days because there is still a lot for us to experience. Tomorrow we are going to go on a canopy tour and we will also do a little jet skiing. On Sunday, Halli and I are scheduled to go to Arenal before heading home on Monday night. The next Latin American Poker Tour event is going to be held in Mexico and it sounds more appealing with every passing moment. These events are some of the most memorable experiences of my life.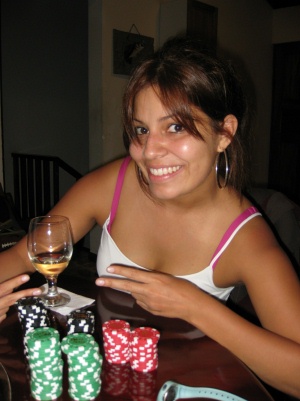 November 9
We decided to stick around at the beach house and skip our trip to Arenal because Melina and Thomas have been great hosts. Yesterday, a couple of us did some snorkeling in the morning and then in the afternoon we went to do the canopy tour. The canopy tour was so a fantastic experience and was very different from the one I did while in Cancun. In Cancun, the canopy portion was part of a full day adventure, so we only did one zip line. In Costa Rica, you go from one tree to another and do many zip lines. There were 13 of them in all with some being longer than others. Our guides made it look easy, so when they asked the group of us, "Who wants to ride upside down?", I jumped at the chance and volunteered. I rode tandem with one of the guides and thought it was cool to hang upside down on a zip line and look at the jungle while doing it. I was especially proud of Halli because she was brave and managed to enjoy herself despite the fact that she has a fear of heights.

After the canopy tour, we went back to the house and took our showers before going out to dinner in town. After dinner, we came back to the house and hung around the kitchen table and talked and played cards. Around 1 in the morning, we all called it a night because we had another full day of activities planned.

This morning, we walked down to the beach and rented some wave runners. We ended up with three of them with Andrew riding solo on one, Thomas and Mel sharing another, and Halli and sharing the third. The place that rented the wave runners to us didn't give us any guidelines so were free to do what we wanted as long as we were back in an hour. This meant that we were able to travel out far in the ocean and a long distance alongside the coast. The view from the ocean to the mainland was so pretty and I was soaking in the sites of the green scenery. Just like I did while rafting, I would find myself being caught up with looking at beautiful Costa Rica instead of paying attention to the activity at hand. One time, I actually got thrown from the wave runner (although it was probably from Halli's bad driving, hehe).

Tomorrow night, we are leaving beautiful Costa Rica. I am so grateful for the experiences that poker (in particular PokerStars) has given me and look forward to many more journeys.

**To see our pictures from Costa Rica, take a look at our flickr page.