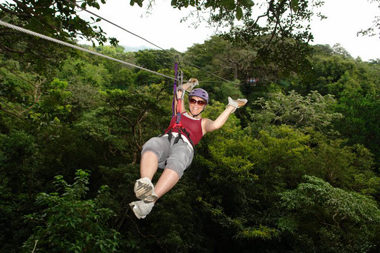 November 13, 2009
This year the Latin American Poker Tour in Costa Rica is going to be held in the city of Playa Conchal. It will be starting in a few days, but I headed to Costa Rica a few days early because I wanted to explore and see what the country has to offer.

We flew into Liberia airport because it is a lot closer to Playa Conchal than the San Jose airport is. We arrived late this evening so we just checked into an airport hotel and will decide what we are going to do tomorrow. I am not much of a planner when I go on trips and I wouldn't have it any other way. Usually I ask the locals for recommendations and often times they suggest something I wouldn't have found in a tour book or an online travel site. We will see what tomorrow brings.

November 14, 2009
We went on an all-day combination tour today. After being picked up at the hotel, we drove for about an hour until we reached our destination. The first adventure in store for us was a little ziplining. I have been on four zip lining tours and they never disappoint me. This was no different. There were about ten zip lines and each one seemed to get longer and more thrilling as we went. When we were finished with that portion of our tour, we hiked back up the mountain until we got to a waterslide. This wasn't your usual run of the mill slide you go on a waterpark. This was a looooong slide made of cement. In front of the slide was a sign that told us to take a helmet and for the women to "put on a diper." I thought to myself, "Did they mean diaper?" Yes, that is exactly what they meant. I guess the cement can really do a number on women's bare butt cheeks. The slide was a frickin blast especially the part when I rounded the corner and caught air. Sos joked that he caught so much air he hit the tree.

We had a typical lunch where we were served chicken, black beans and rice, fried cheese, salsa and some other things. It was fabulous. We were then ready for a little horseback riding. This part of the tour wasn't great because the horses mostly walked and the path was quite bumpy. The few times my horse trotted, I actually got a smile, but that was very short lived. The horses took us to the hot pools and mud bath. We sat in a steam room for a few minutes before applying warm mud all over ourselves. We then rinsed off the mud and had a nice relaxing soak in one of their hot tubs. Overall, it was a fabulous day.

November 15, 2009
We woke up this morning and drove to Arenal. Last time I was in Costa Rica, I planned on going to Arenal, but never found the time. This time, I wasn't going to miss it. Last year when Halli and I came here, we laughed about how Costa Ricans gave directions; "turn left where the rooster statue is and then make another left when you hit the school." There are no street signs and the maps are pretty difficult to interpret. Halli and I never ventured out on our own for fear of getting lost and not speaking Spanish fluently. I was lucky that this time I was with Sos who is not only great with directions, but also is fluent in Spanish. We made our way to Arenal and the drive was breathtaking. Costa Rica is such a beautiful place and I love that many of the roads are surrounded by the jungles and so much greenery. On our drive to Arenal, we experienced a lot of that scenery, but we also experienced moments of pure craziness. There was about a two mile stretch where the road was full of potholes. We maneuvered around as many as we could, but we couldn't miss them altogether. Some were about four feet wide and I kept getting out of the car (in the pouring rain) to take pictures because I couldn't believe how big the holes were.

We arrived at our hotel safe and sound and I love it here. We have a waterfall shower in the bathroom and a Jacuzzi on our patio. It looks like a nice place to stay the night.

November 16, 2009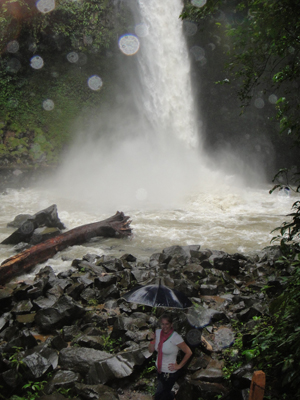 Yesterday, we took the afternoon tour to see the volcano, but it was raining so hard that we weren't able to see anything. We spent our time taking a hike in the rainforest where it poured on us. Despite getting drenched, I enjoyed seeing the trees, plants, snakes, and monkeys. When our hike was over, we went to Tabacon which is a spa and thermal resort. We had dinner and lounged in the hot springs while it rained on us.

This morning we woke up and went on a hanging bridge tour. Once again it poured, but it didn't stop us from having a good time. Our guide showed us some interesting things on the trail similar to what we saw on our hike in the rainforest and I enjoyed hanging above the jungles so high up. If Halli were with me, she would have freaked out. After our hanging bridge tour, we went to La Fortuna which is a place that has a few waterfalls. It is also close to the volcano which I have decided doesn't exist. I have only seen rain and jungles around here and I keep joking with our tour guide that the volcano is just a ploy to get us to go on these tours. "Has anyone ever seen them?", I asked.

November 17, 2009
We are now at Playa Flamingo which is a resort on the beach next to Playa Conchal. We aren't supposed to check into Conchal until tomorrow so we decided to spend the night here. The resort is great and we spent the better part of the morning hanging out at the pool. Around 3:30, we went to a place around the corner that rents ATVs and we took a beach/jungle tour. It is crazy how one minute you can drive through the middle of the jungle (howling monkeys and all) and then the next minute you are driving on the beach. While on the beach, we saw an amazing sunset and took all sorts of pictures.

After our ride, we took showers and went out to dinner at great restaurant across the street from the resort. They offered us bread before our meals that they served with a plate of pesto and hot sauce. The presentation reminded me of an olive because the plate was full of green pesto with a circle of the red chili in the middle of it. The whole dinner was great, but that pesto mix was definitely the best part of the meal.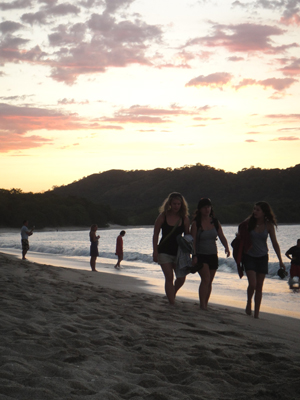 November 18 , 2009
We finally checked into Playa Conchal and the place is amazing. Paradisus is a luxurious all-inclusive beach resort and we got the royal treatment when we arrived. We were greeted by the hotel staff and we were informed that we had the "Royal Service." I think ¼ of the people got the Royal Service and I am pretty sure that I was one of the lucky ones because I am a Supernova on PokerStars. They set us up in our suite and assigned us our own personal butler (two of them actually). Our butler was there to make sure our stay was unforgettable and was there to assist us with anything we needed. We didn't waste any time and asked for some extra snacks and a battery charger because my battery was on its last leg. He couldn't find a charger, but told us that he had the same camera and would bring his battery the following day. Now that's what I call service. I thought we were so special until I found out that a few of my media friends who had the "regular" service also got treated like royalty.

Of course, no Latin American Poker Tour would be complete without the welcome party and we had tons of fun. We got there when it started and spent most of our time hanging out with my favorite writers, Otis (Brad), Dr. Pauly, and Change 100. When the welcome party started winding down, we headed over to the tournament room and entered Humberto's charity tournament. The money raised was donated to Pretoma which is a charity whose mission is to protect the world's shark population. I won a little money when I eliminated the professional wrestler, El Hijo del Santo and got his $220 bounty prize and inflatable shark.

November 19, 2009
The LAPT is my favorite of all PokerStars tours and part of the reason why is tournament director, Mike Ward always runs a superb event with amazing structures. He lived up to my expectation and ran a smooth tournament once again. I also like the events because generally speaking, they are softer than other tournaments I play in. Of course, there are occasions when I run into talented players and this was one example. I had a horrible table draw and faced a whole table full of talented players including Jose Rosenkrantz and Alex Gomez. The good news was that when one of the talented players was eliminated, the seats were filled with softer, weaker opponents. Because of this, I was able to accumulate a few chips, but I still ended Day 1 with a little less than average chips.

November 20, 2009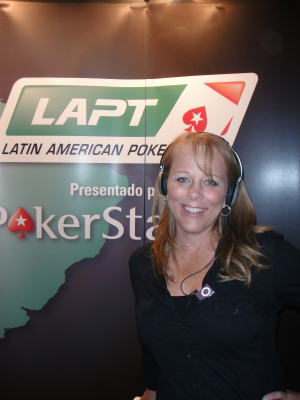 About 120 players started Day 2 and I was one of the first ones out. I was eliminated in the first level when a player raised to $3500 from early position and I shoved for 23k with AK. He insta-called and turned over pocket aces. I flopped a gutshot draw on a board of JT4, but I never improved. I was heartbroken and couldn't leave the tournament area fast enough. I went up to my room and sulked for a good fifteen minutes and then met up with Pauly and Sos and hung out the rest of the day. When the tournament ended for the day, we met up with Brad and Change 100 to have dinner together for the second night in a row. Last night we had Italian, tonight we had Mexican. Brad decided he would try the hot chile appetizer (even though the menu gave it a 5 out of 5 spicy rating) and he turned every shade of red possible and then started sweating. I have never seen anybody react like he did to a spicy dish. We all had a good laugh about that including Brad.

Approximately 120 players started Day 2 and it looked like it would be ran in the same manner as Day 1: Eight levels of play (or until the final 3 tables) with breaks every two hours and free food and beverages outside to keep the players satisfied. Unfortunately for me, my day ended in less than an hour when a player raised to $3500 from early position, I shoved for 23k with AK and he insta-called and turned over pocket aces. I managed to flop a gut shot on a board of JT4, but I never improved and I was eliminated and heartbroken.

November 22, 2009
The last couple of days have mostly been spent relaxing in the sun. Sos and I spent yesterday doing a little kayaking and snorkeling and today we took a sunset cruise. All of our dinners have been spent with Pauly, Brad, and Change 100 and I couldn't ask for better company. In between that, I played a satellite for the next LAPT event in Chile, but didn't win my seat even though I got close. I mainly wanted to play the event so I could catch a glimpse of Melina and Thomas. They have been working their butts off and haven't had the chance to join us for our nightly dinners so I had to go to them instead.

Tomorrow we head home. It has been a fantastic trip and I can't wait until my next poker journey.