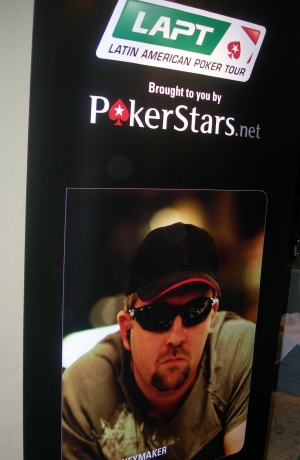 August 6th 2008
After an exhausting couple of weeks playing in the Legends of Poker at the Bicycle Casino, I am especially grateful to be in Uruguay for the PokerStars Latin American Poker Tour (LAPT). It's slightly laughable that I am taking a much needed break from poker to travel to a poker tour, but I actually won't be playing much while I am here. Besides looking for some rest and relaxation, I am here to support Shirley, my Poker-Journeys partner in crime, and will not be playing the Main Event myself. I do, however, have my eye on the $1020 buy-in second chance tournament that will be held in a couple of days. We'll see if I'm getting poker detox tremors by then.

The trek from Los Angeles to Uruguay was a long one, with stops in both Lima and Santiago. Although a journey of this magnitude could have been quite torturous, LAN airlines did a great job of keeping us comfortable. Despite being seated in the dreaded middle seat, time passed fairly quickly thanks to the individual televisions with a long list of movies, TV shows and music to choose from. The fact that they served free wine like it was water certainly helped move things along as well.

When we arrived in Montevideo, I was beyond exhausted and had slipped into that delirious state that is usually reserved for 7am final tables. After passing smoothly through customs, we were greeted by a shuttle that PokerStars had sent to drive us the hour and a half to our seaside destination, Punta del Este. We were joined by writer Gary Wise for the last leg of our journey, which passed fairly quickly (most likely due to my delirium assisted by chatting with Gary). Because we were so tired when we arrived, I don't think we noticed right away how beautiful the Mantra Resort Spa Casino is. It seems that PokerStars certainly knows how to put their players up in style. In addition to the luxurious accommodations (where, conveniently, the tournament is also being held), we received player's gift bags from PokerStars that are nothing short of impressive. After dropping our bags, we quickly passed out and took a much needed nap in preparation for the PokerStars welcome party.

The party was a memorable experience. A shuttle arrived at the Mantra to take us a few blocks to the beachside venue. Because Shirley has worked in the poker industry for much longer than I have, she introduced me to several people, including Max and Maria Stern and Greg Raymer. We also hung out with online player Brandon Cantu and rubbed elbows with PokerStars Pros Vanessa Rousso and Chad Brown. I was impressed with the open bar and hors d'oeuvres, and we probably drank more than our share. It was when Shirley fell backwards down a few steps and slid across the floor, knocking a small crowd over like bowling pins, that I knew it was time to call it a night. Fortunately, she wasn't hurt and we laughed for what seemed like hours after her unfortunate spill. We headed back to the Mantra and enjoyed a late dinner in the restaurant there before retiring to our room. Tomorrow is the Main Event, and I am not sure what I will do with myself while Shirley is playing.

August 7th 2008
Today was the start of the Main Event, a $2,500 buy-in No Limit Hold'em tournament. 351 players turned out to compete for the title (and the over $240k first prize), and I think the field was a little larger than the casino expected. Because the LAPT is in its infancy, there are bound to be hiccups and today was no exception. When we went down to the tournament room there was a huge line to get seating assignments, which crept along at a pretty slow pace. Although the wait was long and it became clear that the starting time would be delayed, the staff at the Mantra kept the players happy by providing complimentary sodas while they got it all sorted out. Eventually the tournament got underway and seemed to go smoothly after that. When I looked at the structure sheet this morning, I knew I was in for a long day alone. PokerStars did a great job, starting the players with plenty of chips and providing long levels of play. Such a good structure meant that Shirley was likely to make it pretty far even if her cards were cold.

I spent most of the day recovering from jetlag and exploring the resort. PokerStars had set up a complimentary dinner buffet for the players, and when I met Shirley there on her break, she was getting short in the tournament but was still optimistic. We discussed some of her hands and she told me about how soft the field was, especially for a $2500 event. After hearing about some of the jaw-dropping plays she witnessed, I decided I will probably play the second chance tournament tomorrow. I wished her luck and went back to the room with the urge to play some poker. Luckily for all of us junkies, the Mantra offers free internet in the rooms so I was able to play some cash games online while I waited for Shirley. I am really loving these player's bags, especially the plush robe that I have been wearing almost all day while hanging around the room. When Shirley got knocked out tonight, at least it gave her a laugh to come into the room to see me still in that robe.

August 8, 2008
I woke up this morning, feeling rested and ready to play some poker. Since Shirley was knocked out of the Main Event last night, we both decided to play the LAPT second chance tournament. It was $1020 to enter and brought 151 entrants. I was once again impressed with the good structure for this event and did my best to utilize my deep starting stack and the long levels. I played my A-game and before I knew it, we were at three tables and I was short stacked. They paid 18 so it was a long and painful road to the money. Somehow I managed to squeeze in and was eventually knocked out in 18th place. I'm not usually a fan of trying to weasel into the money (I am a firm believer in going for glory and always playing for first) but in this case, I didn't have much of a choice. My cards were ridiculously cold when we approached the bubble which forced me to push in position a few times and hope for the best. Anyone who knows me probably wouldn't be too surprised to see my crazy antics during the last 30 minutes that I was in the tournament. Because of language barriers, inexperienced dealers and my generally insane attitude, I was getting pretty frantic trying to keep the hand for hand going correctly. Although Greg Pappas was running the tournament and doing a great job, he was very busy and I was desperately (and probably too boisterously) trying to keep myself alive. I'm sure that anyone observing my behavior got a good laugh.

After receiving $3000 for my efforts, Shirley and I decided to grab a drink in the bar just outside the tournament room. While we were sitting there, wondering what to do with ourselves, a young Costa Rican woman stopped as she passed by and said to me "Hey you're that crazy girl from the second chance." We had a good laugh and I admitted that yes, that was in fact me acting like an insane person. She introduced herself as Melina, and invited us to go to a local bar with a bunch of players, staff and writers after the Main Event wrapped for the day. Happy to have something to do and a chance to get to know some of the players, we accepted. We are just getting ready now and are about to grab a cab. I can't wait to unwind a little after a pretty stressful day on the felt.

August 9, 2008
Last night was an absolute blast. Thankfully, my insane antics in the second chance tournament gained us an invitation to Moby Dick, a local bar where many of the LAPT players and staff were drinking and getting to know one another. We met so many great people there, including Melina (who invited us), her husband Thomas (who works for PokerStars) and her brother Alex (who blogs for PokerStars). The players, staff and writers here are amazing people – I have yet to meet someone who isn't warm and friendly. We drank the night away and finally called it a night around 5:30am. We made so many friends that we are talking about taking another trip to the next LAPT event in Costa Rica so we can see them all again soon.

All good things must come to an end, and this morning I definitely knew the party was over when I woke up with a headache. All I wanted to do was lay around, but Shirley is a great travel partner and forced me to get out of bed so we could see the town. The main attractions in Punta del Este are the beautiful beaches, but because it is winter here, we opted to go do some shopping. I somehow managed to avoid puking in the cab, and we had a nice day buying some souvenirs and checking out the local shops. We stopped to take photos of Monumento al Ahogado (Monument to the Drowned), the famous beach sculpture of a massive hand protruding out of the sand. We also drove over Maldonado Bridge, which we kept referring to as "the wavy bridge" because of its dips and arches that made our stomachs drop.

When we got back to the Mantra, we were surprised to find the Main Event still going. We waited and waited, because we knew there would be more fun times ahead once the tournament ended. The final table was ridiculously long, and finally ended around 11pm when Jose Miguel-Espinar was crowned the champ over the second place favorite Alex Brenes.

Now we are getting ready to join everyone at a local night club for our last hoorah in Punta del Este. Most people are leaving tomorrow, and we are no exception. We will be staying in Montevideo for a few days to see the city before heading back to LA.

August 10, 2008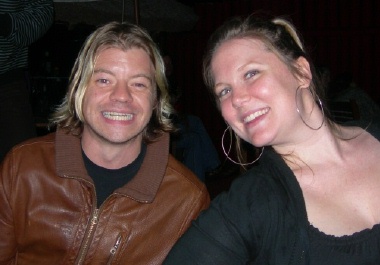 Last night was interesting to say the least. We left the Mantra at about midnight and headed to El Diablito, a local nightclub where we knew the LAPT players and staff would be partying. Because it was so late, we were rushing a little to get ready and out the door so we wouldn't miss out on the final night of fun in Punta del Este. You can imagine our surprise when we arrived to find only four other people in the large club, standing around looking as confused as we were. After a few minutes of chatting, Barry Greenstein and David "Chino" Rheem showed up with their girlfriends. By then it was well after 1am and we all assumed that we had been misinformed about where the hot spot for the night was. We were wrong. Fast forward two hours and the club was absolutely packed. All the LAPT players were there, along with the staff and writers who were finally getting a chance to unwind now that the tournament was over. Shirley and I couldn't believe the party was just getting started at 3am. We knew that people would be dancing and drinking well into the morning hours, but we had to call it a night around 5am so we could get some sleep for our trip to Montevideo in the morning. It was sad leaving that club, because we knew we wouldn't see many of our friends for a while.

In reality, we actually got to see quite a few of them this morning before we left. There was a small group gathered in the lobby, enjoying some food and chatting while they also prepared to leave town. I was really glad we ran into them because it gave us a chance to say goodbye to Melina and her husband Thomas. Out of all the people we have met on this trip, I am especially grateful to have found those two. In fact, it looks like Shirley and I are almost definitely going to make the trip to Costa Rica in November for the next LAPT event. Mel and Thomas live in San Jose (where the tournament will be held) and we just can't pass up another adventure with them that promises to be as fun as this one.

The drive to Montevideo passed quickly because Shirley and I had so much to talk about. Every time one of us would mention something funny that happened over the last few days (and there were so many funny moments), we would both crack up. Our time at the LAPT was truly one of the highlights of my life thus far, and I will never forget this experience. Right now we are in Montevideo, fairly exhausted and ready to go get some dinner. We plan to spend the next couple of days here before making our long journey home to the States.

August 11, 2008
Waking up this morning, I was flooded with memories of laughter from the LAPT, and felt grateful for all the memories that I know I will carry with me from here on out. I am also feeling especially appreciative of having this time to spend with Shirley. Last night, we ended up going to a restaurant across from our hotel (recommended by the PokerStars staff) and had a great time. We took a cue from the locals and made our dinner last for hours, enjoying a bottle of wine and each other's company. Although we have become fast friends, we only met about seven months ago and I feel like we've gotten to know each other a lot better on this trip. We both agree that there will probably be many more trips together in the future, because this one has just been so damn fun.

We spent today walking around Montevideo, seeing the city's architecture and doing some shopping. While I am happy to be in this city and have been impressed by the seemingly laid back culture of the locals, I already miss the LAPT crew. Tomorrow is our last day in Uruguay and we are hoping to catch up with some members of the PokerStars staff, who are scheduled to come through Montevideo on their way home.

August 15, 2008
Our last day in Uruguay was spent relaxing and having dinner with some of the PokerStars staff and several players. Somehow we made our way through a torrential downpour of rain to the wonderful restaurant across from our hotel, where we sat at a large table upstairs in a private room. The dinner was an interesting experience. Not only were the food and company fantastic, but it gave me an opportunity to listen and contribute to discussions about the LAPT's growth and future. PokerStars did an amazing job, but is always looking to improve. The fact that they actually took the time to receive feedback from the players makes me think that these events are only going to get better. There's no question that Shirley and I will be returning to the LAPT very soon.

Our flight home was long and tiring, as we had expected. Unfortunately, despite literally running across the airport in Miami, we missed one of our connections which delayed us an hour and half. By the time we touched down at LAX, we were both exhausted and happy to be home. However, once we looked at the photos that we took at the LAPT, Shirley and I both knew we couldn't sit the next event out and have already made plans to head to Costa Rica in November. I can't wait to see what our next PokerStars journey will bring.

To see all pictures from our trip to Uruguay, take a look at our flickr page.