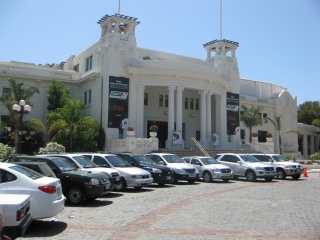 January 18, 2009
It was time for another Latin American Poker Tour event and this time the tournament was going to be held in Vina del Mar, Chile. Halli and I decided to go a few days early so we could spend some time in Santiago before heading to Vina del Mar for the tournament. We took a direct twelve hour flight to Santiago, Chile and arrived in the early morning. We were both so exhausted that the only thing we could think about was getting some shut eye. When we checked into the hotel, the receptionist informed us that we would have to wait three hours to check-in. I begged for her to let us check in early and she told me that the only way it was possible was if I paid half of the fair of a nightly room rate. This amounted to only $60, but stuff like that really makes me insane and I wasn't going to let them rob me of my $60. I politely told her that we would wait and Halli looked at me like I was out of my mind. She turns to me and says "Are you serious? You lose more money than that on a regular basis (she was referring to me misplacing my money which I do ALL the time, not losing it at the poker table). I will pay the $60 just so we can sleep." and I informed her that it was the principle of the whole thing and I was really serious. I didn't say this to Halli, but the way I look at it, the hotel rooms are empty anyway and they should be happy to accommodate their customers if they are able to. There are plenty of times where I leave 3 hours early and I don't get a "credit" for half of the nightly rate. Anyways, when the lady saw I was willing to wait for three hours, she asked the manager if it was possible for us to check in early. He said "Of course. It's not a problem." and we happily went to our room to get the much needed sleep. We ended up sleeping for eight hours and woke up in the late afternoon. It was about 5:30 when we headed to the lobby and asked the bellman if he had any suggestions for places to go. He suggested that we take a walk to the local square that had shopping and restaurants.

As soon as we walked out the door, the sun was still shining bright and I was happy that we didn't waste our day sleeping. We went to the square, had a nice relaxing dinner and browsed the local vendors selling their handicrafts such as wool scarves and handmade jewelry. There were so many people outdoors and I got the impression that the Chilean people really enjoyed life and spending time with their family and friends. Their way of life (or at least the impression I got on that evening) reminded me of Uruguay. We noticed that one long street was full of bars where the locals drank their beers curbside on patio style furniture. The block next to it was lined full of restaurants where the Chileans sat for hours while enjoying their meal and the block on the other side of the street was lined with Discothèques which most likely opened in the late evening (or early morning rather, 2am).

After our 7pm dinner (early dinner by Chilean standards), we went to the Metropolitan Park (Parque Metropolitano de Santiago) and took the funicular to the top where we got spectacular views of the city. The park was one of the greatest ones I have ever seen and had a zoo, a Japanese garden, several pools, a restaurant, and more. I wished we hadn't slept so long because I would have loved to spend at least several hours exploring the park. It appeared to be a favorite spot of the local bicyclists and exercise enthusiasts because there were hundreds of people everywhere. Halli and I enjoyed our short time at the top of the hill and took some great photos of the city of Santiago. Once the sun finally started to set around 9:15pm, we headed back to our hotel. We enjoyed a glass of Carménère (Chilean wine) while sitting near the bar on the roof of our hotel.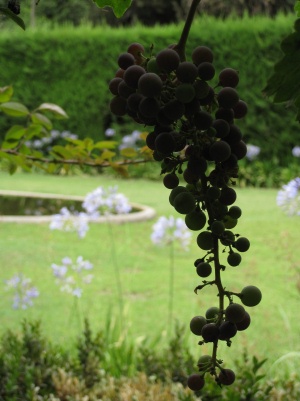 We planned on spending the next day exploring Santiago as much as possible because we were leaving for Vina del Mar the following day. Our day didn't go as we had hoped because our lazy asses woke up at 2pm! Fortunately, we scheduled the 4:00 wine tour which meant we had enough time to get ready and grab a little lunch (breakfast) before heading out. All in all it was a good day, but the wine tour wasn't full of excitement. As a matter of fact, I didn't even catch a good buzz which is pretty easy for me because I am such a lightweight. The tour consisted of them talking to us for a little while, showing us a quick film about the history of the Concha y Toro winery, and giving us two small tastings of wine. The tour was short and we arrived back at the hotel around 8.

We spent our last day in Santiago taking a city tour and we learned a lot about the history of the country. The city is extremely clean and beautiful and I appreciated the architecture of many of the buildings. During our tour, we stopped at Terraza Neptuno where our guide started to explain some of the history of the city. While he was narrating, there were several characters in full costumes reenacting some of the history of how the city was founded. The guide looked like he was on speed while he was dramatically talking in the microphone (which was really his cell phone). He looked completely insane and I couldn't stop laughing. I think I will always remember that guy and the look on Halli's face when he started acting all crazy. It's those type of unexpected moments that I look back on and appreciate. I appreciate poker and the life it has led me to live. I also appreciate my great friendship with Halli and all of the laughs that we have had and will continue to have.

I loved Santiago, but I was excited to head to Vina del Mar to meet up with Thomas and Melina and all the rest of the friends I have made on the Latin American Poker Tour (LAPT).

January 19, 2009
Halli and I arrived in Viña del Mar yesterday and we're loving the fact that we are staying at the Del Mar Casino and Resort. Some of the online qualifiers were given accommodations at the Sheraton Hotel which is walking distance from our hotel and located on the beach. Even though that hotel is beautiful (I wouldn't expect anything less from PokerStars), the tournament is being played in our hotel and in addition to that most of our friends are staying here as well.

Once we got situated in our room, we walked around the hotel and casino hoping to bump into one of our friends. It is very difficult to arrange to meet up when most of our cell phones don't work in South America. We swapped emails and planned on meeting up in the casino, but we had no scheduled meeting time. We ran into Brian and Brandon almost immediately and spent a little time playing blackjack and having a cocktail while waiting for the rest of our friends. When the gang started filing in, Brian and Brandon were ready for bed because they had just flown in a few hours earlier. The group of us (minus two) went to one of the restaurants in the hotel and spent the evening laughing and catching up with one another. Whenever I get together with this group of people, I laugh, but on this particular night we were pretty hysterical because the assistant tournament director, Greg Pappas asked for a doggy bag because he wanted to take his leftover steak outside and give it to the stray dogs. The waitress informed us that they don't allow food to be taken out of the restaurant. As a matter of fact, she looked downright disgusted by the fact that we would even mention the idea. Greg wasn't going to let the dogs go hungry despite what the waitress said and made a "to-go" bag out of a tournament structure sheet. This might have been a good idea if it was only a steak, but there was an over easy egg on top of it and the yolk made a mess of the structure sheet. We were all amused by his antics, but he wasn't deterred and the dogs got their leftover steak. After dinner, the group of us went to play bingo which was also quite funny since they were announcing in Spanish and Halli, Greg and I looked like a bunch of idiots trying to follow along. After bingo, we finally called it a night.

Today Halli and I explored the city of Vina del Mar. We headed out toward the beach and put our feet in the water. It was too cold for us to actually go swimming (especially since I hate being cold), but we had a nice day nonetheless. When we got back to our hotel, we went up to pool and enjoyed a nice swim in the heated pool which was much more my style.

Tonight is the PokerStars party which is always great fun. Although we have ran into many of our friends at one point or another during this trip, there are still a handful of people that we haven't seen and I am looking forward to catching up with them.

January 20, 2009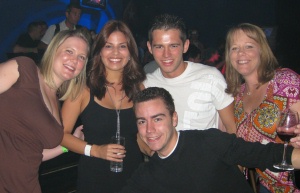 The party was a lot of fun and I really enjoyed that we were able to hang out with all of our LAPT friends at one time. We got to hang out with Brad, Kristin, Thomas, Melina, Brian, Brandon, and Christian. So many times during the Latin American Poker Tournaments, it is difficult to get all of us together at one time because some of our friends are reporting, some are playing, and others are doing recreational activities that are always plentiful on these tours. Anyways, one of the highlights of the night was when Halli and I (mostly Halli) had a little fun messing with Ylon Schwartz. Halli started acting like she had no clue who he was and I followed suit and pretended I didn't know who he was either. I don't watch poker on television any more, but I was well aware that he final tabled the main event and won millions. He finally told us that he won over 3 million dollars at the World Series of Poker and I said, "Wow. That is a lot of money." Halli took it even farther sand said, "Do you realize that is as good as it is going to get for you. You are never going to run that good in your life again." Despite saying all that stuff, he appeared to have liked us. He must have known we were screwing around with him.

I made sure to call it a night fairly early because I wanted to be good and rested for the big tournament. Day 1 starts in just a little bit and I am feeling great about it. I have done well in the few LAPT events I have played in, but have always ran into some horrible luck before cashing. Hopefully this is the day.

January 20, 2009 (evening)
Day 1 just finished for me and I am exhausted. I played great and finished the day with about 40k in chips. Hopefully if luck is on my side, I will finally cash in my first LAPT event. Brandon and Melina also made it through day 1 so I am wishing them luck as well.

January 21, 2009
It didn't take me very long to get busted from the tournament. I was eliminated about an hour and a half after the day started and I didn't even get to play many hands. I am so disappointed that things didn't go my way even though I got my money in as favorite on the two major hands I played.

63 players started day 2 and for some reason, the camera crew wanted to film every all-in confrontation (even though we were still a long way away from the money). Whenever there was an all-in, the dealer would call the camera crew over and the remaining cards would be dealt. This meant that the hands were long and drawn out and we didn't get as many hands dealt during each level as we should have. When I had my first all-in confrontation, I had raised in first position with AK and it got folded around to the player in the big blind who pushed for this ridiculous amount. It was very obvious to me that the player had a fairly week hand and was trying to make a play for the pot (I had been playing a lot of hands up to this point) so I insta-called. He looked upset when I called and I knew I had the best of it. He turned A8 up and I was sitting pretty with my AK. We waited for about five minutes for the cameras to get to our table because they were busy at another table filming their all-in. Once they arrived, the dealer put out the flop Q84. He gave a shout out and I sat there hoping that the dealer would turn over a king. The turn was a ten which gave me the straight draw and a little more hope, but the river paired the ten and I was left with only 11k in chips.

Two hands later, I was dealt pocket queens which seems to be my nemesis hand. A guy from middle position raised to $3600, I pushed from the blind with the remainder of the chips, and he said "I have to call" and I said "I know." He turned over A7 and I turned up my queens and then we waited. Halli walked into the tournament room right as the camera crew made it over to the table and she watched as the dealer immediately put up an ace on the flop. I never improved and my hopes for cashing in my first Latin American Poker Tour were smashed.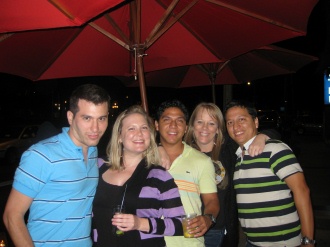 January 22, 2009
I spent a little bit of time pouting after the tournament and then Halli and I went to our favorite dinner place where we had sushi and wine. After dinner, Melina (who didn't cash nor did Brandon) and our Venezuelan friends joined us for some drinks at the local bar across the street. We ended up calling it a night at 3 in the morning.

We spent our last full day taking a driving tour of Vina del Mar and the neighboring city of Valparaiso. We requested an English speaking cab driver so he could share some history of the city with us. I enjoyed seeing the city and was once again amazed at how clean the streets were and how beautiful the architecture was. The problem with the cab tour was that there were a lot of winding roads in Valparaiso and Halli gets car sick. She was a trooper despite feeling like crap and stuck it out for awhile before asking the driver to pull over. She told him that she wanted to get a look at the view from atop the hill, but I knew it was because she didn't want to throw up in his car.

After seeing the city, we asked to be dropped off at the local mall because we had heard great things about it. We also arranged for our cab driver to return to pick us up about an hour later. As soon as we walked into the mall, I realized I had left my camera in the car and I started to freak out. We had taken so many great pictures and I wanted my memory card. I told Halli that he can keep the frickin camera as long as he brings back the memory card. We tried to call the cab company, but considering we didn't have cell phones and don't speak Spanish very well, it was an impossible task. It was impossible for me to enjoy the mall experience and I just hoped that the time would fly so I could get my camera back. An hour seems like forever when you are waiting for something, but finally it was time. We went to our meeting place and waited. And waited. And waited some more. Halli was optimistic which normally isn't her strong suit and said to me, "You know these Chileans are loose with their time. You know how our room service is supposed to be in our room at 11, but you never get it until 11:30, our taxi driver is probably like that too." And wouldn't you know it, she was right. Our taxi driver showed up about thirty minutes later with camera in tow. We ended our tour and he got a juicy tip for returning with my camera.

Once we arrived at the hotel, we went up to the tournament room and things were wrapping up. It looked like all of us were going to have enough time to hang out with each other one last night in Chile. The usual gang showed up at the bar and we all celebrated our time together and the new memories we made at the LAPT Vina del Mar event. I love traveling to all of the LAPT events, but haven't decided whether I am going to the next stop, Punta del Este, Uruguay. I have already been there once and absolutely loved it, but I am so exhausted right now I can't even think about the next one. If I don't make it to the Uruguay event, my next stop will be in San Remo for the European Poker Tournament held in April.

To see the whole photo album from our adventures on the Latin American Poker Tour, take a look at our flickr page.