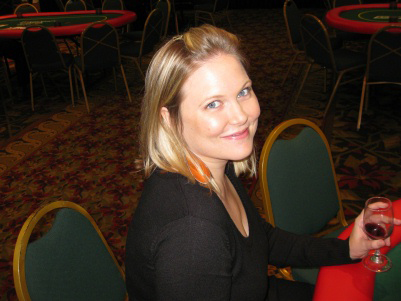 November 2nd, 2008
I can't tell you how ecstatic I am to be back on the road at the Latin American Poker Tour. This time, Shirley and I are in San Jose, Costa Rica for the $3,500 buy-in event being held tomorrow. We arrived early this morning after a flight that was truly a piece of cake compared to the one to Uruguay a few months ago. With just under six hours of travelling under our belt, we arrived at our hotel with a nap in mind. After resting up, we had lunch at the hotel's poolside restaurant before getting ready for the PokerStars welcome party tonight. It is being held (along with the tournament) at the Ramada Plaza Herradura, which is a short walk down the road. Fortunately, PokerStars has a shuttle bus constantly running between the two hotels, which should come in handy because the forecast is calling for rain over the next couple of days. I am a total thunderstorm lover and am hoping we might get a taste of a tropical storm while we are here.

Because I am more of a cash game player than a tournament lover, I decided before the trip that I would not play the Main Event unless I first won my seat online at PokerStars.com. Unfortunately, I didn't have much luck and will once again be sitting on the sidelines to root Shirley on. After witnessing the level of play in Uruguay, I have a good feeling that she will be making it deep this time. Hopefully her hands can hold up and we will be celebrating something huge before the trip is over. As for me, I am definitely looking forward to hanging out with some of the friends we met at the LAPT in Uruguay a few months ago. We are planning on staying in San Jose until the completion of the Main Event, then will probably rent a car and set off to explore the rest of the country.

November 3, 2008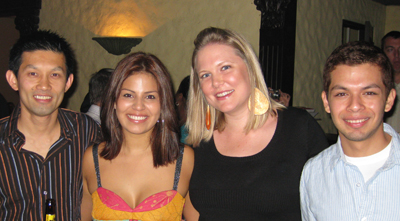 The PokerStars welcome party delivered lots of laughs. After taking the complimentary shuttle to the Ramada, we entered the party and promptly ran into my favorite PokerStars floorman, Greg Pappas. In addition to being a great floorman, Greg is an accomplished player who has been around poker for years and has lots of stories to tell. After chatting with him for a while, Shirley and I grabbed a drink and enjoyed the live music and hors d'oeuvres. We ran into so many people we have been missing since the LAPT in Uruguay, including Melina and Thomas (who live here in San Jose). After a lot of catching up, most of the party moved into the tournament room where many players jumped into satellites for tomorrow's event. Shirley and I stayed for a while to sweat some friends before heading to the bar at the Ramada for one more drink and a late dinner. It was hard to say goodnight, but eventually we took the PokerStars shuttle back to our hotel so Shirley could rest up for the tournament in the morning (we definitely learned our lesson after the welcome party in Uruguay).

We woke up and had a quick brunch before the Main Event. After Shirley took off for the Ramada, I picked up her player's bag from the PokerStars welcome desk, which was this time a cool backpack with t-shirts and hats inside. I decided to take advantage of some downtime and relax by the pool with a book. After a while, the dark clouds started rolling in so I decided to head over to the Ramada to meet Shirley for her dinner break and hopefully sweat her into day two. When I finally made it out front to catch the shuttle, all hell had broken loose outside. The tropical storm I was hoping for had arrived, and although I love watching the rain, I silently said a thank you to PokerStars for setting up the shuttle for those of us who had just straightened their hair.

I found Shirley at a table with her friend David Plastik and some guy who was making a total scene. He kept standing up and screaming (like the monkey he obviously was), making insane plays and trying to tilt everyone. It didn't work on Shirley and he soon doubled her up, sending her into the dinner break as the chip leader at her table. Like they always do, PokerStars had set up a complimentary dinner buffet for the players, which we enjoyed in high spirits after Shirley's double up.

Although she went back and played very well, Shirley couldn't escape a couple of bad beats and was eliminated shortly before the end of day one. It was pretty sad to see her play so well and get knocked out so close to the money, but she took it like a champ. We are now back at the hotel and getting ready to go out in San Jose with Mel, Thomas and some other friends. We are not sure what our plans will be for tomorrow, but I am perfectly content with just hanging out with all the great company here.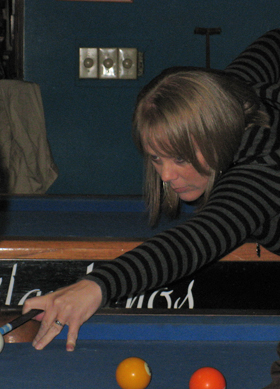 November 4, 2008
Last night we went out with about 20 of our friends to shoot some pool at a bar in San Jose that Mel knew about. Well, I guess I should say that they shot pool while I watched. I am such a competitive person that I hate doing things I know I can't win at…and pool is definitely not a game I know how to play well (especially against Shirley, who has been playing for years). Despite not playing, I had a great time and enjoyed the company. After we left the bar, about half of us decided to grab a drink at the hotel bar and keep the party going. We laughed over everything, and I got a huge kick out of Tulio, our friend from Venezuela, who starting reciting all the characters from the show "Full House." I don't know what it was, but this struck me as ridiculously funny and I couldn't stop laughing. We were also left in stitches by some poker players in the room next to ours. They were making prop bets on all kinds of stupid things, including how many saltines they could fit in their mouths and how many times they could shoot a paper ball into the trashcan. I gave them a hard time about how they are acting like degenerate losers while they should be out enjoying Costa Rica. I'm fairly certain that they wrote me off as an intolerable bitch (which I actually was being, now that I think about it) but we all had a good laugh at least.

Today, we just had a relaxing day sweating the Main Event and hanging out with our friends. We eventually went back to the room to sweat a much more important race that Shirley and I both hold very close to our hearts: the United States presidential election. When it became clear that our candidate Barack Obama would most likely be clenching the presidency back home, we had a private toast in our room and then went back to the Ramada to celebrate. When we got to the bar, I was a little surprised to see so many others from all over the world also toasting to our new leader. Although I was originally a little sad to leave home for the election (I voted absentee before we left), it was a special experience to see the reaction in another country. Everyone was in a good mood, and we had a fantastic night celebrating with people from all over the world. I had an especially huge laugh when I got word that South American player Jose Ignacio Barbero was getting a massage while playing in the cash games without his shirt on. I sent someone in to take a few photos and we all cracked up at the unusual sight. Tomorrow is the completion of the Main Event, and we will be there to root on our friends Jesus Bertoli and Maria Stern.

November 5, 2008
Today was spent watching the Main Event play out. It was a lot of fun watching Maria Stern finish in 8th place, and our Venezuelan pal Jesus Bertoli took 4th. In the end, it was the young American player Ryan Fee who defeated 218 players to capture the title and take home the $285k first prize. After the tournament was over, Shirley and I went to a sushi dinner with some of the PokerStars bloggers. Soon after, Mel showed up and we made plans to go white water rafting tomorrow morning. Because we will be getting up so early, we opted to skip the closing BLUFF Magazine party in favor of resting up. I have been rafting a few times before and am really looking forward to the trip tomorrow.

November 6, 2008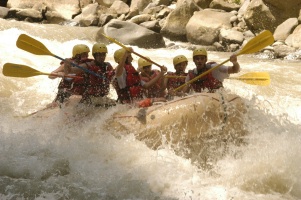 The bus came and picked us up at 6am for our white water rafting tour. There were six of us who made the bus: Mel, Andrew, Brandon, Alex, Shirley and myself. Unfortunately, our friend Brian apparently had a little too much fun at the BLUFF party last night and couldn't drag himself out of bed. I am really glad we decided to skip the party because the two hour bus ride from San Jose to the river was nauseating enough, without being hung over. Despite the windy roads making me a little sick, the scenery over the mountains was spectacular.

When we arrived, the rafting company had set up a breakfast buffet for us where I especially enjoyed the Costa Rican traditional dish "gallo pinto" (which is seemingly just rice and beans but is somehow extra tasty here). After breakfast, we headed out to the river. All six of us were on the same raft, and we had an absolute blast. Immediately, Andrew lost his sandal in the river and we all freaked out and were too busy looking for the sandal and laughing to listen to our guide. He quickly realized we were a bunch of goons who were more focused on cracking jokes than listening to his instructions. Ironically, the only one who fell out of the raft all day was our guide, but that was probably due to our incompetence as rowers. Despite not being the best pupils on the river, we did fine and had a beautiful day. The weather was perfect and I couldn't get enough of the amazing scenery. I kept stopping to think about how beautiful my surroundings were, and how I will never forget the experience. Overall, the day was spectacular, filled with thrilling rapids and lots of laughs.

Mel and Thomas have been nice enough to invite us to stay with them for a few days at their beach house, which is located in the northwest region of Costa Rica called Guanacaste. Andrew is joining us tomorrow morning when we say goodbye to San Jose and leave for the beach.

November 7, 2008
Before we ever arrived in Costa Rica, I read online that the most dangerous part of visiting this country was navigating its treacherous roads by car. Today, I witnessed firsthand what all the fuss was about. Because there were five of us travelling to the beach house in Guanacaste, Shirley and I decided to rent a car and Thomas was nice enough to be our chauffer. Mel and Andrew followed in her car as we left San Jose and travelled about four hours to the beach. While the scenery was beautiful, the drive over the mountains was pretty insane. If there are traffic laws in Costa Rica, no one seems to abide by them and everyone seems to have road rage. Living in Los Angeles, Shirley and I are used to aggressive drivers but I had never seen anything like this. Luckily, Thomas and Mel seemed at ease behind the wheel and we made it to Guanacaste in one piece. We stopped at a grocery store near their house to stock up on food before finally arriving at Coco beach. Tomorrow we plan on going zip lining, which I am a little nervous about because I'm not crazy about heights. Shirley is a dare devil so I know she will push me to my limits (which I am grateful for, but also slightly terrified about). We planned on going to see the volcano in Arenal in a couple of days, but we might stay at the beach house if we are having too much fun.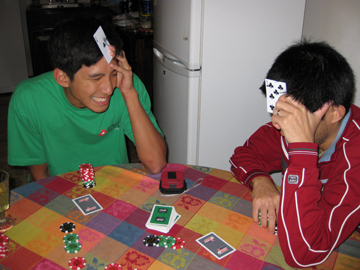 November 8, 2008
Last night, we all helped make a delicious barbeque dinner and enjoyed each other's company while we feasted. After dinner, we played a No Limit tournament before I talked everyone into taking a dip in the water. Shirley isn't crazy about the ocean, but I absolutely love the water and have always found swimming at night a really special experience. Thomas stayed behind because he has been fighting a cold, but the four of us bathed in the Costa Rica water by moonlight, laughing and getting to know each other a little better. After heading back to the house, we finally called it a night. I fell asleep thinking about how memorable this experience will be for me.

This morning we woke up with a mission: zip lining. After spending the morning on the black sand beach, we headed out to do the canopy tour. Everyone was enthusiastic and in good spirits but I have to admit I was trying to hide my fear a little bit. However, by the time we arrived, I felt pretty comfortable and was ready to take the leap…until I climbed up the first platform and saw what I was in store for. I don't want to sound like a sissy, but the zip lining was a little scary. But, like most things, the hardest part was getting started and I felt better once I completed a few lines. Pretty soon I was able to relax and look around with amazement, thinking, "Holy shit, I am zip lining through the jungle in Costa Rica." The scenery was breathtaking and although I felt more and more comfortable after each one, there was no way I was volunteering when our guides asked if anyone wanted to ride upside down. Of course, I wasn't surprised at all when Shirley immediately jumped at the opportunity. Like I said, she is a thrill seeker – but it was enough of a thrill for me to watch her zip line from one tree to another while hanging upside down like a monkey. Overall, we completed 13 zip lines and took some amazing (and some embarrassing) photos along the way.

We decided to go out to a restaurant for dinner before going back to the beach house to play some cards. We stopped on the way home to throw our leftovers to some stray dogs (there are so many homeless and hungry pooches here). Once home, Thomas taught me how to play Chinese Poker before I bad beat everyone with my horrible plays in Razz. I have never played stud seriously, and it definitely showed.

Shirley and I have decided to stay in Guanacaste for one more day instead of going to Arenal on our own tomorrow. We are just having too much fun with our new friends and know we will probably have plenty of time to see the rest of the country at future LAPT events.

November 9, 2009
This morning we decided to walk down to the water and rent some jet skies for a couple of hours. Of course, Shirley and I paired up with her in the driver's seat (probably because she thought I would be too much of a sissy behind the wheel). Mel and Thomas shared another jet ski and Andrew followed by himself. We headed off, looking for sea turtles and exploring the coast of Coco. After a while, Shirley and I switched positions and I got my chance to show her that I'm not always such a wuss. I put the pedal to the metal and she was screaming her head off. We were laughing so hard that we were crying, and when Shirley finally fell off the jet ski and landed in the water, we were hysterical.

We spent the rest of the afternoon at the pool, enjoying the view of the ocean. After spending so much time in the sun, I seized the opportunity for a little rest and got some reading done. Later, I felt a little sad as we walked down the beach to our last dinner in Costa Rica. After watching the others play some pool, I sang along to the 80s music and thought about all the great times we have had here. We are heading back to San Jose tomorrow to catch our flight home to LA, but I am definitely planning on returning to Costa Rica. I'm sad to leave our newfound friends, but hopefully we will be seeing them at a Latin American Poker Tour event in the near future.

**Take a look at our flickr page to see our photos from our journey to beautiful Costa Rica.