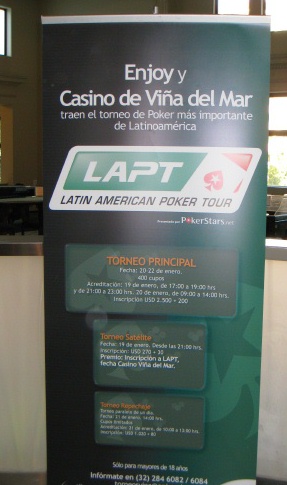 January 16, 2009
Shirley and I touched down in Santiago, Chile at the crack of dawn this morning. After a long flight, we were pretty exhausted and all I wanted to do was get to our hotel and sleep for a few hours. After doing just that, we woke up and decided to utilize what daylight we had left, because we have limited time in Santiago before travelling to Vina del Mar for the tournament. It was already early evening when we woke up, so we were surprised to step outside into the bright sunshine and warm weather. We took off on foot, exploring an outdoor market before sitting down for an early dinner at the Patio Bellavista, an outdoor square lined with shops and restaurants. Amazingly, after our meal, the sun was still shining Ė if I hadnít known better, I would have guessed it was more like 2pm than 7 at night. We continued to explore the area and eventually stumbled upon a funicular that we rode to the top of a hill and into the Parque Metropolitano de Santiago (the Metropolitan Park). As we rode up the side of the hill, I was left in awe by the size of the surrounding city. The views from the top were quite spectacular, and we took some amazing photos. We were a little disappointed that it was so late because the park could easily be explored for hours. Despite only having only about an hour to enjoy the park and take a look at the famous sculpture Cerro San Cristobal, I am very grateful that we happened to find this area by chance. We took the funicular down the hill as the sun was setting, and walked back to our hotel to get some rest for tomorrow.

As we walked through the streets lined with pubs and restaurants, we were a little taken aback at the amount of people filling the outdoor tables which lined the sidewalks. There were hundreds of them, drinking beer and laughing. The night seemed to be just beginning for them, and although I know we were tempted to join in the fun, we had to get some sleep so that we can make the most out of our only full day in Santiago tomorrow. The PokerStars LAPT event is being held in Vina del Mar, a beach town that is a few hours away, and we will be heading there in less than 48 hours.

January 17, 2009
When Shirley and I finally rolled out of bed today, we looked at each other and kind of rolled our eyes. As poker players, we arenít very good at waking up early so when I saw the clock reading 2pm, I wasnít that surprised. We had initially planned on exploring some more of the city on foot this morning, but because we slept so late we barely had time to eat before we left for our wine tour.

The tour at Concha y Toro winery was nice, but nothing spectacular by my standards. Our group was a little larger than I would have preferred, which made the tour less intimate. Also, the tour itself was sort of skimpy: they showed us a short historical video about the winery, showed us around the grounds and let us taste two of their wines. Overall, the day was nice, but leaving a winery without at least a small buzz is a bit unnerving.

When the tour bus dropped us back off at the hotel, we opted to go back to where we had seen all the locals drinking the night before. We had dinner outside at a sidewalk cafť but didnít stick around long enough to see the party get started (like in Uruguay, the locals seem to enjoy the late night hours in Chile). Right now, we are getting ready for bed because we are determined to get an early start tomorrow and see some sights before we make the journey to Vina del Mar for the LAPT festivities.

January 18, 2009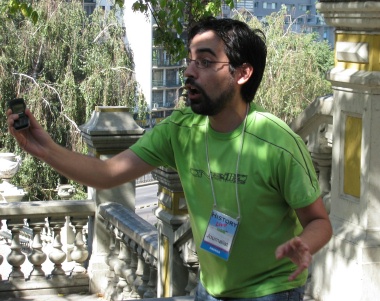 I was very proud of Shirley and myself this morning when we woke up in time to go on a city tour of Santiago before we left for the beach. We really made the most of our morning as we saw some incredible sights and learned about the history of the city. We also laughed our asses off at one of our tour guides, who was super intense and got really into a reenactment of the founding of Santiago. I tried not to laugh during the skit, but I couldnít help myself Ė which of course made Shirley start laughing uncontrollably. Itís hard to explain this guyís antics, but I wonít soon forget his insaneness and now I crack up whenever I look at a picture of him.

After the tour, we spent nearly three hours in a cab as we travelled to Vina del Mar. When we pulled up to the Del Mar Casino and Resort, we knew that we were in for a treat. As usual, PokerStars hooked up their players with an amazing beachside resort that boasts several great restaurants, a casino and a beautiful indoor pool and spa that overlooks the Pacific Ocean. The tournament, a $2500 buy-in No Limit Holdíem event, is also being held here. As we were riding up the elevator to our room, we first ran into Max and Maria Stern and then our good friends Thomas and Melina. We said quick hellos before going to our room to freshen up. The accommodations are beautiful and our room is complete with a large balcony that looks over a park and the ocean.

Because the resort is pretty large, it was a little difficult to find everyone. Shirley and I wandered around the casino and it wasnít long before we ran into our friends Brandon and Brian. They were pretty exhausted, having just flown in, so we played a little blackjack with them before they decided to get some sleep. Luckily, we found our favorite PokerStars floormen Greg Pappas and Mike Ward, who invited us to dinner at one of the fabulous restaurants in the hotel. Thomas and Mel joined us for our meal, which was delicious and of course included lots of laughs. At the end of the meal, Greg asked the waitress for a to-go bag because he wanted to feed his leftovers to the homeless dogs that are so commonly found in Latin America. He filled us in that the park surrounding the hotel was home to many strays that were hungry and always grateful for a meal. The waitress, however, had other ideas. Apparently it is the hotelís strict policy that no one is allowed to take leftovers away from the restaurants. We were all a little shocked and appalled as they refused to allow Greg to wrap up his food. But, come on Ė this is Greg Pappas weíre talking about, and he just isnít going to let some pooches go hungry when there was a perfectly good steak sitting on the table. Without hesitation, Greg reached into his pocket and retrieved a piece of paper (which turned out to be a structure sheet for the tournament) and proceeded to wrap his food in the paper. Of course, this would have been a better idea by Greg if there hadnít been an over easy egg sitting on top of the steak. As the yolk broke and the paper became a soggy mess, we all had a good laugh Ė and soggy structure sheet or not, those dogs got a good meal that night.

After dinner, we all went downstairs to play Bingo (which turned out to be more like Keno and Bingo combined). My Spanish is pretty rusty, so I was relying on Mel to translate as the numbers came out which started to get pretty funny as we drank more and more. The woman reading the numbers was speaking very quickly and Iím sure I missed some because I was laughing so hard. She actually had to tell our table to quiet down a few times because we were having so much fun. After Bingo, we all decided to call it a night. Tomorrow is the PokerStars welcome party which is always a highlight of our trips, and will definitely be a big reunion.

January 20, 2009
Waking up yesterday morning, I felt really rested and excited to be back at the LAPT. We decided to walk over to the Sheraton Hotel where about half of the PokerStars players are staying. Because we heard that there is a nice beach right next door, we put on our bathing suits before we left. When we got to the Sheraton, we noticed that there was a seaside balcony on the hotel where they were serving lunch. It was such a beautiful day and the view was too spectacular to pass up. As we sat under an umbrella and enjoyed our sandwiches, I realized how lucky I was to be here, in this warm weather enjoying the ocean breeze while everyone in the United States is freezing their butts off in the January cold.

After lunch, we walked down to the ocean and put our feet in the water. It was a little too chilly for swimming (although all the people splashing around in the surf didnít seem to mind) so we decided to explore the town by foot and hopefully do some shopping. We certainly got a good look and some exercise, but didnít have much luck in the shopping department. When we did find a few stores, they were closed, which we found quite strange in the middle of the day. When we got back to our hotel, we rode the elevator to the top floor and took a dip in the heated pool. Shirley and I found it so relaxing, we almost lost track of time and realized we would have to hurry to get ready for the PokerStars welcome party.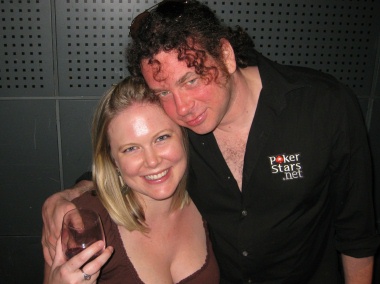 As usual, the party delivered everything I expected. Most of our friends from previous LAPT events were there, and we had a blast catching up with everyone while drinking the free booze that PokerStars spoiled us with. One of the most humorous parts of the evening came when I met Ylon Shwartz at the bar. Of course I recognized Ylon immediately as one of the 2008 finalists from the World Series of Poker and a member of Team PokerStar Pro, but I decided to have a little fun busting his chops. When he started talking to me, I totally played dumb as if I had no idea who he was. We chatted a bit about poker and he asked me if I had played the WSOP Main Event in 2008. I replied, ďNo, did you play it?Ē He looked at me slightly inquisitively (probably trying to figure out if I was, indeed, screwing with him) and informed me that yes, he had played and finished 4th for almost $3.8 million. I proceeded to look at him blankly and say ďWow thatís a lot of money. Geez I guess thatís as good as it will ever get for youÖ.itís all downhill from there buddy.Ē I couldnít believe I said that (especially without laughing), and I donít think he could believe it either. Iím not sure if he ever figured out I was just messing around, but we ended up hanging out for a while and he was a good sport about the whole thing.

After the party died down and many players went to play satellites for the tournament, Shirley and I were joined by one of our favorite PokerStars bloggers, Alex (who is also Melís brother) for a delicious sushi dinner. Alex and I went a little crazy when ordering and we ended up with a whole lot of sushi Ė which we didnít seem to have much trouble devouring when it arrived. After our feast, we called it a night so that Shirley could get some sleep for the tournament in the morning.

This morning, I slept in while Shirley went to play the tournament. As Iím writing this, Iím sort of starting to wonder what everyone at the LAPT must think of me, seeing as how Iíve hardly played any poker on our trips. Although I love poker and would actually enjoy playing in these events, I just canít justify spending thousands of dollars on tournaments when I am merely a struggling cash game player. However, my game is getting stronger all the time and I am hoping to hit the felt on our next PokerStars journey. As for now, I am here to support Shirley and about to go downstairs to join her for dinner and hopefully sweat her into day two.

January 21, 2009
Last night ended on an optimistic note when Shirley made it to day two of the Main Event with around 40k in chips. Our friends Brandon and Melina also made it through to the second day, so we all celebrated a little with a late dinner in one of the hotel restaurants before calling it an early night so everyone could rest up for day two.

After sleeping late, I went down to the tournament room and walked into media mayhem. There were several camera crews and for some reason, they insisting on filming every hand when a player was all-in. The dealer would actually stop the action and wait for the cameras to run over whenever an all-in was called. Because it was getting to the later stages of the tournament, there were all-ins quite often so the action was going pretty slow (and the camera crews were tripping over their own feet, trying to keep up with the filming). Probably because I wasnít playing the tournament (and therefore not frustrated with the slow pace of the hands), I was thoroughly entertained by the media frenzy, not to mention the usual crazy antics of Humberto Brenes. Unfortunately, my laughing was interrupted by Shirley getting knocked out by A7 when she shoved all-in with QQ. Itís starting to get eerie how often pocket queens screw her overÖI keep telling her that sheís due to win with them for the next year, but they never seem to hold for her.

After hanging out in our room for a while and cursing pocket queens, the two of us drowned our sorrows in sushi and wine before joining some friends at a bar across the street from our hotel. We sat outside, enjoying the cool air, laughing and drinking. Itís nights like tonight that make me realize how lucky I am to be involved in poker, because the game has brought me close to such awesome people that I never would have otherwise crossed paths with. Itís now 3am and we are planning on getting some sightseeing in tomorrow before we have to leave Chile and head back home.

January 23, 2009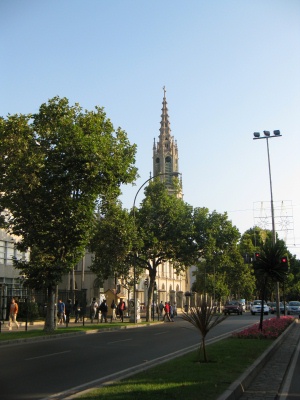 Yesterday morning (well okay, more like afternoon), Shirley and I woke up on a mission to see some of the sites surrounding our hotel. The concierge arranged for us to be picked up by an English speaking cab driver, who took us on a tour of Vina del Mar and through the windy cobblestone streets of Valparaiso (another nearby city). Although I was feeling a bit queasy as the cab twisted and turned through the narrow roads, I was distracted by the unique architecture and abundance of graffiti scattered throughout the town. Much of it was beautiful art, and most contained messages about social and political issues. We took some great photos, but it was hard to capture the beauty on film.

After we saw the town, we decided to go check out the local mall that we had heard so much about. We arranged to meet our cab driver after an hour and half of shopping so that we wouldnít have to figure out another way to get back to the hotel. Unfortunately, we couldnít really enjoy our mall experience as much as we would have liked because Shirley realized almost immediately that she left her camera in the cab. Even though we had asked him to come back for us, we couldnít be sure we would ever see him again. We spent the next hour worrying and hoping that he would return. Of course, losing the camera wouldnít be the end of the world, but the photos of our trip that were on the memory card were priceless. When it was finally time to meet our cab, we went outside and waited. And waited. And waited some more. As the minutes ticked by, Shirley started to freak out a bit because it didnít look good for her camera. I tried to calm her down (even though my hopes were starting to dwindle too) by reminding her how relaxed everyone in this country is. No one here ever stresses about being on time, and it turned out that our cab driver was no exception. He finally showed up, 30 minutes late but with the camera in his possession.

It was after dark when we arrived back at the hotel. Shirley and I were happy to find the Main Event coming to a close because we wanted to spend our last night with all of our friends (many of them work for PokerStars). A large group of us went to a local bar and celebrated another end to a successful LAPT stop.

Today we are taking a cab back to Santiago, where we will catch our flight home to Los Angeles. Although Iím looking forward to getting back home to the cash games, I am a little sad because Iím not sure when my next PokerStars journey will be. I guess I shouldnít worry too much, because we never seem to stay away too long.

The album from our PokerStars Chile Journey can be seen on our flickr page.