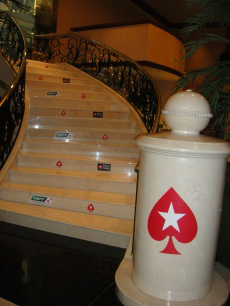 April 13, 2011
I am very excited to be traveling to the LAPT again after such a long hiatus. The last LAPT event I played in was in Costa Rica back in November 09. Before that, I was taking trips every few months and was kind of spoiled. This time I am in Peru and am looking forward to the LAPT main event, the PokerStars' welcome party, and eventually traveling to Machu Picchu.

Sos and I arrived at the airport with plenty of time to spare. We grabbed a light dinner from the restaurant upstairs and passed the time talking about how great it was going to be to finally see Machu Picchu. It has been a dream destination for both of us for many years and I was happy that I would be sharing the experience with him. Pauly was also set to join us and I knew from previous experience that the three of us would get along great and make the most out of every opportunity. As we were talking, Pauly sent me a text letting me know that he had just arrived at the airport. He met up with us and the three of us proceeded to the gate.

Our flight was a little miserable for me considering I was barely getting over Strep Throat. I wasn't contagious or anything, but I still felt awful. I slept for most of the flight, but knew I needed to get a lot more rest in order to play the main event. When we landed, we met up with another poker writer, Shamus and we all grabbed a cab to Miraflores.

We drove along the coast to our destination (think Pacific Coast Highway) and it was quite a site; ocean to the right of us and high cliffs to the left of us. At one point, we saw a group of about twenty policemen standing along the cliff side. I stupidly thought "What a strange place to have their morning briefing," but then realized they were actually standing around a dead body. There was also a news crew filming the dead man in his tweaked position. Our taxi driver told us that two people had jumped earlier (I only saw one body), but I wondered if there was more to the story.

As soon as we got to our hotel, we were notified that check-in wasn't for another four hours. This was not acceptable considering how I felt and I asked Sos to beg the girl (he speaks fluent Spanish) to let us in earlier. He convinced her to let us in two hours earlier, but that wasn't good enough for me. I told Sos that we needed to go over to the casino and find one of the LAPT execs to plead our case for us. We went over to the casino and saw our good buddies, Thomas and Mel and also Greg and Mike the tournament directors. All of them were really busy setting up for the satellites and I knew they wouldn't be able to help us at that moment so I looked around a little more. I found Cindy and she agreed to walk to our hotel with us and she informed them they needed to let us in our room immediately. We were in our room a few minutes later and napping a few minutes after that.

When we woke, we still had time to kill before the PokerStars party, so we headed out on the town to get some lunch. We found a great café and I knew immediately that I was going to have a club sandwich (one of my favorite South American treats). I asked Sos what he was getting and he said "Either a club sandwich or a chicken sandwich." I told him that I would be getting a club sandwich and he was welcome to have a few bites of it if he wanted. He decided to go for the club sandwich also. When we got our food, it didn't disappoint. I don't know what they do to their clubs, but the states don't have clubs like this. There was sliced hard boiled eggs on it and a thin layer of chicken salad (probably only a mixture of shredded chicken and mayonnaise but delicious nonetheless) and the usual other stuff like bacon, tomato, lunch meat. Sos devoured it and then gave me a hard time for even letting him consider getting something other than a club.

We killed some more time by walking around and then finally went to the bus that was set to take us to the PokerStars party. The party was held at a restaurant directly in front of Huaca Pucllana, a place that has an adobe and clay pyramids built around 400 AD. Sos talked with some people that work there and arranged for the group of us to get a tour for a small fee (I think it was $3 each). All of the guys were fascinated by the pyramids, but I was starting to feel horrible again and wanted to go back to the hotel. When our tour was over, we mixed and mingled a bit and I briefly chatted with James Honeybone, a player I met in New Zealand and also ran into Manuel, a player from Los Angeles. The night was early, but all I could think about was crawling into bed and getting some much needed rest.

April 15, 2011
Despite playing good, I have been eliminated from the tournament when my opponent's pocket sevens held up against my AQ. In addition to that, today was Black Friday in the poker world. For you non-online U.S. poker players, the DOJ indicted the three largest online cardrooms on charges of fraud, money laundering and other charges which in turn caused the online companies to shut down services to players who reside in the United States. To read about my tournament and thoughts on Black Friday in detail, go to my April 14th and April 15th, 2011 entry.

After being eliminated and especially after hearing the news about the DOJ and the online cardrooms, I needed to keep myself busy so I didn't dwell on the uncertainty of my life. Sos suggested that we go see the town and I quickly agreed.

We went to the main square and saw the Presidential Palace where we witnessed the Changing of the Guard. We also visited the Convento y Museo de San Francisco where we took a tour that included seeing the catacombs below the church where there was a round well lined with perfectly laid skulls and femurs. My favorite part of the tour was when we visited the 17th century library that contained more than 20,000 books. We then made our way to the Machu Picchu exhibit in one of the nearby museums. The exhibit was free and we had to wait in a line to get in. Once inside, we were elbow to elbow and were being hurried along the exhibit. It was kind of interesting, but it was hard to appreciate any of it since they needed us to move along and let more people in.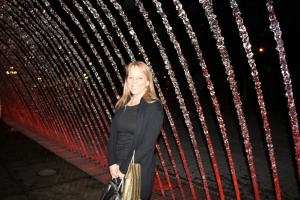 After visiting the main square, we grabbed a taxi and made our way to the fountains in Lima. There were several fountains and we stopped to appreciate many of the them before making our way to the main one where the show was being held. It was a beautiful display, but I have seen the Bellagio fountains and also Disney's California Adventure "World of Color" show. In my opinion, the Peru show was a combination of the two shows, but it was a "fast food version" compared to the "fine dining version." Once we left there, we ate a fabulous dinner at Al Fresco where I enjoyed shrimp risotto and a much needed glass of wine.

As soon as I got back to the room, my head started spinning about whether I was still going to have a job in the online poker world?. What was I going to do? Am I going to be forced into working in another industry? I had to call Steve so he could ease my mind. Steve is a realist and is borderline paranoid about things that could "possibly happen." I know it doesn't sound like the type of person to make me feel better, but he usually manages to give me a good dose of reality and also gives my ego a boost when needed. He assured me that "Things are going to be ok. You might have to go in a different direction, but you are prepared for it." I talked to him for an hour, so it was obviously a lot more detailed than that, but the bottom line is…I felt a hell of a lot better once I got off the phone with him.

April 16, 2011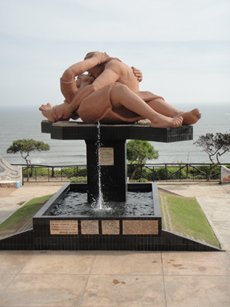 Sos and I woke up not knowing what to do today. I wasn't up for playing any poker because I wasn't going to spend any of my bankroll without knowing what my future entailed. We decided to go for a walk and explore the town of Miraflores. We headed down toward the beach and saw some people paragliding. I might have considered it if Sos hadn't pointed out the guys were coming way too close to the cliffs. We headed east a bit and ran straight into Lover's Park. There were a lot of couples hanging out holding hands and kissing and I snapped a shot of one of the couples who were obviously very enamored with each other. It was a great picture and it will bring back fond memories of South America when I look at it. I like how so many of the couples take walks with each other or sit on park benches cuddling. South America is so full of love (not just with couples, but with friends and family as well) and I am sure that is one of the many reasons why I want to return every so often.

We continued walking and found a great shopping and restaurant area built into the cliffs. You couldn't see the whole area because it was built below street level. It was by total accident that we found it and I am so glad we did. We were walking along and saw several people heading down a staircase and we decided to follow them to see what was below. The place was called Larcomar Shopping Center and there were numerous stores and a couple dozen restaurants. We spent a couple of hours there and we headed back to the casino to see if Pauly's work was done for the evening. When we talked to him, he let us know that he had about two more hours of work, but would love to meet up for dinner. We passed the time by getting massages at a nearby spa.

When we met up with Pauly, he was accompanied by Dave and Shamus. The five of us decided to head over to the shopping center so we could eat at one of the restaurants. The night was great and we talked and laughed and tried our best to not let reality get the best of us. Four of the five us make a significant portion of our income from online poker. I knew that the four of us would make it through alright. Pauly is a brilliant writer and just finished his second novel. He is smart and hard-working and there is no doubt that people will continue to buy his books especially since poker has made him a celebrity of sorts. Dave has a law degree and can always go back into that line of work. Shamus is a professor and could always increase his work load at the university he works at. I know I will be okay as well because I am a survivor. Even though I was convinced that the four of us would be ok, I couldn't help but think about so many more friends back in the States that were going to have a harder time. I kept trying to push those thoughts back in my mind and tried (and actually succeeded) to just enjoy the moment.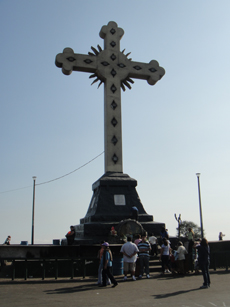 April 17, 2011
After all of our adventures in Lima, we were running out of things to do. We decided that we were going to sleep in and just have a relaxing day. With Sos and I, that is an impossible task. We did manage to sleep in late, but there was no way that we could just relax. Relaxing types of vacations are not our things; lying by the beach in some Caribbean location is not my idea (or his idea) of a vacation at all. We both like to immerse ourselves in the location and we want to see as much as we can in the time we have. We showered and headed back out to the main square of Lima again. We walked around and saw a tourist lady offering rides up to the San Cristobal. We jumped into the packed bus and headed up to the top of the mountain. The cross on top of the mountain was pretty and all, but definitely not worth the torturous drive. I had my fingernails dug into Sos' hand so deep and I kept squeezing harder every time the bus driver took a turn. The mountainous roads in Peru didn't feel very safe and I was so happy when we made it back down to the main square.

We walked around a bit more and saw an extremely long line for the Machu Picchu exhibit. There were literally 10x the people in line than we took the tour a couple of days ago and we were glad we had done it earlier. We passed the museum and found a quaint restaurant where we shared a fantastic meal (probably my favorite of the trip so far) and hung out for another two hours just enjoying each other's company and our surroundings. When we left, we headed back toward the main church so we could catch a cab. We forgot that it was Palm Sunday, but were quickly reminded when we saw the whole square packed with people who were watching the services directly in front of the church. It was quite a site and I took all sorts of pictures.

Tomorrow, we are taking a flight from Lima to Cusco and eventually will be making our way to Machu Picchu. Pauly will be joining us on our adventure and I am looking forward to it so much. Pauly and I have already concluded that we are just going to enjoy our time in Peru and deal with the online stuff when we got home.

April 18, 2011
This morning we met up with Pauly and took our flight to Cusco. Yesterday, the three of us had confirmed our plans with Sophia from Play Poker Tours who had arranged for everything to be taken care of once we arrived to Cusco. When we got off the plane, we saw a man holding a sign with our names on it and we followed him to our bus. We joined up with a little old lady with a limp who notified us that she would be taking care of us during our stay in Cusco. We immediately headed to our hotel and enjoyed some Coca tea (which is supposed to help with altitude sickness) while the lady with the limp talked with the front desk people. While she was up there, Pauly whispers to me, "Have you ever seen Poltergeist?" When I nodded, he said "…Go into the lightttt" I immediately knew what he was referring to. Our little old lady with a limp looked like a Spanish version of Zelda Rubinstein from Poltergeist.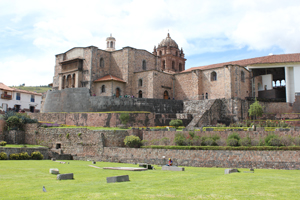 Zelda informed us that our rooms were not ready and that we only had five minutes until our bus picked us up. Five minutes later, we were shuffled along because she wanted to make sure that we had enough time to see all the sites she had scheduled. We first stopped at Santo Domingo Church which was built on top of (and around) Koricancha, a temple from the Incan Empire. The combination of architecture was fascinating and we spent a couple of hours there listening to our guide boast about the work his ancestors did. During our tour, two additional families joined up with us and they were from the United States. Of course, we could immediately tell this by the behavior of the children. I had a hard time focusing on our guide because I was fixated on this little bratty girl who kept hitting her dad in the groin. Another one of the newly joined members put Sos on tilt which isn't an easy task. The guy kept asking silly questions and our tour of the church took extra long because of it.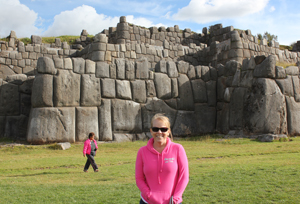 We finally left the church and headed to Saqsayhuaman, the former capital of the Incan Empire. One of the first things our guide told us was that many people think "sexy woman" in order to remember the name. I couldn't get "sexy woman" out of my head and had to look up the actual name again when I got home. Saqsayhuaman is a fortress of sorts made up of large polished dry-stone walls. The boulders were ridiculously large and Pauly joked (I think it was a joke) that he has always believed that extra-terrestrials had something to do with the construction of some of the Incan buildings. We sat on the lawn listening to our guide as he showed us pictures and talked about the great work of the Incan men. Within five minutes, Pauly was sleeping (he hadn't slept much the night before) and I heard a light snore come out of his mouth. As soon as the rest of us started feeling comfortable, our guide told us that it was time to go again.

We made our way toward the bus again, but not before running into a lady selling corn. These aren't your ordinary ears of corn, they are corn on steroids. We devoured our snack because we had barely eaten anything all day. We were warned not to eat a heavy meal because it would make the altitude sickness worse, but I would have ate more than the few bites of scrambled eggs I had if I had known that we weren't going to eat all day. Our bus took us to a healing spring and we had to hike up a hill in order to get there. The altitude was really getting to me and I was really struggling up that hill. I whined to Sos, "I really thought I was more fit than this" as I desperately tried to catch my breath. He said, "You are. You gotta remember you are just getting over being sick." The lady next to me said, "Trust me, it's not you. I work out all the time and I am struggling as well." The healing spring was alright, but I wouldn't hike up that hill for it again. We then went to see an underground spot that was believed to have been for human sacrifice. I was slightly fascinated, but my attention span was weak. I was tired and hungry and pretty much over the whole tour.

When we finally made it back to our hotel, the three of us were so hungry and tired. We put our stuff in our rooms which were now ready and headed next door to eat. All of us ate our meal in record times, but Pauly won first prize as he ate his spaghetti in two minutes flat. We headed back to our rooms and called it a night.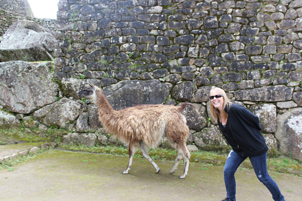 April 20, 2011
Yesterday, we woke up at 5 in the morning. We had to meet Zelda in the lobby by 6am sharp in order to catch our train to Aguas Calientes where we would then take a bus to Machu Picchu. Pauly and I both work in the poker industry, so waking up at 5 am is a foreign concept to us. I surprisingly woke up without too much difficulty, but I certainly wasn't happy about it. We met up with Zelda after we forced down a barely edible breakfast and she lead us to our driver who was going to take us to the train station. We weren't with the other large groups that were crowding into a bus; we had our own car and driver. The drive was about an hour and a half long and it was the most enjoyable drive I had on our trip so far. There was one point where we came around a corner and we could see the Andes. Our driver stopped so the three of us could snap a few photos and then we continued towards the train station. We made it there with only 5 minutes to spare and barely got adjusted into our "first class" train seats (which were nothing spectacular), before the train departed the station.

Machu Picchu has always been on my list of top 5 places to see in my life and it was also on Pauly's, but for Sos it was his number one place to see. I couldn't pick two other people that I would rather be with. The bus ride was tolerable and I passed the time playing Sudoku. Before I knew it, we were at our destination and we were greeted by another individual holding a sign with our names on it. He pointed us in the direction of where we were going to leave our luggage (a man from our hotel with a cart holding suitcases) and we threw our backpacks in and headed toward the bus.

Our bus ride up to Machu Picchu was hell. The roads wound up the mountain and looked like it barely had enough room for our bus to maneuver. I was sitting near the window and I did my best not to peek out below. An accidental slip would certainly be our demise and I dug into Sos' hand again whenever we would take a particularly hairy turn. If that wasn't enough, I soon realized the road wasn't a one way road, but a TWO-WAY road and I almost lost it when we approached a bus coming from the opposite direction. Sos was so happy that there was no way that a scary bus ride was going to get him down. He made the most of it by saying "Machu Picchu is a great place to die." I wanted to kill him, but I chuckled instead. He has a way of easing my mind even if it is with stupid remarks like that.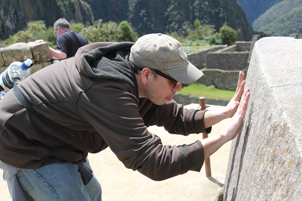 Machu Picchu didn't disappoint us and we spent about 6 hours on the hill and took about 1,000 photos between the three of us. Our guide spent the first four hours explaining what everything was and showed us many of the important sites on the hill. My favorite was the healing stone where we could put our hands close to the stone, without touching it, and receive the positive energy that it submitted. I couldn't help but think of online poker and how I needed all of that positive energy to make sure I (and many of my friends) still had a job in the industry. Sos' favorite part was the Temple of the Sun. He was fascinated by the work of the Incas and marveled at how they got the huge rocks up the mountain. When our guide was finished, he led us back to the front gate where we grabbed a couple of sandwiches (that were horrible) and gave our feet some much needed rest. I only had about two bites of my sandwich, but sucked down every last drop of coca cola.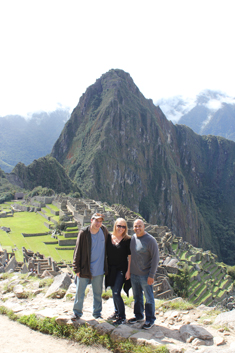 The three of us decided that we weren't finished with Machu Picchu and we headed up a staircase that took us to this great grassy area that had a spectacular view of Machu Picchu. Pauly put his head phones on and just enjoyed his time by himself while me and Sos walked around in that area and then headed up one of the hiking trails. We mistakenly took the wrong trail and ended up on one that was going to take 3 ½ hours to complete. We found this out after running into a young couple and asking how far we had to go to complete it. We didn't have enough time to complete it so we headed up the hill for about a half an hour (until we got a great view of everything) and then turned around and headed back. He asked me if I was willing to go up the other trail that should only take us an hour to complete. He said, "If we run it, we can get it done in half the time." I was tired, but I wasn't about to spoil his dream. He was in his all-time favorite dream spot in the world and I wanted him to get as much out of it as he possibly could. I said, "Ok. I will do it." He said something like, "You're the best and I am so lucky that you would do that for me, but I am tired. I was just kidding." I was so happy to hear those words.

We met up with Pauly again and the three of us made our way to the bus (they had them consistently circulating all day so you could leave any time you wanted). When we drove down the hill, I wasn't nearly as afraid as I was on the way up. Maybe I was in agreement that "Machu Picchu is a great place to die," but I think it was more that I was too tired to even think of the consequences of our bus going over the edge. The bus dropped us off about two blocks from our hotel and we all agreed that we would meet up in 30 minutes so we could go to dinner. I used my time to take a short nap. Sos used his time taking photographs of me looking all stupid while I was sleeping. We went to the restaurant area of the city and dined (I am using that term lightly) on pizza while we sat on a balcony that overlooked the city.

April 21, 2011
We spent our last night back in Cusco and it was an enjoyable one. We had dinner in a restaurant overlooking Plaza de Armas and we reflected on our entire trip. Pauly said something to me that is going to be key in helping me make it through the online poker mess. He said something along the lines of, "The timing of us being in Peru was perfect. When Black Friday happened, I was fortunate not to be home where my phone would be blowing up with calls, texts, and emails. But more importantly, being here has given me some perspective. When you see how the people in Peru live, you can't help but think, 'How much wealth do we really need.'" I agreed and told myself to make sure to remember his words whenever I started to feel bad about my situation in the online poker world.

Before we left for the airport, we had enough time to walk around the city one last time. We bought a few souvenirs and then had a beverage on one of the side streets of the city. As much as I enjoyed every moment of my time in Peru, I was ready to go home.

On almost every trip report I have ever written, I usually close by saying how grateful I am that poker has allowed me to enjoy my life as much as I do. Even though the online poker world might not be the same for U.S. players (at least not for awhile), I am still very lucky. Over the past 3 years, I have been to Peru, Uruguay, Chile, New Zealand, Mexico, Italy, Costa Rica, and the Bahamas all courtesy of my favorite online cardroom, PokerStars.com.

Also read Pauly's great articles about our trip from Lima to Cusco and from Cusco to Machu Picchu.